*Scroll down for the complete slideshow from LIFE.com*
In 2007, I launched on this site a column called Lets' Bring Back -- which has, over the past three years, celebrated hundreds of forgotten-yet-delightful fashions, pastimes, objects, and personalities.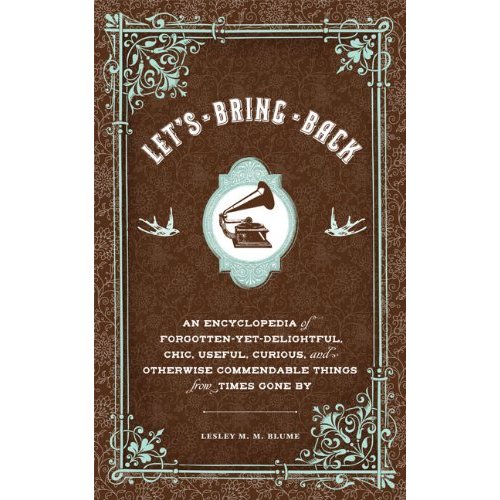 Our first ICON OF STYLE profile on performer Josephine Baker created quite a splash, and then many of you "met" brilliant hat designer Lilly Daché, our second ICON OF STYLE subject. Our third subject, Surrealist designer Elsa Schiaparelli, was once as dominant in the fashion industry as her then-rival Coco Chanel. Last weekend, we celebrated screen siren and war heroine Marlene Dietrich. And earlier this week, the world's first supermodel, Suzy Parker, activist heiress Nancy Cunard, and the Marchesa Casati, artists' muse and high priestess of eccentricity, resurfaced to dazzle the masses. This weekend we were treated to visits with Edith Head, most famous and witty costume designer in history and hippie-chic actress Ali MacGraw.
Many of these tastemakers, designers, and muses are now unjustly fading from public memory. Now that you've spent some time with them, I hope that you agree that each deserves to remain in the limelight.
After all, fashion is fleeting, but true style glimmers forever.
Today we present our tenth and final subject, legendary fashion editor Diana Vreeland. I cannot understate her importance to me as a personal touchstone. Her writings (including her whimsical "Why Don't You ...?" columns for Bazaar magazine and her madcap memoir D.V.) greatly influenced Let's Bring Back as a concept; the book is partly dedicated to her, and she pops up in nearly every chapter, offering her thoughts on topics ranging from speakeasies to pet cheetahs to larders.
In my humble opinion, there has never been a more joyous fashion editor, and hopefully her fearlessness, originality, and vision will continue to inspire future generations as well.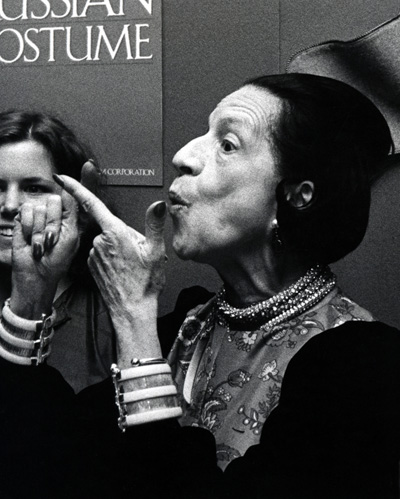 The following excerpt is from Let's Bring Back (Chronicle Books, November 1):
DIANA VREELAND (c. 1906-1989)
It's hard to know where to begin or end when it comes to the great Diana Vreeland: she was a rare, remarkable figure who made life seem less linear.
Vreeland helmed American Vogue from 1962 to 1971; like her eventual successor, Anna Wintour, Vreeland was bathed in the national spotlight during her tenure at the magazine. She appeared in fictionalized form in the 1957 film Funny Face as Maggie Prescott, the amusingly dictatorial and emphatic editor of Quality magazine. Maggie's signature exclamation--"Let's give 'em the old pizzazz!"--sounded remarkably like Vreeland on any given day at the office.
Famous for her bon mots and fantastical, bold gestures, Vreeland was the perfect Space Age fashion editor, constantly challenging the industry to cross new frontiers. She encouraged women to never fear being vulgar, only boring--advice that she most certainly followed herself. Vreeland's very appearance reflected her mantra that beauty could sometimes be strange and even alarming: patent-black hair; long red-lacquered talons; a severely painted red mouth, and sometimes even rouged earlobes. Every morning, her maid ironed her money and polished her shoes--top and bottom.
Vreeland never let the boring old truth interfere with her self-perception or the image of herself that she projected to the world; a mix of fact and fiction ("faction," she called it) was her preferred modus operandi. According to Vreeland, throughout the course of her life, she had:
• Sat in the rafters at King George's coronation;
• Befriended "Buffalo" Bill Cody on a childhood excursion to Wyoming;
• Witnessed the Lindbergh flight while sitting on her suburban lawn with her husband's bootlegger;
• Sat with Josephine Baker and her diamond-collared cheetah in the balconies of a Paris movie house;
• Gotten into a fistfight of sorts with über-agent Swifty Lazar at a dinner party given by the Oscar de la Rentas.
There are countless similar Vreeland anecdotes. While some of her literal-minded contemporaries scoffed at her tenuous relationship with reality, they totally missed the point, which was always about making an impression, creating a unique world. As Vreeland said in D.V.:
"Did I tell you about the zebras lining the driveway at San Simeon? You believed that, didn't you? Did I tell you that Lindbergh flew over Brewster? It could have been someone else, but who cares--Fake it! . . . There's only one thing in life, and that's the continual renewal of inspiration."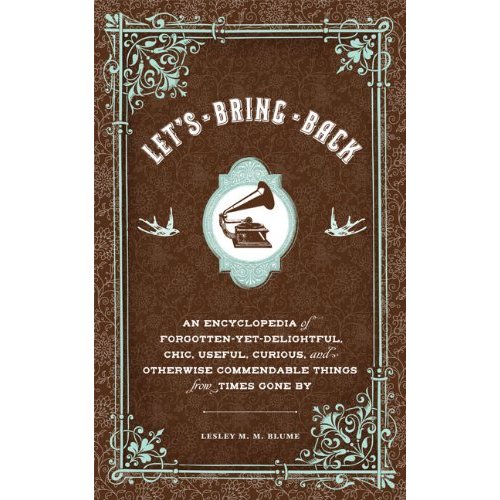 Follow Let's Bring Back on Twitter: @LetsBringBack
For publicity inquiries, please contact April Whitney at Chronicle Books: April_Whitney@chroniclebooks.com