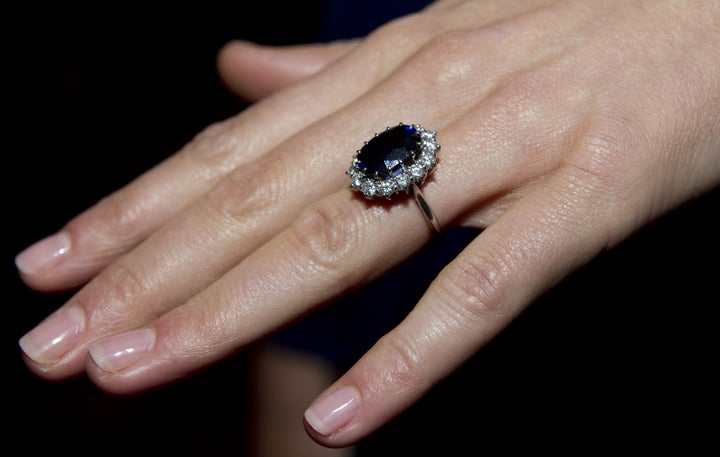 While a piece of jewelry of that stature hardly qualifies as a hand-me-down, it's difficult not to associate it with the promise of Charles and Diana's very public beginnings, and the wretched unraveling of their marriage that played out in the tabloids, ending in divorce.
And of course, there is the tragedy of Diana's death in 1997, to make their grim fairy tale legacy even more complex. That William would consider his mother's jewelry for his bride-to-be is not surprising, but his choice--to me--was.
If the marriage ends badly, don't these objects seem tainted? Don't they remind us of our pain, our disappointments, and our failings?

Like most, I have no heirloom gems to offer my children when they're ready to marry - if and when they ever are. But I cannot imagine that either of my sons would want a token from a marriage that ended in an acrimonious divorce.
I know women who sell off their diamonds, or refashion them into earrings or a pendant. My own rings were very modest. I removed them when my divorce was final, and put them away. I couldn't bear to get rid of them - somehow, that seemed disrespectful of a union that produced two very fine young men. But nor have I looked at them in years.
So where do we put the rings, the letters, the little gifts that once meant so much to us? What about the photo albums and wedding dresses, and the complicated cocktail of emotions that accompanies them? Do we destroy them in anger, dismantle them to change their aura, sell them to the highest bidder and try to forget?
What about you? What about the marital belongings that you once cherished? Are they packed away, sold off, or would you happily pass them down to your children if they wanted them?