Diane Arbus's now famous black-and-white photographs made supposedly normal people look like freaks and supposed freaks look altogether normal. She snapped middle-class families with the same truthful eye that she photographed dwarfs, nudists and transvestites. Through her portrayals of strange neighbors in the city she lived in and loved, Arbus captured the liminal space between appearance and reality. An upcoming exhibition at Fotomuseum Winterthur will show 200 of Arbus' photos, from the iconic to the never-before exhibited.
Arbus was born into a wealthy family in New York City; her father, who owned a department store in Manhattan, began paying his daughter to take photographs for his store's advertisements. Arbus and her then-husband then became commercial photographers contributing to the most well-known glossy magazines (although they both claimed to hate fashion). She soon quit the fashion industry and moved into the art world, where she could be free to explore the underbelly of American culture.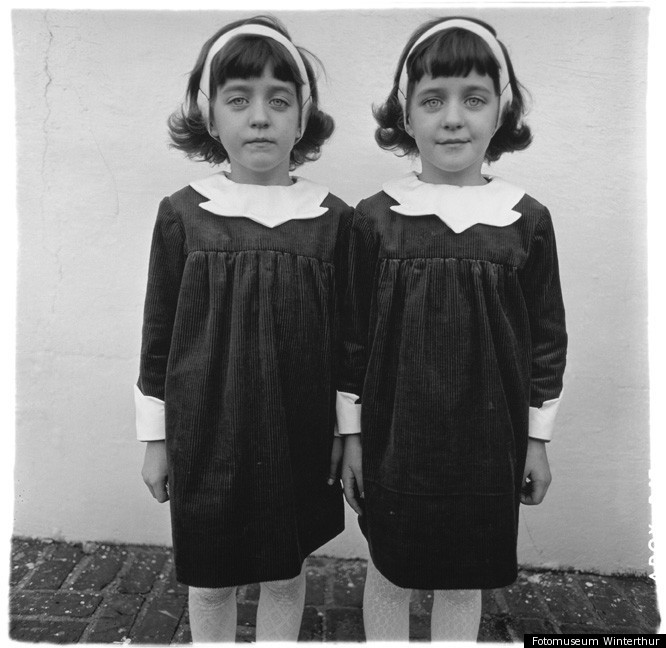 Arbus' photos are most unsettling when they are the most ordinary, for the viewer feels ill at ease without knowing exactly why. One of her most well-known works, "Identical Twins," presents two little girls in the same dress, one with a frown and the other a foreboding smile. They both seem to know something the viewer does not, which is likely why the disconcerting image was later reproduced in movies like "The Shining."
Arbus mixed Richard Avedon's gritty realism with Weegee's macabre surrealism, masterfully using her camera to crack the facades surrounding American decorum. She memorably said in ArtForum: "A photograph is a secret about a secret. The more it tells you the less you know."
Check out a glimpse of the carnival next-door in the slideshow below and let us know in the comment section if you think Arbus really is one of the great American photographers.
The exhibition will be on view at Fotomuseum Winterthur in Switzerland until May 28.
PHOTO GALLERY
Diane Arbus
REAL LIFE. REAL NEWS. REAL VOICES.
Help us tell more of the stories that matter from voices that too often remain unheard.