"He's gorgeous," Keaton said Tuesday on "The Ellen DeGeneres Show" after talking about seeing him for the first time in person at DeGeneres' 60th birthday party. "That face got better with time."
The 72-year-old actress also admitted that she was so was blinded by Martin's beauty that she didn't know the handsome man she was drooling over was someone famous.
"I didn't know who he was, but I saw him and I noticed that he was gorgeous," she said as she continued to swoon over the 40-year-old Coldplay frontman by giggling and looking a little flustered by her crush. "How about that? How could I not have known it was him?"
To this, DeGeneres handed Keaton a glass of red wine with ice, which the actress happily accepted.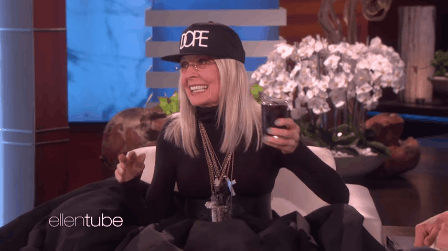 And although Keaton is interested in Martin's face, she's not so intrigued by actress Johnson's "Fifty Shades" movies.
"Honestly, you know, the things that go on there," she said of the films. "They do some things, right women? The things I don't want to go into."
Interestingly enough, later in the interview Keaton also admitted that she doesn't have a sex life and that "it's gone, I don't participate in that."
Sounds like someone needs to buy a ticket to "Fifty Shades Freed" stat!
Popular in the Community