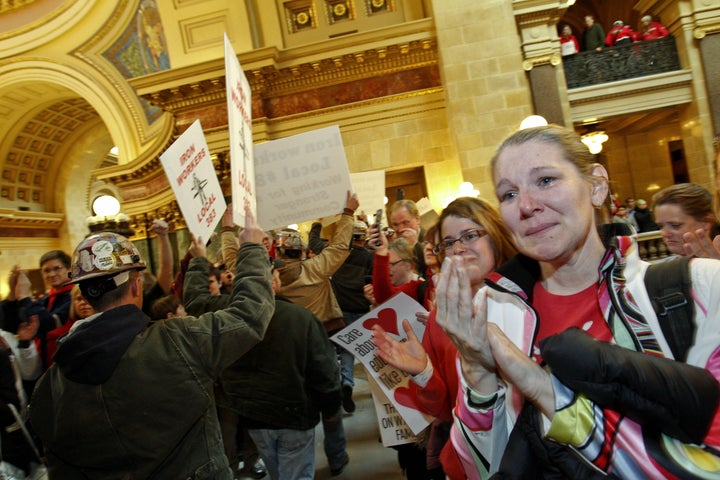 WASHINGTON -- The protests that erupted last week in Wisconsin have attracted attention not only across the United States, but even as far away as Egypt. One of those out-of-state observers, Maine state Rep. Diane Russell (D), has decided that what is happening in Madison is so important -- even to her own Northeastern state -- that she has decided to pack up a vehicle and drive all the way out there with three of her friends to join the fight.
"I wanted to be there to show solidarity," said Russell in an interview Sunday evening with The Huffington Post as she was driving through New Hampshire. "I'm coming because if the levees break in Madison, everyone gets flooded."
Russell has been raising money through her website for the trip, which includes providing protesters with hot chocolate, coffee and hand-warmers -- cold-weather necessities for standing outside for hours in Wisconsin. She said that she had raised more than $1,000 in total. She is also tweeting and posting updates about her trip.
In an e-mail to her supporters she made clear that she believes what Walker is doing doesn't have anything to do with closing a budget gap. "This war isn't about the unions: it's a class war," she wrote. "This affects every worker and every member of the Middle Class -- what's left of it."
She's seeing similar movement in Maine, under newly elected Gov. Paul LePage (R) and his proposals to reform state regulations, which are divided into three phases. Phase I, which has been hotly debated in the state, revolves around environmental regulations. One of his most controversial proposals is to repeal the proposed ban on the chemical BPA. Phase II, explained Russell, deals with health care, and Phase III is regarding labor.
"This is a real line in the sand people need to get behind," said Russell, who said she grew up in a low-income household with two incredibly hard-working parents. "The right to organize is so fundamental to the middle class, and the middle class is sinking. People should be climbing into the middle class, not falling out of it. It really comes down to the fact that there's a line in the sand that's been drawn, and I can't not participate in democracy right now."
In a memo sent to reporters, the AFL-CIO said that it expected 50 solidarity events around the country in the coming week. The SEIU has posted a list of events around the country this week. The largest gatherings are expected to be in Ohio, where thousands have already turned out to protest Gov. John Kasich's (R) proposal that would eliminate the collective bargaining rights for state employees and curtail the rights of local-level government employees.
Russell compared the country's situation to a scene in "The Lord of the Rings: The Two Towers."
"Everybody is going out on their horse, knowing they're going to die and knowing they're going to lose," said Russell. "But they're going to go out on their horses anyway, and they're going to go out bravely. And they're going to stand there, and they're going to stand up, even if they lose or die. And at the end of the movie, you look to the left, and there's Gandalf. He comes with his reinforcements. And I've just been wondering, 'Where's Gandalf?' I can't ask where's Gandalf for my state if people are asking that from me."
Popular in the Community