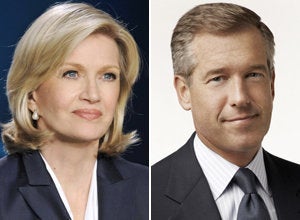 Diane Sawyer cut the gap between her "World News" and first-place "NBC Nightly News with Brian Williams" last week to the smallest margin since she took over the program.
"World News" averaged 7.00 million total viewers last week, just 430,000 viewers short of the "Nightly News" average (7.43 million total viewers). The "CBS Evening News with Katie Couric" fell to 4.98 million total viewers, its lowest delivery since June 2009.
The 430,000 viewers represents the smallest margin between the dominant "Nightly News" and second-place "World News" since September 2009.
Sawyer, who took the anchor chair in December, also reached a milestone last Wednesday: for the first time, she beat Williams on a single night. Wednesday's "World News" averaged 7.22 million total viewers to 7.11 million for "Nightly News."
All that said, "Nightly News" remains the dominant evening news program, despite the surge last week by "World News." In the first quarter of 2010, both ABC and CBS saw their worst quarters ever, while NBC thrived, seeing its best first quarter average in five years (though NBC ratings saw a boost because the network televised the Winter Olympics). Since Sawyer took over in December, "Nightly News" has grown by 4% while "World News" has fallen 2% in total viewers compared to its prior season-to-date average; similarly, "Nightly News" has widened its lead over "World News" over the season since Sawyer took the anchor chair to 17% (compared to an 11% lead prior).
Related
Popular in the Community