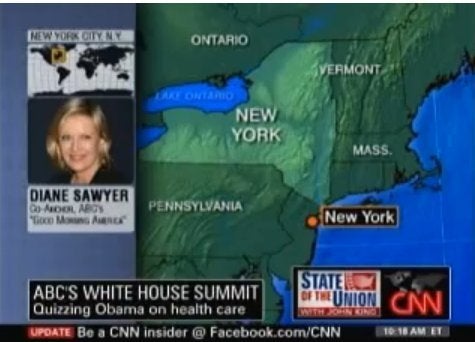 "Good Morning America" co-anchor Diane Sawyer responded to accusations that ABC News will pander to the Obama administration in an upcoming primetime special about health care reform.
Since the announcement of the special, conservative commentators, including Sean Hannity, have decried ABC for promoting "Obama-care" and for making it clear that "journalism in America is dead."
In an interview with Howard Kurtz during the "Reliable Sources" segment on CNN's "State of the Union with John King," Sawyer seemed both upset and bemused by the accusations.
"I'm so proud of ABC," Sawyer said. "This network is trying to tackle a serious issue in a serious way".
Sawyer stressed that the special's purpose was not to unequivocally back Obama's health care plan, but to take a careful look at both sides of the issue. "It is not an infomercial" she noted. "ABC News does not do that... [we] are going to be able to ask questions from every single vantage point".
Sawyer also pointed out that this was not the first time ABC News has been granted access to the White House to film a special focusing on a single hot-button issue. The network arranged a similar program with the Clinton administration regarding gun control, and approached the Bush administration with an offer, but was turned down.
"Our job is to have a serious conversation," Sawyer said. "This is not theater. This is too important."
"Questions for the President: Prescription for America" will air on ABC at 10PM ET on Wednesday, June 24.