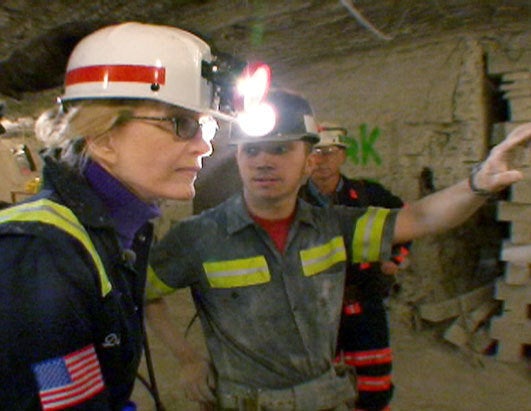 Last Friday, nearly 11 million viewers watched Diane Sawyer's ABC-TV special report, "A Hidden America: Children of the Mountains." While touching on the extreme conditions of poverty in eastern Kentucky, replete with toothless enthusiasm, Sawyer failed to notice the 800-pound gorilla in the room: Mountaintop removal strip mining that has devastated eastern Kentucky's communities and economy.
This Friday, Sawyer and her 20/20 crew will apparently air a follow up to their special.
Sawyer and her producers have no excuse to gloss over the huge issue of strip mining in eastern Kentucky this time. She needs to talk to eastern Kentucky actress Ashley Judd, for starters, to get beyond the shallow talk about poverty.
Judd actually spoke about Sawyer's first program this week. Here's a clip.
She also needs to interview community organizers in the trenches who are not merely handing out charity, but bringing the affected eastern Kentucky communities together to address their problems of unemployment, drug abuse and hopelessness.
Sawyer should start with Robert Gipe, an actor and theater producer in Harlan County, who has used the theater at the Appalachian Center at the Southeast Kentucky Community and Technical College as an arena for action on poverty and drug abuse. Gipe and his community have put together an amazing play, Finding Higher Ground, which should be featured on ABC-TV.
Funny enough, this week, while Sawyer's film crew roamed the region and looked for "concrete ideas" about solving poverty in Appalachia, hundreds of eastern Kentuckians were marching on the state capitol in Frankfort, including actress Ashley Judd and bestselling author Silas House, to demand an end to mountaintop removal, and to call for a sustainable green economy that would effectively address the deeper issues of poverty in Appalachia.
Ashley Judd was smashing, as ever, and pulled no punches in her speech on the state capitol steps about the coal industry's impact on ruining the eastern Kentucky economy.
"Make no mistake about it: The coal companies are thriving. Even in this bleak economy, they are thriving. What is dying is our mountains. And they are dying so fast, my friends, so shockingly fast."
A clip of her speech can be seen here.
Sawyer and her producers also should interview organizers from the Kentuckians for the Commonwealth, whose Canary Project deals with the underlining issue of entrenched poverty in the coalfields. See here.
Finally, as a story of hope, Sawyer needs to spend some time at the historic Pine Mountain Settlement School, which has worked with mountain people for decades. Pine Mountain works to:
• Teach others about the natural environment and promote protection of ecosystems
• Incorporate into our operation energy conservation, renewable energy sources, local materials and healthy food, and share this knowledge with others
• Provide supplemental educational experiences for local students which
strengthen, enrich, and extend their academic education
• Protect and maintain natural lands and historic structures at the Settlement School
• Celebrate, interpret, and promote the cultural heritage of central and southern Appalachia
• Serve as a center for recreation, fellowship, and lifelong learning, welcoming all who come
Calling all HuffPost superfans!
Sign up for membership to become a founding member and help shape HuffPost's next chapter