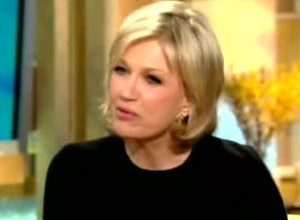 At least one good thing has come out of Eliot Spitzer's fall from grace: Diane Sawyer will finally get to air her hooker special!
Almost two years ago, Sawyer and producers at "Prime Time Live" set out to do a story on prostitution. Wanting to examine Nevada's legal brothels, she headed out to the famous Moonlite Bunny Ranch.
"She really hit it off with all my girls," Bunny Ranch head Dennis Hof tells us. "We even gave her one of the terry-cloth bathrobes they wear. We had it embroidered, "Diane: Trainee."
Sawyer did her best to keep her probe undercover -- even though Carson City locals recognized the towering blond anchorwoman and her husband, director Mike Nichols.
But she found that her prudish rivals posed a bigger problem. Some claimed the piece was disgraceful -- shameless pandering by the news division for ratings.
Popular in the Community