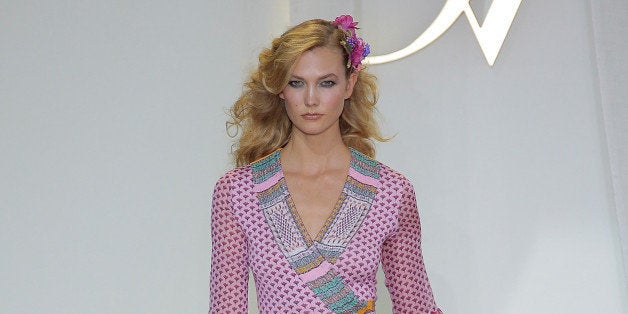 There's almost never been a more important time than now for the ultimate power woman, Diane von Furstenberg, to make a statement about the strength, sophistication and savvy of women.
When Diane von Furstenberg made her post-show appearance to thunderous applause after the showing off her Spring 2016 collection, she made a fabulously bold statement. She confidently strode down the entire runway, hands in the air, full of joy and confidence.
She had just presented a stupendous collection and she knew it. And it was just what American women needed right now. Here we are in 2015, still fighting for gender pay equality plus our reproductive rights are under siege, like never before since the Supreme Court recognized a woman's right to chose with Roe v. Wade. Yet, never have more women graduated college, entered the professions, chosen to be entrepreneurs and become entertainment and pop culture leaders -- think Beyonce, Taylor Swift, Rihanna, Katy Perry, Amy Schumer, Tina Fey and more.
It's a strange dichotomy. Never have women occupied more positions of power, yet still had to fight for basic rights. That's why it was so wonderful to see the designing pioneer herself, Diane von Furstenberg, who conceived the perfect wrap dress for the modern woman, give us the visionary next step for 2016.
Her palm pink patterned wrap jersey and chiffon dress on Karlie Kloss embodied her 'now' statement look. That's because it married strength, no-nonsense professionalism for the career woman, with sexy femininity in the most figure flattering shape.
Women today want to look alluringly like women even as they express their career creativity and determination. Diane understands that women want to feel and look like women and that doesn't mean that they aren't serious about achieving their life goals. She gave American women plenty of new ideas about what to wear in their multi-faceted lives: soft pink and turquoise print jumpsuits, ivory and black chiffon day-time business dresses, soft printed pantsuits and flirty short suits, sheer evening jumpsuits, full length patchwork dresses that can double for word day or play and a bold yellow and fuchsia one-shoulder evening gown that was just to-die-for. It was a brilliant collection unabashedly celebrating female strength and sensuality - just what we needed.
Thank you, Diane for understanding the aspirational modern woman who must not be afraid to be a woman!