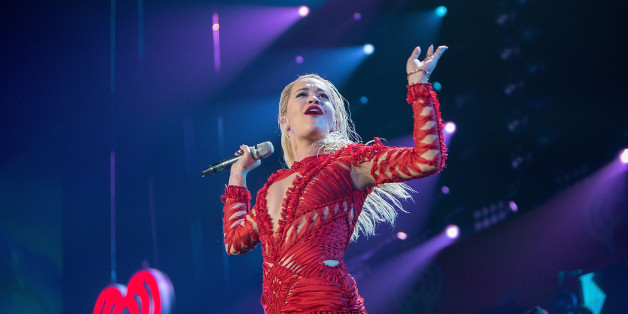 No one was more surprised to see Diane Warren listed among this year's Best Original Song nominees than Diane Warren herself.
"I'm still shocked," Warren, who was nominated for writing "Grateful" from "Beyond the Lights," told HuffPost Entertainment. "This year there was Coldplay, Lorde, Lana Del Rey, Jennifer Lawrence sang a song, Imagine Dragons, Patti Smith -- and I'm leaving off 50 others. There were so many people this year."
Warren has seven career nominations now, but this year marks her first since "There You'll Be" from 2001's "Pearl Harbor."
"I do so many songs for movies. I always get disappointed. A few years ago, I won the Golden Globe for 'You Haven't Seen The Last of Me' from 'Burlesque,' and I didn't even get nominated at the Oscars. It was the one time in my life I was probably a front-runner," Warren said. "This time I said I was going to have no hope. No one saw the movie. It came and went in a weekend. But people loved it. It had 81 percent on Rotten Tomatoes. It had so much emotion. It was better a bunch of the Oscar movies. It's a great movie."
Directed by Gina Prince-Bythewood, "Beyond the Lights" was one of the year's most underseen gems. Critics raved about the project -- we placed it on the HuffPost Entertainment list of 2014's best movies -- but the film was scuttled away almost as quickly as it came out. Relativity Media, which released "Beyond the Lights," reportedly didn't send out awards screeners. Warren herself had to pay for trade ads promoting her work. ("I said I'm going to bet on myself. I might not have any shot whatsoever, but I will always bet on myself," she said. "I'm good bet.") Even Rita Ora, who sings "Grateful," has largely ignored the song's existence.
"Gina, the director, wanted Rita to do it," Warren said. "Had I known there wouldn't be a lot of support, had I known she would have only tweeted about it once ... you know? She sang it great, but it's a little frustrating."
Ora will perform "Grateful" at the Oscars on Feb. 22, but beyond a few tweets -- one congratulating Warren for the Oscar nomination -- she's remained largely silent about the track. (Over the last month, her Twitter feed has heavily promoted "Doing It," a collaboration she did with Charli XCX, instead.)
According to Warren, both she and Prince-Bythewood have contacted Ora personally about recording a video for "Grateful." They received no response.
"I have to be really honest, I don't want to be a jerk or anything, but had I known about this lack of support, there are other artists I'm working with that -- if it had been up to me -- I would have gone with," Warren said. "She sang it great! But, come on. How on Earth are you not wanting to [promote it] ... I don't get it. Everybody around me, we're all shocked. How can ... just ... you know?"
A representative for Ora did not respond to multiple requests for comment. The singer, however, did provide a statement to Yahoo! Movies:
I'm so thankful to be have been able to participate in a piece of Diane Warren's lyrical genius. I am incredibly 'grateful' that I will have the opportunity to perform at the Oscars thanks to her work, and I'm so glad that I'll be able to share it with a wider audience on February 22."
A representative for Prince-Bythewood was not immediately available for comment.
Warren has written some of the most iconic pop songs from the last 30 years, including Oscar nominees "Nothing's Gonna Stop Us Now" and "I Don't Want To Miss A Thing." She said that with the right awareness campaign, "Grateful" could have been just as big.
"What all these other songs have in common, and what this should have in common with them, is that they were mass appeal hits," Warren said. "I could see that maybe you don't put it out as a single before the nomination, but when you're going to sing it to millions of people ... really? No video, no nothing. Really?"
But despite the rocky rollout, Warren couldn't be happier with her work or the film itself. "I love the song," she said. "I love the point of view where it's coming from. I need to listen to my own words. It's such a great, positive message. Everybody who hears it really loves it, which is why it got nominated."
And while "Grateful" sits as an underdog contender behind favorites like "Glory" from "Selma" and "Everything Is Awesome!!!" from "The LEGO Movie," Warren isn't ready to chalk up another defeat.
"The little teeny song from the little teeny movie. My seventh nomination after losing six times. Who knows?" she said. "It could go all the way. Literally, everything is so against it. All these people are doing videos and going out. You know what? I'm a scrappy little fighter. My song's a scrappy little fighter."
REAL LIFE. REAL NEWS. REAL VOICES.
Help us tell more of the stories that matter from voices that too often remain unheard.
BEFORE YOU GO
PHOTO GALLERY
2015 Oscar Nominees