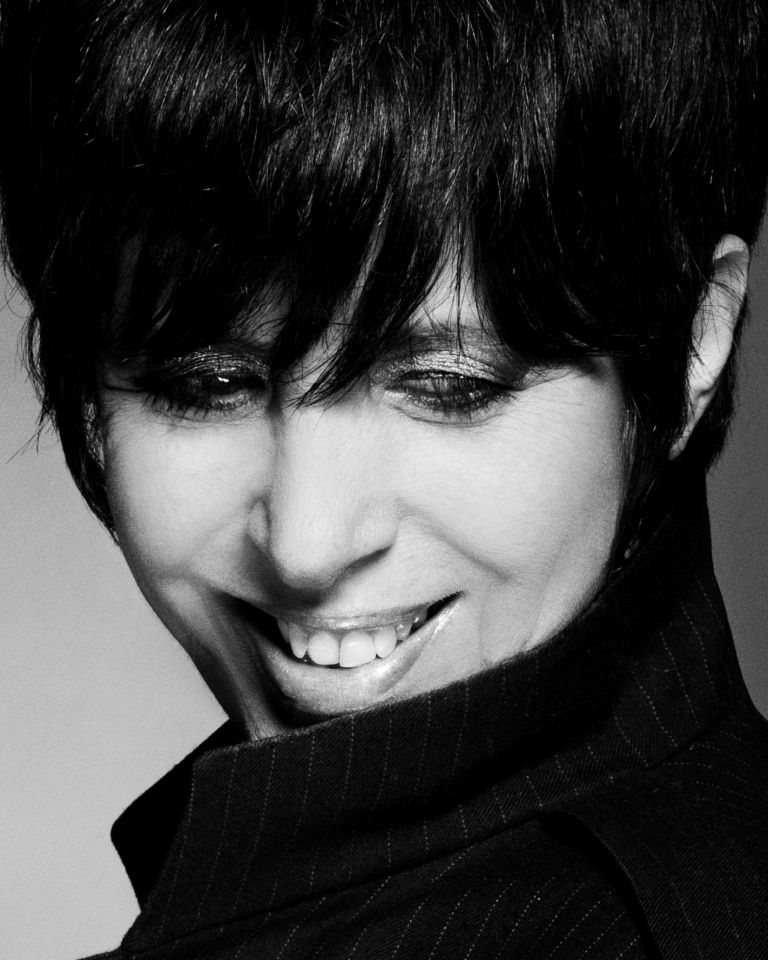 Diane Warren has written some of the best-selling songs in pop music history, including Aerosmith's "I Don't Want to Miss a Thing" and Toni Braxton's "Unbreak My Heart." Given that she's hailed as "The Queen of the Ballad," you'd assume she'd be delicate and lovey-dovey. She's not. She's a fiercely protective, business-savvy woman who has been in demand since she wrote her first hit, Laura Branigan's "Solitaire," 29 years ago.
While having our friendly chat, I tell her that the song she wrote for Whitney Houston, "I Didn't Know My Own Strength," meant so much to me that I used it on my Facebook page. She's touched -- for a moment.
"Aw, that's so nice," she says. Then, without the slightest bit of hesitation, she adds, "Pay me, bitch!"
We both laugh, but she's serious. She knows she's good, and this year two of her songs, Justin Bieber's "Born to Be Somebody" and Cher's "You Haven't Seen the Last of Me," are up for Grammy Awards. Both nominations are in the same category, Best Song Written for Visual Media. She's been nominated before -- 13 times, in fact, but she has only taken home one Grammy. Although she is happy just to have her work recognized, she admits, "I want to win."
How do you feel about receiving the nominations for these songs?
It's cool. Justin Bieber to Cher. There's almost a 50-year age difference between the two of them.
Yeah, there's variety. It doesn't get more variety than that, right?
Where were you when you found out about the nominations?
I was in the studio. I was kind of hoping my Beyoncé song would be up for Song of the Year, and those [nominations] were the first to be announced. I was like, "Ah, shit." Then later on, the other nominations were read, and I was like, "Oh my god! I got two! Cool!"
You've worked with Cher in the past, but what was it like working with Justin?
I wasn't actually in the studio with Justin. I ran into the head of music at Paramount and Justin's manager, Scooter Braun, at a restaurant, and they were talking about the movie [Never Say Never]. Scooter was saying, "I need a 'Man in the Mirror.' I need a great, inspiring song." I wrote the song and gave it to him, and he loved it.
What was the inspiration behind it?
You're born to be somebody. It's really easy for me to write that kind of song, because I'm a dreamer. It's really about knowing you're born to be somebody and nothing is going to stop you. I don't necessarily write about my life, because I don't have much of one -- my life isn't that interesting -- but both of those songs ["Born to Be Somebody" and "You Haven't Seen the Last of Me"] are ones I can relate to.
And then you finally did meet Justin.
At the premiere. It was crazy to see how his fans are.
What did you think of the movie?
I thought the movie was really great. It's funny because when I went to the premiere, I was thinking before I went in, "Can we just fast-forward so I can hear the song?" But, it's a great movie. It really is. You see how talented he is. The story was told well.
Tell me about "You Haven't Seen the Last of Me" from Burlesque.
I was trying to write a song for Cher that really embodies her and what she's about. We will never see the last of her. I'm hoping they will have the "You Haven't Seen the Last of Me" Tour. The farewell tour lasted five or 10 years!
It's the opposite of "If I Could Turn Back Time." Cher hated that song. I literally got on my knees in the studio and held her leg down until she agreed to try it. This one is a case where the director of the movie hated the song. Even other people who were writing songs for the movie were calling him to tell him that my song was the one. He was just done with it. I ended up running into Loree Rodkin, Cher's best friend, randomly at a restaurant. See, both the Justin and the Cher thing have to do with restaurants. Anyway, I told Loree I had written this song for Burlesque, but I didn't tell her that the director hated it. I played her the song, and she loved it. She told me she'd get the CD to Cher.
A couple weeks later I was getting all of these emails from her manger. I was like, "Oh my god, she really did what she said." The cool thing is Loree played it for Cher while she had a hair dryer on her head, and even through that she loved it. Then they recorded it and filmed it for the movie, and the director still wanted to take it out. But she fought for it. She fought for it like I fought for "Turn Back Time." She got her way.
And last year it won the Golden Globe, but it failed to get nominated for an Academy Award.
Don't even get me started. Fucking Oscars! I'm still pissed off. It was the moment of that movie. It was the frontrunner to win. I've been nominated six times and never won. Everyone was going, "You're going to win." Can you imagine Cher on that stage singing that song? It would've been talked about for years. They fucked themselves, basically.
This year there are only two songs up for Best Original Song.
It's so stupid. I don't get it. It's that fucking point system! Now the cool thing is they are going to get a lot of pressure to change it.
Finish this sentence: Diane Warren is the kind of woman who...
Gloria Estefan once told me that she loves her gay fans because they actually listen to lyrics. You have a lot of gay fans who love your music.
I think every man should be gay. I'm serious. Any male friend I have is gay. I think there should be a law that every man should be gay.
Well, they do love their divas -- like Beyoncé. Is there a story behind "I Was Here"?
I think it's one of the best songs I ever wrote. The story is so cool. I was waiting for somebody at my house. He didn't show up. I brought my acoustic guitar home to play him a song. I was just sitting there with my guitar, and I started to sing, "I want to leave my footprints on the sands of time." I was like, "Whoa, shit! That may be the best opening line I've maybe ever written in my life." I have two phone lines at my house, and I was singing it into my answering machine. I'm so old-school. After I wrote it I thought, "I've never worked with Beyoncé. Something like this would be so cool for her."
How did you get her attention?
I figured I didn't want to go through the record company. I met Jay-Z a couple of times, and I thought, "What the hell? Let me call him." He didn't return my call. Being me, the persistent "slash" stalker that I am, I called him again. I told him that I had just written one of my best songs, and I wanted him to hear it. He listened and told me to stay right there, and he would have Beyoncé call me.
She called me within an hour and said, "Jay is raving about this song." I told her, "Look, I'm not going to hype you." I played her the song, and she said she had chills on every bone of her body. I played it for her on a Monday, and Wednesday she came into the studio and sang her ass off.
What makes a great song -- you don't put it into words. You feel it. The perfect lyric. The perfect melody. It makes you feel something.
Do you know when you've written a hit song?
I think I write them all the time -- she said modestly. But there is so much that goes into it. It has to be the right record. It has to be produced the right way. The label has to get behind it. Radio has to get behind it. Then people have to go out and buy it. None of that is in my control.
What is the key to your success?
I show up. I put my blinders on, and I go to work.
You work in what you call "The Cave." [It's an approximately 8- by 10-foot office, located in the grittier section of Hollywood. It's been Warren's writing room since 1985. It hasn't been cleaned in over two decades. On one side of the room are record bins and hundreds of lyrics from handwritten notebooks scattered across the floor. The cabinets that contained them fell in Los Angeles' 1994 earthquake and haven't been touched since. The curtains were once paper pulldowns but are now just shreds of paper that would turn to dust if you touched them. The walls are covered in old articles, gold records, framed Billboard charts of her number-one songs, and "Rhythm of the Night" El Debarge poster.] Have you cleaned it up?
No. It's disgusting! It's how I like it.
You were born in Van Nuys, Calif. and started writing songs at 11 years old in your family's woodshed in the backyard. When did you first realize you had a gift?
I realized it when I was a kid. When I was 14 I was really arrogant.
What happened when you would go to music publishers and pitch your songs?
Everyone said I had talent and not to give up. I was like, "You're gonna be sorry, because I'm gonna make it!" I was an arrogant little bitch. I thought I was good before I had any right to. But I think you got to feel that way. You got to think that. I wasn't delusional. I knew I had talent.
Your father believed in you, and he was the inspiration behind the song "Because You Loved Me." However, your mother encouraged you to learn how to type.
Yeah, because that was going to happen. Like I was going to learn to type. There was not a plan B. I had no fallback plan. I don't believe in them. If I couldn't make it, I'd die.
"Because You Loved Me" is just one of your many love songs, yet you have always said that you've never been in love.
What are your thoughts on love?
It's a good thing, but I haven't really been in love like most people.
You once said that the people who buy records don't care who wrote the song.
They don't. I mean, it depends. When people buy an artist's records, they are not thinking, "Oh, Diane Warren wrote that." If they are buying "I Don't Want to Miss a Thing," they are believing Steven Tyler wrote it. And they are supposed to. They are convincing their fans that it's coming from them. It's like being a great actor. That's a huge talent. Even if they didn't write it, it's still their song. It's them that's putting it over.
When you hear your songs in public, do you tell people that's your song?
I've been in grocery stores, and if they're playing my music, I'll yell, "Hey! I wrote that!" I've been next to cars and have done that!
Is there an artist you'd still love to work with?
Madonna. I've never worked with her. There was a song of mine she liked a couple of years ago, but I don't know where she's at with it now. She's probably forgotten about it.
What's the greatest lesson you've learned in your career?
Never give up, and work hard. A lot of people give up, but you can't stop me. If you close the door, I'll just jump out the window.
Are you still as ambitious as ever?
Do I sound like it? Of course I am! I feel like I've never had a hit record in my life.
After everything you've done thus far, what are you the most proud of?
I'm proud that I do this, that I get to write songs that mean something to people. I'm proud that I'm in the songwriter's Hall of Fame. I mean, that is pretty fucking cool.
Photo courtesy of Emily Shur
Calling all HuffPost superfans!
Sign up for membership to become a founding member and help shape HuffPost's next chapter