WASHINGTON -- Sen. Dianne Feinstein (D-Calif.) introduced legislation Thursday that would ban more than 150 types of assault weapons along with certain high-capacity gun magazines, saying she knows she faces an uphill battle to get her measure through Congress but, with the help of the American public, it can be done.
Feinstein's bill is far more detailed than the 1994 assault weapons ban that lapsed in 2004. Her bill would stop the sale, manufacture and importation of 158 specifically named military-style firearms and ammunition magazines that hold more than 10 rounds. It would also ban an additional group of assault weapons that accept detachable ammunition magazines and have at least one military characteristic -- a new provision she said addresses a loophole in the 1994 law.
"One criticism of the '94 law was that it was a two-characteristic test that defined it, and that was too easy to work around. Manufacturers could simply remove one of the characteristics and the firearm was legal," Feinstein said during a press conference, where she stood next to a wall of actual assault weapons on display. "The bill we are introducing today will make it much more difficult to work around by moving to a one-characteristic test."
Other new provisions include requiring background checks on all future transfers of assault weapons covered under the bill and eliminating the 10-year sunset that allowed the original ban to expire.
Finally, the bill includes a number of exemptions: It exempts more than 2,200 hunting and sporting weapons; any gun manually operated by a bolt, pump, lever or slide action; any weapons used by government officials and law enforcement; and any weapons legally owned as of the date of the bill's enactment.
Feinstein's legislation represents the most ambitious -- and most politically difficult -- piece of the gun violence package that President Barack Obama unveiled earlier this month. The recent push for gun control legislation comes in response to last month's shootings at a Newtown, Conn elementary school, and, more generally, in response to the spike in mass shootings that has occurred in recent years.
Feinstein spent nearly a year crafting the bill and said she did her best to keep it specifically focused on "guns designed for military use and used for mass murder."
"No weapons will be taken from anyone," she emphasized. "The purpose is to dry up the supply of these weapons over time."
Throughout the hourlong event, where police officers stood behind speakers ranging from Connecticut lawmakers to victims of mass shootings to former staffers of former Rep. Gabrielle Giffords (D-Ariz.), Feinstein acknowledged the steep climb ahead for her bill, which has yet to pick up public support from any Republicans or moderate Democrats.
"This is really an uphill battle. If anyone asked today, 'Can you win this?' the answer is, I don't know, it's so uphill," she said, pinning the success of the measure almost entirely on public will. "There is one great hope out there and that is you. Because you are stronger than the gun lobby. You are stronger than gun manufacturers ... Only if you stand up, if America rises up, if people care enough to call every member of the House and every member of the Senate and say, 'We have had enough.'"
Indeed, Obama is banking on public sentiment to help to carry pieces of his gun violence package through Congress, where gun control has long been a taboo subject. He has vowed to travel around the country pushing pieces of his plan, which includes other, less contentious proposals like tighter background checks and better data collection for people determined by courts to be mentally ill. On Friday, Vice President Joe Biden will travel to Richmond, Va., to discuss the plan. Biden also held a Google+ chat on Thursday afternoon focused on gun violence.
Opposition to the assault weapons ban is nearly universal among Republicans, many of whom receive campaign contributions from the National Rifle Association, one of the most powerful lobbying groups in Washington. Speaking at a press conference in late December, NRA chief executive Wayne LaPierre called the assault weapons ban "a phony piece of legislation … built on lies," and a violation of Second Amendment rights. LaPierre and congressional Republicans have long argued that an assault weapons ban would not reduce overall crime, and therefore is ineffective.
Rep. Carolyn McCarthy (D-N.Y.), whose husband was killed in a 1993 shooting spree on a Long Island Rail Road commuter train, is introducing the House version of Feinstein's bill. She said she's been meeting with the NRA over the past few weeks to try to figure out a way to work together, a process that she called "frustrating" but one that she said still gives her hope.
"To be honest with you, I'm not going to be able to trust them to be there for the tough votes," McCarthy said. "You're going to hear from the NRA and a lot of them are going to be saying [the assault weapons ban] is not going to do anything. I'm saying it's going to save lives."
As if on cue, the NRA put out a statement right after Feinstein's press conference completely dismissing her bill and its chances of moving through Congress:
"Senator Feinstein has been trying to ban guns from law-abiding citizens for decades. It's disappointing but not surprising that she is once again focused on curtailing the Constitution instead of prosecuting criminals or fixing our broken mental health system. The American people know gun bans do not work and we are confident Congress will reject Senator Feinstein's wrong-headed approach," reads the statement.
Tom Diaz, a longtime gun industry analyst and gun control expert, said the most likely outcome in the Senate would be the shelving of the assault weapons ban in favor of a bill requiring universal background checks on all gun sales -- among the least controversial of Obama's legislative proposals.
"You've got to watch the ball, and the ball here is really the universal background check," Diaz said. "That's what they've compromised down to."
Others saw a path forward for the bill, though a rocky one.
"Nobody thinks this is going to be an easy lift," said Ladd Everett, of the Coalition to Stop Gun Violence. "We're going to have to mobilize some grassroots activity behind this and send a very loud and clear message."
If there is any action to be had on gun control, it will have to start in the Senate, where Democrats hold the majority and have a greater chance of being able to pass a bill. The Senate Judiciary Committee will hold its first of several hearings next week on gun violence, and Senate Majority Leader Harry Reid (D-Nev.) has said he's prepared to bring some kind of gun legislation to a floor vote, though he hasn't specifically said he'd bring up an assault weapons ban. In fact, he previously dismissed the idea that a ban could even pass, but has since walked back his remarks somewhat.
Asked about Reid saying an assault weapons ban can't go anywhere, Feinstein scoffed.
"Look, I just said it's uphill. Clearly it wasn't helpful," she said of his comment. "He has a right to say it. That doesn't mean he's always right."
Christina Wilkie and John Rudolf contributed reporting.
Support HuffPost
The Stakes Have Never Been Higher
Before You Go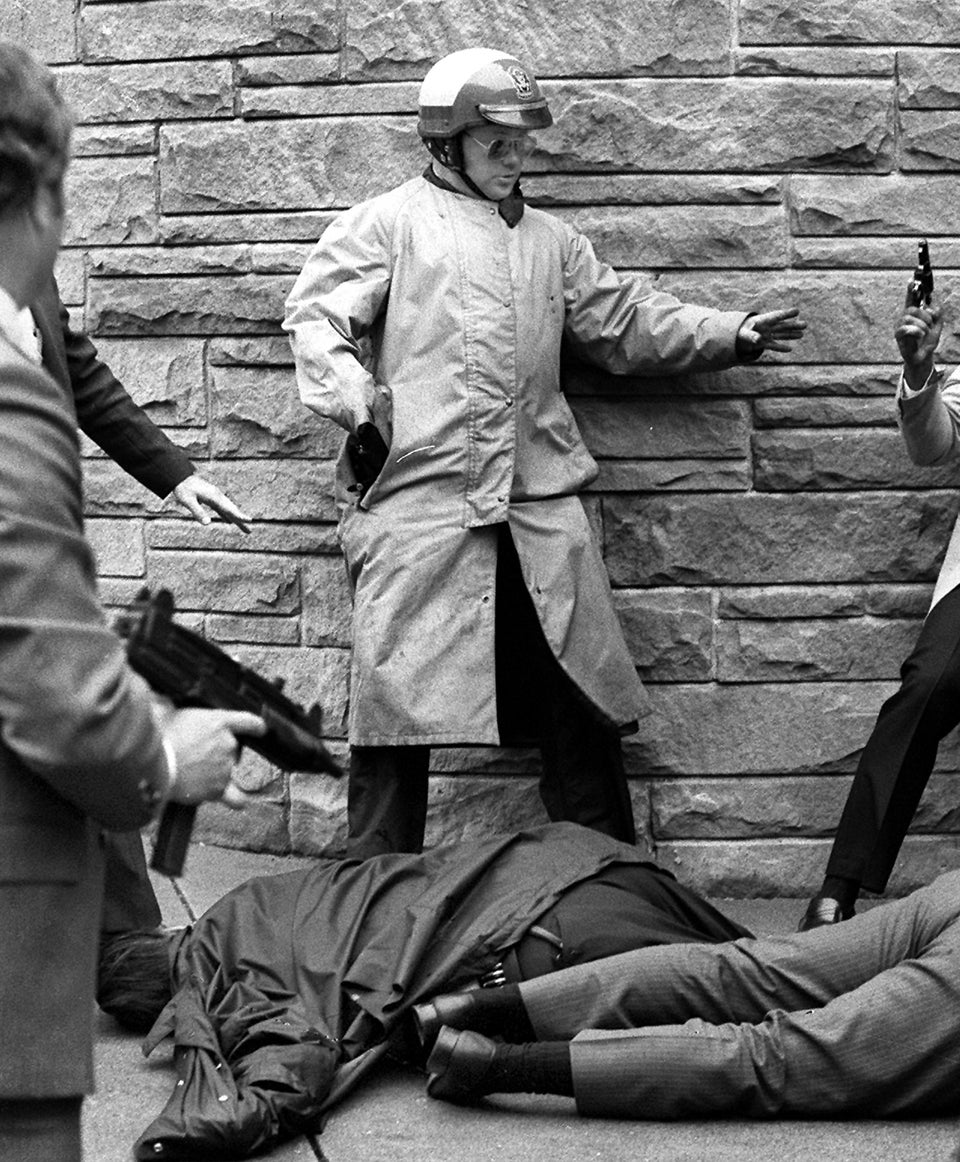 Pivotal Moments In The Federal Gun Control Debate
Popular in the Community