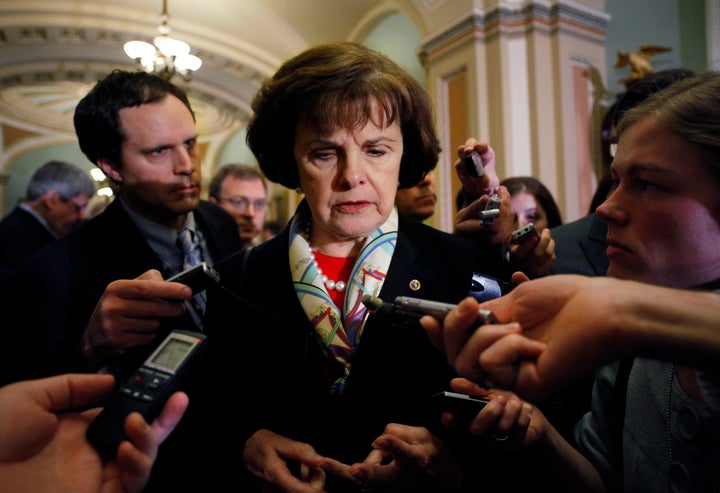 WASHINGTON -- Senate Intelligence Chairwoman Dianne Feinstein (D-Calif.) said Monday that Osama bin Laden had been living on the compound where he was killed for up to six years and expressed concern that the Pakistani government may have known.
"It appears that Osama bin Laden and his family could have lived there for up to six years," Feinstein told reporters at the Capitol. "This compound has been around [for up to six years] and that's the belief. I said up to six years."
The California Democrat voiced concerns that the Pakistani intelligence agency, Inter-Services Intelligence (ISI), may have known bin Laden was there and not done anything about it, particularly given the compound's massive size and proximity to Islamabad.
"It's very hard for me to understand how Pakistani [leaders], particularly the ISI, would not have known that something was going on in that compound," she said. "I've had a growing concern that the Pakistani government … is really walking both sides of the street."
Feinstein stopped short of calling for cutting off $1.1 billion in U.S. aid to Pakistan for counter-insurgency efforts. But she floated the idea of restructuring those funds in a different way.
"Our government is in fiscal distress," she said. "To make contributions to a country that isn't going to be fully supportive is a problem for many."
Feinstein noted that members of the Intelligence Committee had been briefed on the compound "for some time" and that fact that nobody leaked information about it is "very special." She also gave President Barack Obama credit "for having the gumption to make the decision" to attack the compound when it still wasn't 100 percent certain that bin Laden was there. Intelligence officials had been tracking the compound for a while and there was some "actionable intelligence" that bin Laden was there, but nobody had actually identified him yet, she said.
Feinstein isn't the only key Democrat raising concerns about the Pakistani government's potential knowledge of bin Laden's whereabouts: Sen. Frank Lautenberg (N.J.), vice chairman of the Homeland Security Appropriations Subcommittee, said it may be time for "a review" of U.S. aid to Pakistan.
"I hate to take a phrase from the past, but someone once said, 'Trust but verify,'" he said.
Calling all HuffPost superfans!
Sign up for membership to become a founding member and help shape HuffPost's next chapter