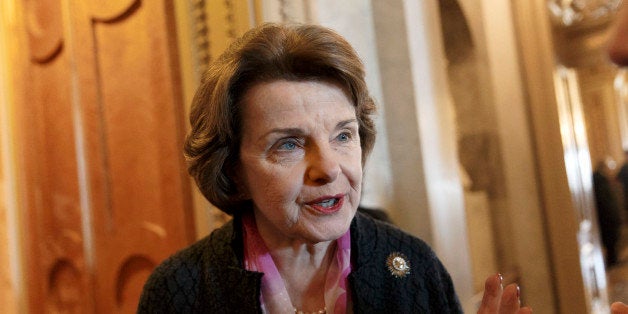 WASHINGTON -- Sen. Dianne Feinstein (D-Calif.) wants to clear the record on the CIA's use of rectal hydration as an interrogation technique on post-9/11 terrorist detainees: That was no medical procedure. That was torture.
Former CIA director Michael Hayden raised eyebrows Thursday by defending the practice as "a medical procedure" to help dehydrated detainees. He was responding to details in this week's bombshell summary of a report by the Senate Intelligence Committee on the CIA's detention and interrogation program. It revealed numerous types of torture used on detainees after the 9/11 attacks, including waterboarding, days of sleep deprivation and rectal infusions.
Hayden told CNN that rectal hydration was carried out five times, "and each time for the health of the detainee, not part of the interrogation program, not designed to soften him up for any questioning." He accused the Intelligence Committee, led by Feinstein, of using "one, half-assed unwarranted comment in one email" as the basis for claims of abuse.
Feinstein's office fired back Friday night, clarifying that rectal feeding was never authorized by the Justice Department as an interrogation technique and citing a Wednesday statement from Physicians for Human Rights saying there is "no clinical indication to use rectal rehydration and feeding" in place of oral or intravenous nutrients.
"Contrary to some claims, this is not a medical procedure," reads a statement from Feinstein's office. "Nor was it ever approved by the Justice Department's Office of Legal Counsel as an authorized interrogation technique."
Feinstein also cites six cases when the technique was used on detainees, in sometimes gruesome detail. In one case (on page 114 of the report), a detainee was administered a rectal infusion of pureed "hummus, pasta with sauce, nuts and raisins." In another case (on page 82), the CIA's chief of interrogations ordered the rectal rehydration of a detainee to illustrate the interrogator's "total control over the detainee." In another case (on page 100), CIA leaders were alerted to allegations that rectal exams were being conducted with "excessive force" on two detainees.
A CIA spokesperson did not respond to a request for comment.
President Barack Obama banned enhanced interrogation techniques when he came into office. But nobody at the CIA or in the military has been prosecuted for any wrongdoing in the aftermath of 9/11. The Justice Department reviewed allegations of mistreatment of detainees in 2009 and conducted two criminal investigations, but declined to prosecute in either case, citing a lack of admissible evidence.
The White House regularly punts all questions about the lack of prosecutions to the Justice Department -- even questions about Obama's personal beliefs on whether crimes were committed.
"That is not a question for the president of the United States," White House press secretary Josh Earnest said during his Wednesday briefing. "The president has confidence in the criminal justice system."
UPDATE: Dec. 13, 11:44 a.m. -- A CIA spokesman said Feinstein's charges are an example of the Intelligence Committee "relying on unsubstantiated claims" and pointed to a passage from the CIA's official response to the report.
"Medical personnel who administered rectal rehydration did not do so as an interrogation technique or as a means to degrade a detainee but instead utilized the well-acknowledged medical technique to address pressing health issues," the response says. "A single flippant inappropriate comment by one CIA officer concerning the technique quoted in the study is not evidence to the contrary."
BEFORE YOU GO
PHOTO GALLERY
Politicians React To CIA Torture Report