WASHINGTON -- Sen. Dianne Feinstein (D-Calif.), the chair of the Senate Intelligence Committee, hammered the National Security Agency Monday over reports it spied on foreign leaders and allies, and revealed that President Barack Obama said he would halt such eavesdropping.
A senior administration official denied the White House was stopping programs aimed at allies. A source close to Feinstein insisted the California lawmaker had been informed by Obama that spying on friendly leaders would cease.
Saying that she is "totally opposed" to eavesdropping on the leaders of friendly governments and wants a complete review of U.S. intelligence activities, Feinstein, who had been a staunch defender of the NSA since former agency contractor Edward Snowden began leaking documents detailing its secret activities, came down hard on the spy agency.
In an uncharacteristically harsh statement, Feinstein said new allegations that the agency monitored the phone calls of foreign leaders, including German Chancellor Angela Merkel, are simply out of bounds, and suggested the NSA has failed to fully inform Congress and Obama of its activities.
"It is my understanding that President Obama was not aware Chancellor Merkel's communications were being collected since 2002. That is a big problem," Feinstein said. "The White House has informed me that collection on our allies will not continue, which I support. But as far as I'm concerned, Congress needs to know exactly what our intelligence community is doing."
The senior administration official said Feinstein's statement that the White House is moving to stop spying on U.S. allies "is not accurate."
"While we have made some individual changes -- which I cannot detail -- we have not made across-the-board changes in policy like, for example, terminating intelligence collection that might be aimed at all allies," the official said.
It was unclear why Feinstein and the White House seemed to have differing interpretations of her conversations with Obama. But a spokeswoman for the president's National Security Council confirmed that the administration was re-evaluating its eavesdropping.
"We appreciate her [Feinstein's] continued leadership on these issues as chairman of the Senate Intelligence Committee," said the spokeswoman, Caitlin Hayden. "We are also looking at whether the system that's been in place for many years, called the National Intelligence Priorities Framework, could be modified to provide better policy guidance for our intelligence activities. The administration's review is ongoing ... but we have already made some decisions through this process and expect to make more as we continue. The review is meant to be completed by the end of the year."
The California senator has argued repeatedly that the NSA's mass collection of Americans' phone records is useful and necessary to protect the nation, and that it is carefully monitored by the Foreign Intelligence Surveillance Court. "It's called protecting America," Feinstein said in June (See video above.)
But the reported U.S. spying on foreign leaders -- and failing to explain such activities to elected officials -- is entirely inappropriate, Feinstein said Monday.
"It is abundantly clear that a total review of all intelligence programs is necessary so that members of the Senate Intelligence Committee are fully informed as to what is actually being carried out by the intelligence community," Feinstein said. "Unlike NSA's collection of phone records under a court order, it is clear to me that certain surveillance activities have been in effect for more than a decade and that the Senate Intelligence Committee was not satisfactorily informed."
"With respect to NSA collection of intelligence on leaders of U.S. allies -- including France, Spain, Mexico and Germany -- let me state unequivocally: I am totally opposed," Feinstein added, spelling out what may be a rare rift between her and the Obama administration.
"I do not believe the United States should be collecting phone calls or emails of friendly presidents and prime ministers. The president should be required to approve any collection of this sort," she said.
Feinstein placed the blame on former President George W. Bush's administration and officials in the intelligence community who did not later divulge the activities to members of Obama's administration and Congress.
U.S. ambassadors have been summoned by outraged allies to explain the reported actions, and the revelations have sparked a backlash across Europe that may lead to restrictions on U.S. surveillance, as well as rollbacks of other post-9/11 American intelligence activities.
This story has been updated with a statement from a senior administration official and from National Security Council spokeswoman Caitlin Hayden and sources familiar with Feinstein's discussion with the president.
Michael McAuliff covers Congress and politics for The Huffington Post. Talk to him on Facebook.
Before You Go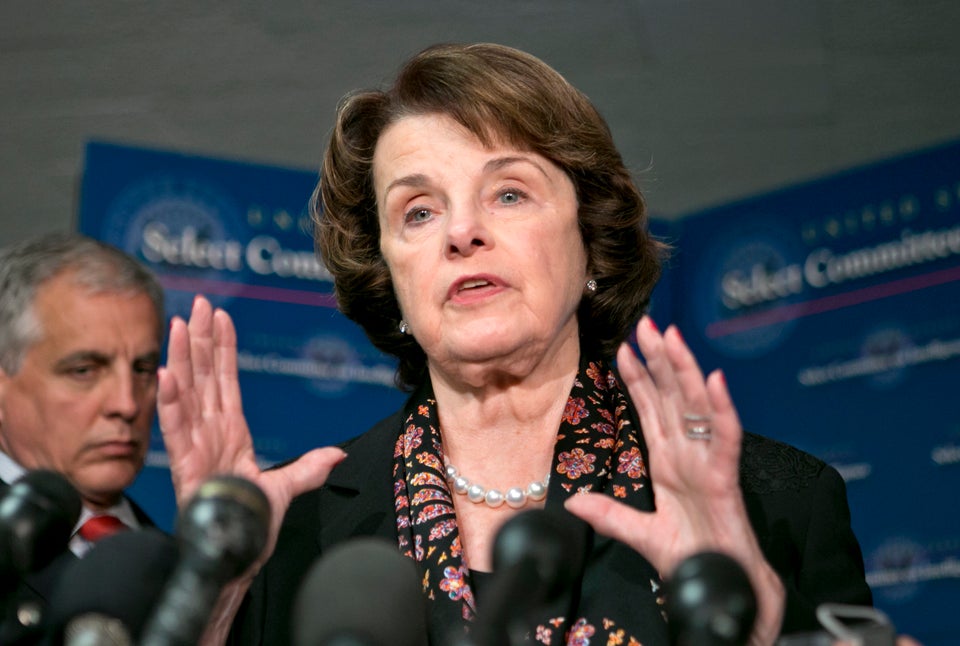 Politicians React To NSA Collecting Phone Records
Popular in the Community