WASHINGTON ― The death of Sen. Dianne Feinstein (D-Calif.) means a number of changes in the Senate, one of which is filling her vacant seat on the Judiciary Committee.
Once California Gov. Gavin Newsom (D) appoints Feinstein's successor, Senate Majority Leader Chuck Schumer (D-N.Y.) will need to amend the chamber's organizing resolution to add the new senator to the committees that Feinstein served on. These resolutions are typically passed on the Senate floor with unanimous votes and little fanfare.
But Republicans, who have already shown they're prepared to fight over Feinstein's seat on the Judiciary Committee, could use this moment to play hardball when it comes to President Joe Biden advancing his judicial nominees.
They could object to Schumer's resolution.
It would only take one GOP senator to say no to it, which would then require the Senate to pass it by at least 60 votes. That means it would take at least 10 Republicans voting with Democrats (including the three independents who caucus with them) to pass this resolution. If there aren't 60 votes to do this, California's newly appointed senator won't be seated on committees.
It would be a profound break from Senate norms if Republicans went this route. Nobody is saying they will; it's still early to know where things are headed, and one GOP leader already suggested he doesn't expect drama around committee seats.
But the fact remains that it is an option. It boils down to how far Republicans are willing to go to stop Biden from confirming his judges. And there is plenty of evidence showing that they're willing to go to extremes.
In April, GOP senators roared in opposition when Democrats requested temporarily letting another Democrat fill in on the Judiciary Committee amid Feinstein's prolonged absence, due to a battle with shingles. One by one, Republicans specifically rejected doing this because they didn't want to do anything that would help Biden confirm his judges.
"I don't think Republicans can or should help President Biden's most controversial nominees," Sen. John Cornyn (R-Texas), a member of the Judiciary Committee, said at the time. "This effort to confirm controversial and in many instances largely unqualified nominees, I don't think you can expect any Republican cooperation."
"I deeply respect Senator Feinstein, but this is an unprecedented request solely intended to appease those pushing for radical, activist judges," tweeted Sen. Thom Tillis (R-N.C.), also a member of the committee.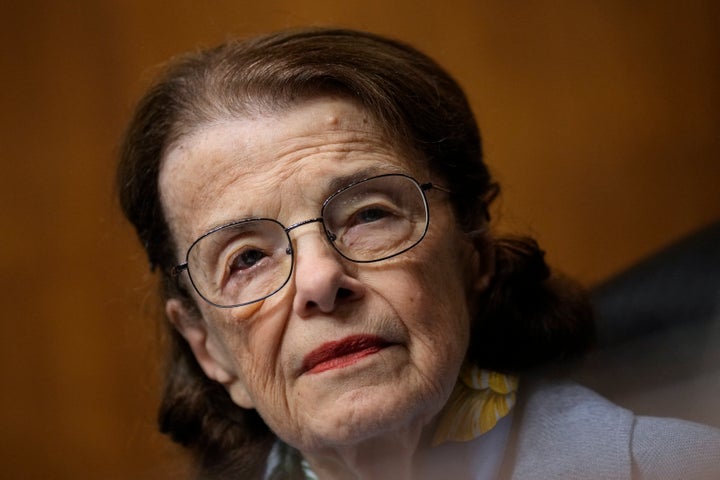 Beyond that dustup, Minority Leader Mitch McConnell (R-Ky.) has demonstrated for years that he's perfectly willing to blow up Senate norms and play dirty if it means putting more conservative judges onto the federal bench — and denying court seats to liberal judges.
A McConnell spokesman did not respond to a request for comment on whether the GOP leader has any plans to use the Senate's organizing resolution to thwart Feinstein's successor from being seated on Judiciary Committee.
McConnell made confirming judges his top priority under former President Donald Trump, helping him to push through record numbers of far-right, ideological judges. Since Biden moved into the White House, the GOP has returned to widespread obstruction. They have been routinely abusing a courtesy in the Judiciary Committee — the "blue slip" rule — to prevent Biden's court picks from even getting hearings.
The blue slip rule isn't an official Senate rule. It's a tradition, unique to this committee, that gives a single senator veto power over a president's judicial nominees. The way it works: senators turn in a blue slip, a literal blue piece of paper, to the committee as a show of support for holding a hearing for a judicial nominee from that senator's home state. If both senators from a judicial nominee's state turn in their blue slips, the nominee gets a hearing. If only one does, or neither, the nominee doesn't get a hearing and is blocked.
Blue slips only apply to district court nominees, not appeals court nominees. So Republicans have been refusing to turn in blue slips for Biden's district court picks or simply refusing to work with the White House to pick district court nominees at all, knowing the White House won't nominate any without their consent. The result is a growing number of district court vacancies all over the country with no nominee in the queue.
During a Thursday hearing, committee chairman Dick Durbin (D-Ill.) gave an update on how bad the problem has gotten: there are currently 44 district court vacancies eligible to be filled in states with at least one GOP senator. Of those 44, only four have nominees.
Progressives have long been pressuring Durbin to drop the blue slip process entirely — he could do it anytime — but he's continued to defend it as Republicans have continued to abuse it. On Thursday, he again appealed to GOP senators to work together in advancing judicial nominees.
"If we are going to stick by the blue slip process, it needs to be bipartisan," he told the committee. "I urge all of you, both on the Democratic and Republican side, to work with us and the White House to fill these vacancies in a fair way."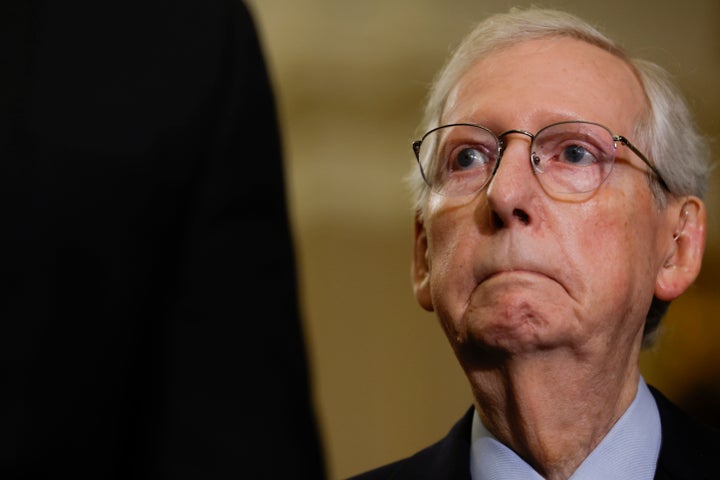 Democrats know Republicans have the ability to jam Biden's judicial nominations yet again when it comes to Feinstein's successor being seated on committees. They're watching to see what happens, too.
"Holding up an organizing resolution after the passing of a sitting Senator has never happened before," said Durbin spokeswoman Emily Hampsten. "I sure hope it doesn't happen now."
If the GOP were to take steps to prevent Feinstein's successor from being seated on the Judiciary Committee, it would leave the panel tied along party lines. That means that if Republicans opposed every judicial nominee coming through the committee, which is often the case, the panel would be deadlocked each time. That wouldn't tank those nominees, but it would require Schumer to file a discharge petition to force nominees out of the committee, one at a time. That adds a lot more time to the confirmation process for each one, and eats into precious Senate floor time.
Michael Thorning, the director of structural democracy at the Bipartisan Policy Center and an expert on Senate rules, said he can understand why people might be nervous that Republicans could try to prevent Feinstein's successor from being seated on Judiciary, given the GOP's actions in April. But he warned that such a move could backfire on Republicans and damage the Senate itself.
"Republicans have to be very careful here," said Thorning. "It would absolutely be constitutional hardball and legislative hardball ― and it would be a violation of Senate norms. People in Congress have very long memories and are always looking for a way to say who started the fight to justify further norm-breaking."
"If they chose that path just to block future judicial nominees," he added, "I think that is not a worthwhile tradeoff for the institution's health."
Support HuffPost
The Stakes Have Never Been Higher
Popular in the Community