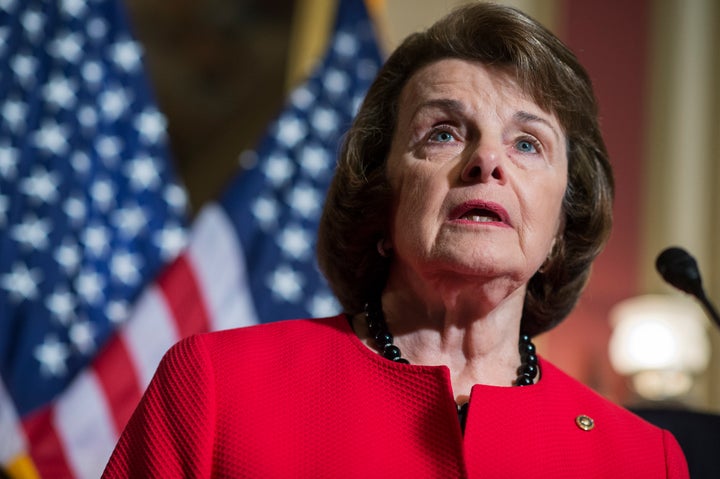 SAN FRANCISCO ― Protesters upset with Sen. Dianne Feinstein (D-Calif.) for not hosting a public town hall meeting during this week's congressional recess demonstrated at her appearance at the Public Policy Institute of California on Friday, pressing the longtime senator to face her constituents in person.
The event, billed as "a conversation" with Feinstein, was open to the public, but tickets were lapped up quickly due to the relatively small venue. Demonstrators, many on their lunch breaks, gathered outside the PPIC offices in San Francisco's Financial District, demanding the senator host a larger meeting with her constituents. Some protesters held signs with question marks, symbolizing the queries they have for the senator.
"It'd be really great if we had the chance to sit down at a town hall environment and talk with [Feinstein] about all the concerns we have about the current administration, and we haven't been given that opportunity," said Elizabeth Hall of San Francisco, one of several dozen people who came to protest outside the event. "So I felt compelled to come out here and make sure that she knows we want to talk to her, and that we're ready to talk to her."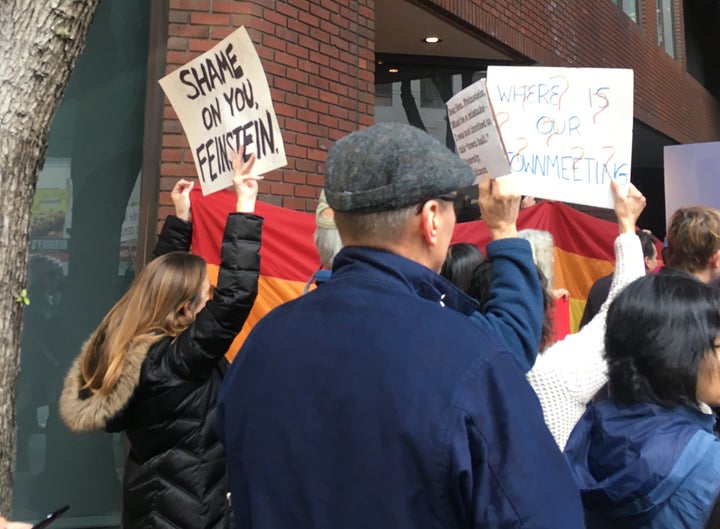 Inside the event, some attendees tried their best to create a raucous town hall-style atmosphere. Some held up green sheets of paper when they agreed with Feinstein's remarks, and red sheets when they disagreed. The audience alternately cheered and booed, shouting support for policies like single-payer health care or investigating President Donald Trump's administration over its ties to Russian officials. One attendee held a sign that read, "This is not a town hall," emphasizing widely held sentiments by protesters that the moderated discussion with Feinstein would not replace actually meeting with her constituents.
But unlike traditional town hall meetings, the PPIC event didn't permit audience members to question Feinstein in person until the last 20 minutes. Instead, discussion moderator and PPIC President Mark Baldassare read several questions pre-submitted by audience members.
He discouraged the audience from yelling out their questions, and was met with boos when he tried to stop audience members from shouting at Feinstein to push for a special prosecutor to investigate the president.
Feinstein, however, didn't seem to mind the outbursts from the audience.
"I kind of like it," Feinstein said of the lively crowd.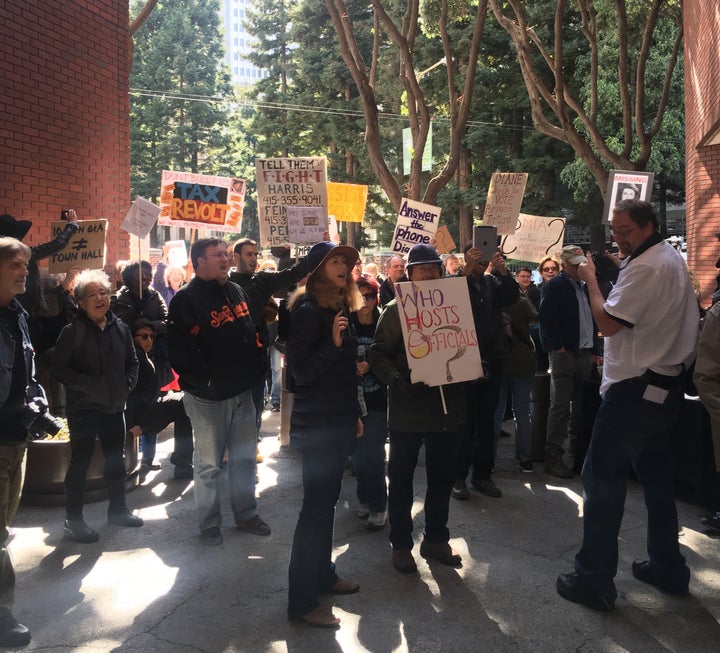 Several other protests have targeted Feinstein in her hometown. In January, about 200 people gathered outside her home in the city's tony Pacific Heights neighborhood to demand she vote against confirming Trump's pick for attorney general, Jeff Sessions. The next day, about 50 Bay Area attorneys protested outside her downtown San Francisco office, also in opposition to the attorney general. (Feinstein ultimately voted against Sessions' confirmation.)
Indivisible East Bay, an activist group formed in resistance to the Trump administration, will host an "empty chair" town hall in Oakland on Sunday. Protesters in Los Angeles have similarly requested time with the senator, and constituents from across the state continue to flood her phone lines with calls and messages about Trump and his policies.
During Friday's conversation, Feinstein spoke broadly about her plans to resist Trump's agenda. She declined to say how she'll vote on Trump's nominee to the Supreme Court, Neil Gorsuch, saying she'll wait to see how he responds to questions during his confirmation hearings on gun control and reproductive rights.
She also spoke about her role on the Senate Intelligence Committee, and the ongoing investigations into Trump's controversial ties to Russia. She specifically pointed to the probes into Russian meddling in the 2016 election, saying her committee is "dedicated" to investigating the matter.
"It is so important that this never happen again," she said on Russian hacking.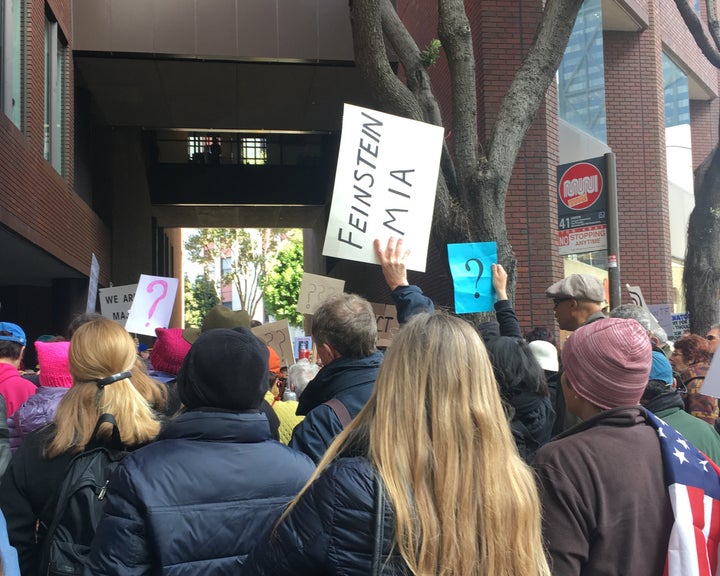 Some questions were allowed at the very end of the program. The first questioner pressed Feinstein to commit to more town halls, and asked whether she would attend Sunday's "empty chair" town hall.
"We need more access to you directly," he said.
But Feinstein declined to attend the Sunday event, noting that she needs to return to Washington, D.C. However, she said she would "try" to host more open events with constituents in the future.
"I pretty much know how my people feel," she said of her constituents. "But maybe I don't know exactly how you feel. So maybe I should provide an opportunity, and I will."
Feinstein's office has said it decided against hosting a town hall because this recess was just one week long. But that time constraint didn't stop many of her colleagues from meeting with their constituents.
Those lawmakers, including Republican Sens. Mitch McConnell (Ky.), Tom Cotton (Ark.) and Chuck Grassley (Iowa), were met with large, angry crowds seeking answers on health care reform, immigration and other issues.
But some lawmakers have dodged public appearances altogether. Some have opted for conference calls instead of in-person meetings, while others have threatened to cancel events if protesters show up.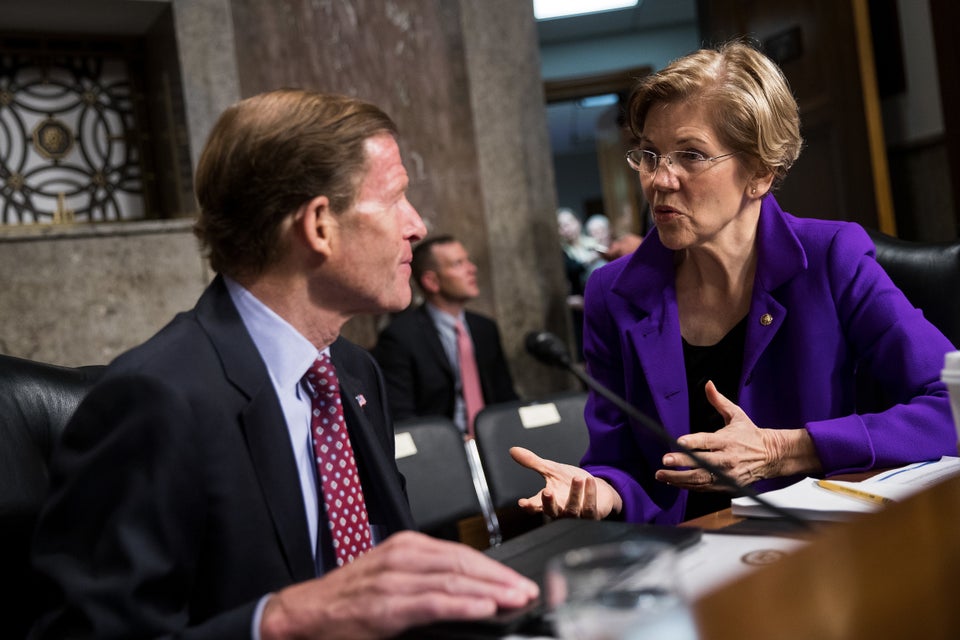 2017 Scenes From Congress & Capitol Hill
Popular in the Community