WASHINGTON ― When Avaye Armstrong got pregnant almost two years ago, she had a job waiting tables at a Buffalo Wild Wings. She enjoyed the work and it paid well on game nights. Armstrong, her daughter and her boyfriend were living with his mother at the time, not far from the restaurant.
Like most companies, Buffalo Wild Wings didn't offer paid maternity leave. But a manager told Armstrong she could return to her job after the baby was born, whenever she was ready. She tried to go back after less than six weeks ― before doctors generally advise new moms to return to work ― but she realized she missed her new baby boy too much.
"I wasn't fully ready," said the 21-year-old. She decided to stay home after that.
Losing her income was a big hit for the family. Armstrong and her boyfriend relied on their parents to afford basic necessities. Sometimes they ran low on diapers ― among the more expensive needs of newborns ― and they would delay changing the baby if the diaper was just wet. This could be miserable for the baby ― and was also hard on Armstrong.
"I'm his mom," she said. "He's depending on me, and I can't even get a diaper."
Armstrong's story highlights the heavy burdens of parenthood in America and points to a gaping hole in our social safety net. Diapers are perhaps its clearest symbol.
New moms and dads must chose between quitting their jobs and raising their children on a severely diminished income, like Armstrong did, or continuing to work, paying someone else to take care of their children and still risking punishment for insufficient devotion to their employer. Whatever your income level, parenthood pulls you away from the workplace and could set you on a path to poverty.
For too many parents struggling to pay the bills, there's no government backstop to help meet their families' non-food needs. The problem has only grown worse since President Bill Clinton signed "welfare reform" into law in 1996.
This gap in the social safety net has given rise to a new charitable institution in America: the diaper bank. The first U.S. diaper bank opened in Tucson, Arizona, in 2000, after several years of volunteer-driven holiday diaper drives. In the last 17 years, hundreds more have been established across the country, distributing millions of diapers to families in need.
But diaper bank directors say there's more need than they can cover, and lawmakers aren't ready to help. Quite the opposite, in fact: The remaining safety net programs, which mitigate a tremendous amount of suffering, are under constant siege from Republicans using Clinton's welfare reform as a template.
"The truth is we do not have a social safety net to speak of for many, many Americans," said Joanne Goldblum, director of the National Diaper Bank Network.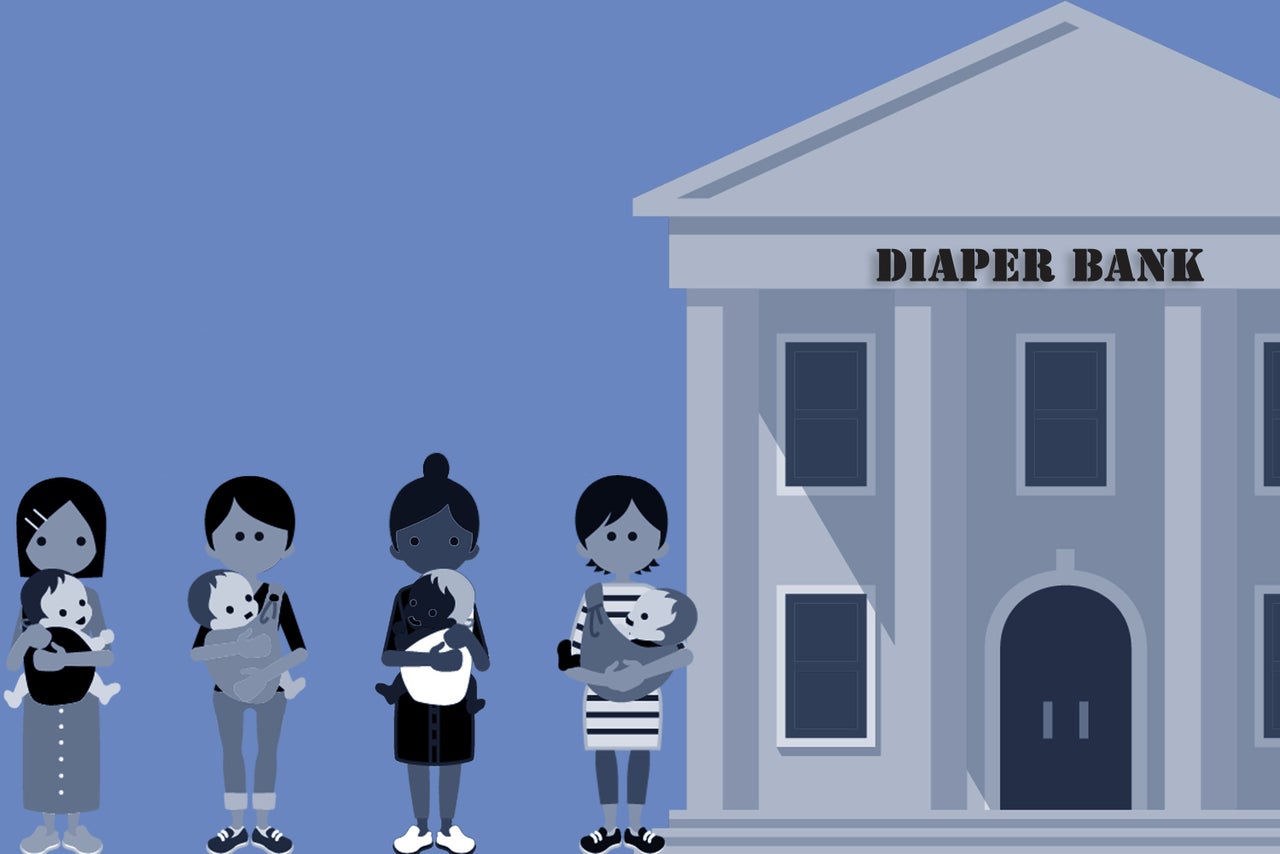 Babies pee and poop a lot. Newborns can go through as many as 10 diapers a day, according to the American Academy of Pediatrics, and 3,000 diapers in their first year. Disposable diapers for one baby cost between $70 and $125 a month ― that's a lot when you're poor.
Roughly 21 percent of children under age 5 live in poverty, according to the most recent Census data, which amounts to more than 4 million kids. Among households that bought diapers in 2015, those in the bottom fifth of the income distribution ― with average annual income of $11,279 ― spent about 10 percent of that income on diapers, according to a HuffPost analysis of the most recent data on consumer expenditures from the Bureau of Labor Statistics. Our analysis updates previous research by the Center for Economic and Policy Research, which found a similarly grim picture.
In a 2013 study examining "diaper need," roughly 27 percent of parents reported worrying about whether they had enough diapers to change their children as often as they would like. Of those, 10 percent said they asked friends for help and 8 percent said they delayed changing a wet diaper.
Changing diapers regularly is crucial to keeping babies comfortable, happy and ideally not crying. It's also a health issue. A wet diaper can increase an infant's risk of dermatitis and urinary tract infections ― which in turn can force parents to miss work for doctor visits. Not being able to change a baby's diapers often enough also stresses the parents, which can affect the whole family. Multiple studies have shown that children of stressed parents are at greater risk of developing emotional, social and behavioral problems.
"Diaper need was the most predictive of postpartum depressive symptoms, above and beyond food insecurity, housing instability, other demographic variables like race and ethnicity," said Megan Smith, an associate professor at the Yale School of Medicine and lead author of the 2013 study, which was conducted in New Haven, Connecticut.
It makes sense that lacking Huggies can bring you down. If you can't even keep your child clean, Smith said, "It really interferes with that bond, that attachment between you and your child.″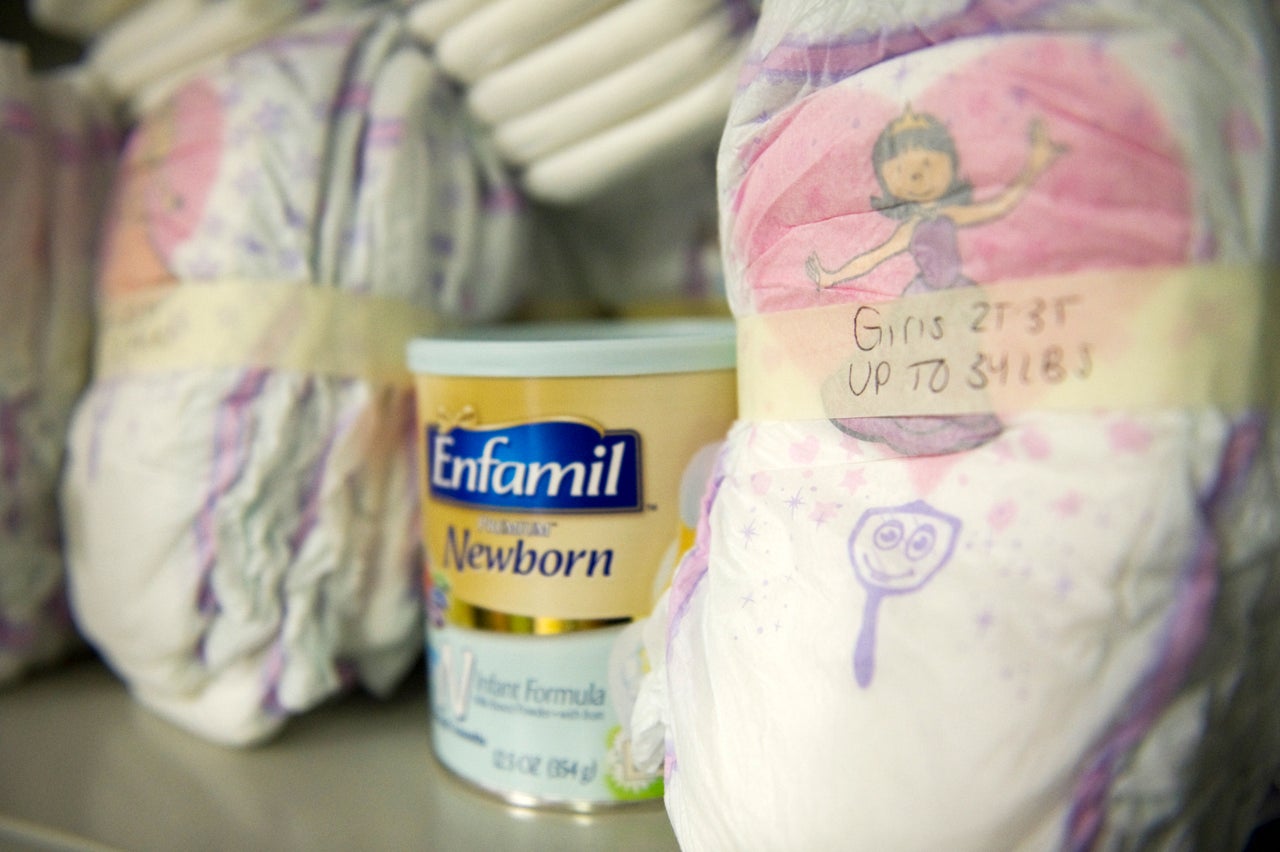 Charities have probably given out diapers since diapers existed, but diaper-specific organizations are a recent phenomenon.
In 1993, Hildy Gottlieb founded a consulting firm that advised nonprofits in Tucson. After a successful first year, she and her colleagues brainstormed ways of giving back to the community.
"One of the gals said, 'Why don't we bring a bunch of diapers to the local crisis nursery?'" Gottlieb recalled, referring to a kind of emergency family shelter. "What if we called it a diaper drive and put out a press release?"
So they did. They looped in a local radio station and within just the four weeks before Christmas in 1994, they collected more than 20,000 diapers. The next year, they did it again and delivered even more diapers. The program taught Gottlieb quite a bit about diaper need.
"If a family, for instance, can't afford the diapers to leave at daycare, they can't leave their child at daycare," she said. "It is a domino that can cascade absolutely everything else."
In 2000, Gottlieb cofounded the Diaper Bank of Southern Arizona ― the first in America. Last year, more than 300 similar organizations distributed 50 million diapers to more than 200,000 children nationwide.
It might be tempting to think of diaper banks as a shining example of civil society stepping forward to solve a problem that the government couldn't, but there's not much reason to think even this formidable effort matches the scale of the problem.
"The need is much greater than what we can currently do," said Dan Moxley, the current director of the Diaper Bank of Southern Arizona. Census data show more than 17,000 children under 5 live in poverty in Pima County. His diaper bank distributes a small fraction of what those kids need, even when the goal is merely to supplement the parents' supply.
"If we were to provide 50 diapers a month to all [the kids who need them], that would be 9 million diapers a year," Moxley said. "We distribute 1 million."
Joanne Goldblum was a social worker in Connecticut when the deprivation she saw among her clients prompted her to establish a diaper bank in New Haven in 2004.
"I would drive a mile from my house, drop my kids off at a great school, and I would go into people's homes that didn't have heat or hot water," she said. "I would go into people's homes that were so overwhelmingly difficult for them to manage because they had not just no money, but no access to the things that you need: diapers, toilet paper, tampons, house cleaning supplies."
Goldblum became obsessed with the question of how people with no money kept themselves and their children clean.
"As a sort of middle class woman, I can complain bitterly about how stressful my life is ― 'How am I ever going to manage to get everything done?'" she said. "And that's with the ability to pay all my bills, with a partner who is helpful and present, with cars, cell phones, all those things."
Goldblum said she was surprised to learn that no federal program helped with non-food necessities like diapers. She was aware of the Diaper Bank of Southern Arizona, so she and her husband grabbed some friends, went to the supermarket, bought a bunch of diapers and launched The Diaper Bank in New Haven. She founded the National Diaper Bank Network six years later, with an investment from Kimberly-Clark, the consumer products company that makes Huggies.
The National Diaper Bank Network connects local diaper banks and assists people who want to start new ones. Visitors to the website can get help finding a local diaper bank, donating unused diapers or starting a diaper drive.
Diaper banks have caught on not only because babies are a very sympathetic demographic, but because the idea of diaper need helps people understand on a visceral level what poverty really means, said Goldblum.
"As a society we think of poverty in a very conceptual, very high level of thinking," she said. "We don't think about how it means there's a family who lives in my town that can't afford a clean diaper for their kid, and they're not going to be able to go to work today if they don't have a clean diaper."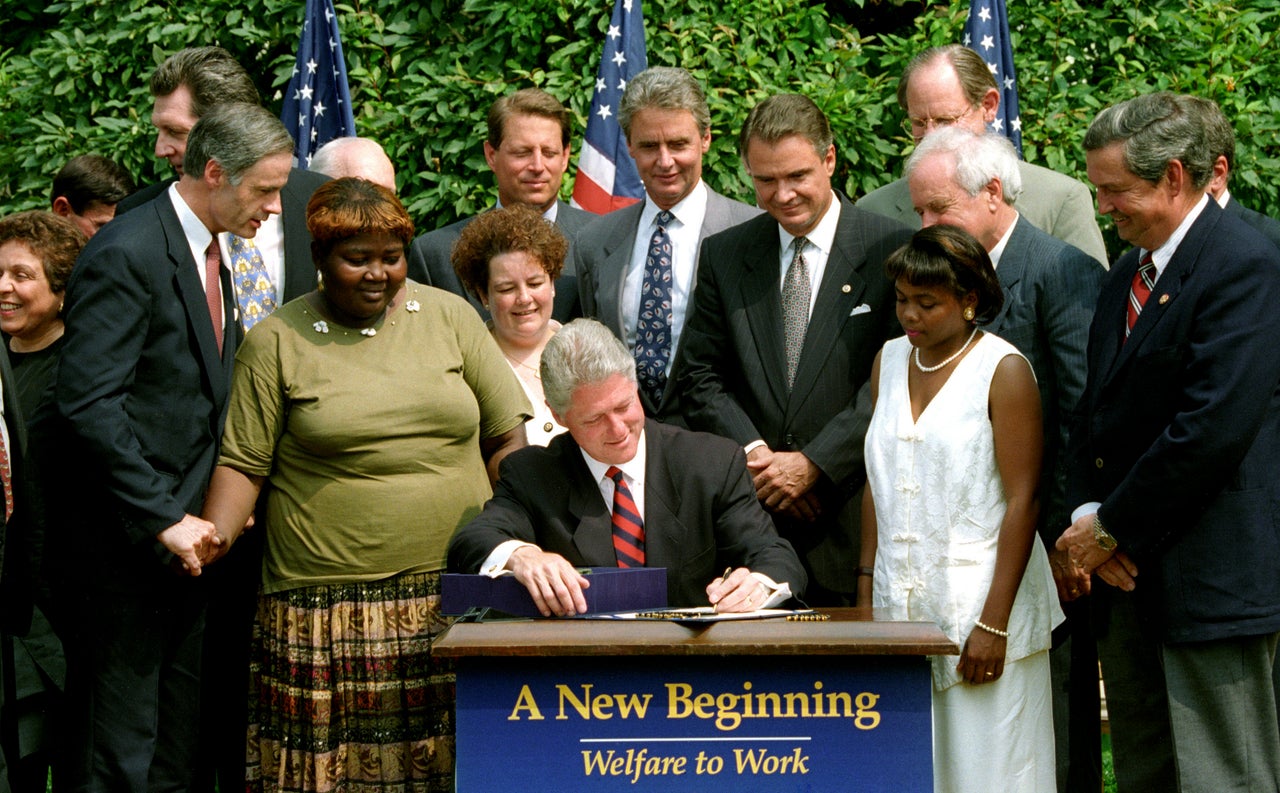 The federal government runs two big programs that help low-income people pay for medical care and food ― Medicaid and the Supplemental Nutrition Assistance Program (SNAP), respectively. The government also funds an array of programs that help smaller shares of poor people afford rent, utilities, phone service, even baby formula. But there's nothing that specifically covers diapers or other household necessities like toilet paper or toothpaste.
Democrats and even some Republicans have proposed broadening eligibility for the Earned Income Tax Credit and other credits that help working parents offset the costs of raising children. Some legislative proposals would increase the value of the refunds and even distribute them more often than once per year, which would make planning and paying for day-to-day expenses easier. Of course, tax credits don't help parents with little or no earned income, since you have to owe income tax to receive refunds.
Unlike the U.S., other economically advanced nations tend to throw money at new parents through what's called a "child benefit" or "child allowance." In most European countries, the allowance is universal, meaning rich and poor parents alike receive a monthly cash allotment. The U.S. runs a similar program for the elderly: Social Security.
It turns out that giving poor parents money is a good way to reduce childhood poverty. A host of studies in Europe and the U.S. show that countries that provide child benefits have lower child poverty rates and indicate that such a program would have similar results here.
Democrats have seized specifically on the inability of some parents to afford diapers and since at least 2015 have pushed legislation that would test the feasibility of a nationwide diaper voucher program. But the measure is a non-starter on Capitol Hill, where Republicans generally assume that poor people are already taken care of by existing programs.
"I'm not concerned about the very poor," Romney told CNN. "We have a safety net there."
It would be more accurate to say we used to have a safety net there. The federal government once gave poor parents money through a program known as Aid to Families with Dependent Children. Congress and President Franklin D. Roosevelt created the program in the wake of the Great Depression. It operated as an entitlement, meaning anyone whose income was low enough could receive cash, with no work requirements or limits on the number of people who could enroll.
Congress dismantled that program as part of welfare reform in 1996. Amid a racially tinged furor over welfare's alleged contribution to the moral decay of the poor, Republicans argued that it disincentivized work and marriage. In its place, lawmakers created the Temporary Assistance for Needy Families program, which still provides cash but allows states to decide how much and to set time limits on benefits. TANF's funding level hasn't budged in two decades, meaning the actual value of its benefits has steadily eroded with inflation.
Sixty-eight percent of impoverished families with children received welfare benefits in 1996 (before the new law kicked in), according to the liberal Center on Budget and Policy Priorities. By 2014, that number had plummeted to 23 percent. The overall number of families enrolled in the program stayed beneath 2 million even as unemployment and poverty rose sharply after the 2007 financial crash. TANF lets states be so stingy that Mississippi managed to reject more than 98 percent of applicants last year despite the state's much-higher-than-average poverty rate. The maximum monthly cash benefit for a family of three in Mississippi is just $170.
Still, welfare reform initially seemed like a success. Child poverty declined and the number of single mothers participating in the labor force increased, meaning more women were either working or looking for work instead of staying home to raise their children.
"Sixty percent of mothers who left welfare found work, far surpassing predictions of experts," former President Clinton bragged in a 2006 op-ed marking the 10th anniversary of the law.
But welfare reform has not aged well. Clinton signed the law during a time of strong economic growth, which slowed down in 2002. Female labor force participation, which had been rising for decades at that point, peaked around 1999 and has fallen since. Although poverty rates have hovered between 10 and 15 percent since the 1970s, another deeper kind of deprivation has steadily increased: the number of children who live on $2 or less per day.
"The truth is we do not have a social safety net to speak of for many, many Americans."
According to research from professors Kathryn Edin of Johns Hopkins University and H. Luke Shaefer of the University of Michigan, as many as 1.5 million households had incomes of less than $2 per day per person in 2011 ― an increase of more than 100 percent since 1996. That amounts to roughly 3 million kids and more than 4 percent of all households with children.
Their initial findings were so shocking that Edin and Shaefer decided to go out and conduct field research to confirm the numbers. In a 2015 book, $2.00 a Day: Living on Almost Nothing in America, they described several cases of families getting by on less than that amount per person. Many of the mothers lost their jobs, which led to a cascade of material hardships.
Rae McCormick, a single mom and two-time "cashier of the month" at a Walmart outside Cleveland, didn't have enough gas in her truck to make it to work one day, so she said a manager told her not to bother coming back at all. That's when her spell of $2-per-day poverty began.
"In the months that followed," Edin and Shaefer reported in their book, "Rae and [her daughter] Azara found themselves living on nothing but SNAP, plus the diaper and cigarette money slipped her now and again by her 'grandma,' another friend whom she and Azara live with for a time."
The instability of low-wage work has contributed to the rise of such extreme poverty. Edin and Shaefer theorize that disruption of the safety net may have actually worsened conditions by increasing the number of desperate workers, thereby giving employers more exploitive power.
"Losing their job is the biggest predictor of falling into this [$2-a-day] spell," Shaefer told HuffPost. "Work is great, and that's what people want, but it's just not a stable source of income."
One thing that mitigates such poverty is SNAP, previously known as the Food Stamp Program, which helped eradicate starvation in the U.S. More than 20 million households receive several hundred dollars on debit cards each month. Those funds can be used only to buy food, however, not other necessities like soap, gas or diapers.
If they counted SNAP benefits as cash, Edin and Shaefer found that extreme poverty increased only 70 percent in the 15 years after welfare reform. But SNAP is not cash, a flexible resource that buys the things you need to keep your job or your shelter.
"One truism about the lives of the virtually cashless poor in this country is that they ― like anyone else living here ― just can't manage to do without cash," Edin and Shaefer wrote in their book.
In an email, Shaefer added, "We definitely would suspect that there is a link between the rise of diaper banks and the rise of $2-a-day poverty."

It's not just poor people who get kicked down the economic ladder when they have kids. Venessa Baez didn't consider her family poor before she had her third child in August 2013. Both she and her husband worked full time.
Baez, who lives in Durham, North Carolina, was employed at a preschool for two years before giving birth. The job didn't offer paid maternity leave, which is very common: In the U.S., the only economically advanced country without a national policy requiring paid maternity leave, only 13 percent of private employers give new parents paid time off. Knowing her family's income would be cut in half after the baby came was stressful for Baez.
"I had a lot of anxiety my whole pregnancy," said the 30-year-old. Her doctor even prescribed anti-anxiety medication, she said.
After her daughter was born, Baez wanted to return to work, but it didn't make financial sense. Her job didn't pay much more than the cost of childcare for the baby and her 1-year-old son ― her oldest child was in school ― so Baez decided to watch the younger kids herself.
Her husband worked as a cook in a restaurant. They couldn't afford a lot of things on his income alone, including enough diapers. To make matters worse, their middle child suffered from pancreatic divisum, a condition that required a feeding tube and led him to soil more diapers than your average baby ― a dozen a day most days. They had to improvise to stretch the supply.
"When things got tough, we would use a dad-sized T-shirt," Baez said.
The T-shirt diaper only sort of worked; urine leaked out the sides. But it helped them save diapers during the day so they had enough at night. Baez eventually enrolled her son in an Early Head Start program that provided diapers donated through the Diaper Bank of North Carolina, and in 2015 she got off a waiting list for daycare vouchers. A few months later, she was hired by a nonprofit organization that sends nurses to visit newborn babies at home.
Baez's marriage still fell apart. The final economic stressor, she said, was when a credit card company closed her husband's account because of nonpayment.
"That was our biggest factor of why we aren't together," she said. "We had a lot of mounting bills we couldn't pay."
Baez's family is like many others that the Diaper Bank of North Carolina helps. Most diaper banks distribute their supplies through partner organizations.
"If a family is struggling for diapers, they more than likely are struggling with other needs and we want them to be connected to programs that can help them with those needs," said Michelle Old, who founded the North Carolina nonprofit out of her house in 2013. "The needs can vary from help in purchasing a car seat, food assistance, utility assistance and parenting classes."
Three-quarters of the parents who received diapers from Old's organization said they had jobs, according to a study that Old co-authored this year, and even larger percentages said they qualified for food stamps and other safety net benefits. Roughly 1 in 5 said they've used diapers that were the wrong size, and nearly 30 percent said they'd delayed a change.
"Families are making really tough choices between buying food or buying diapers, and every single time, they're gonna choose to feed their children, and they're gonna try to make those diapers last as long as they can," Old said.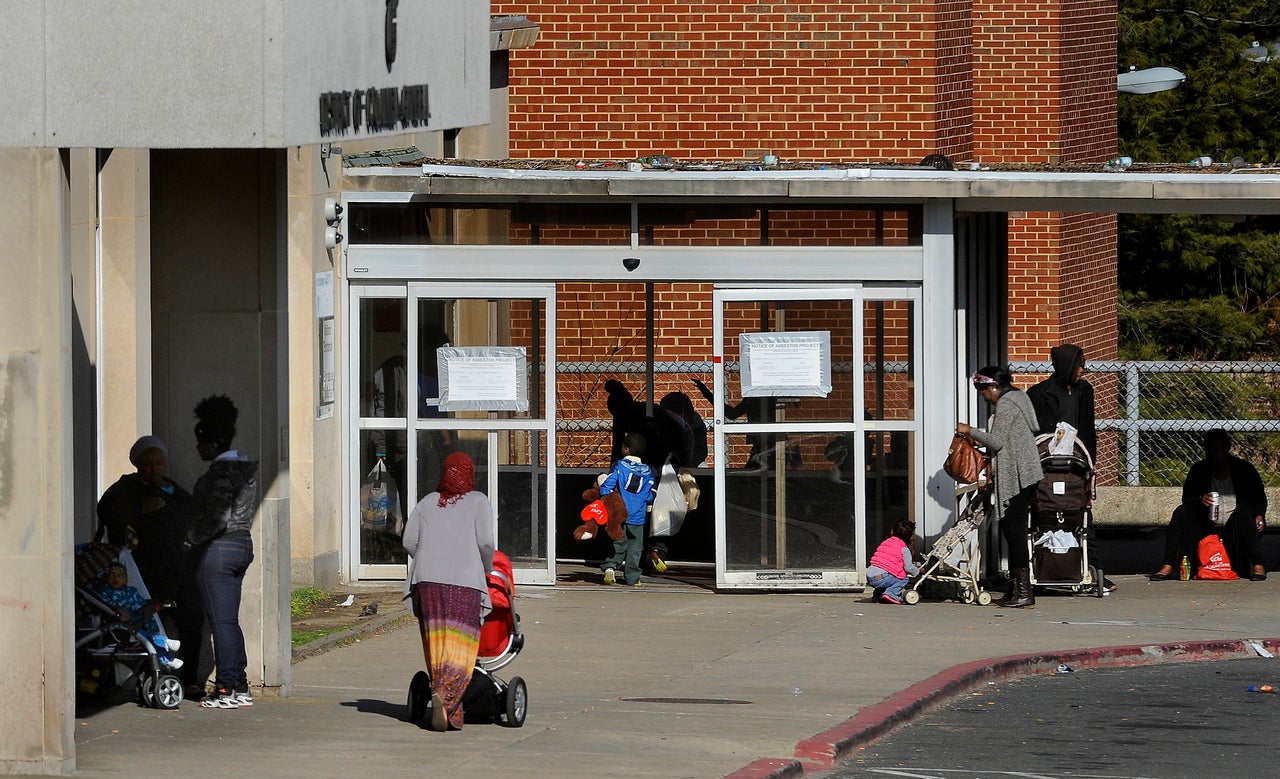 Avaye Armstrong, the former Buffalo Wild Wings server, now has a reliable supply of diapers thanks to the DC Diaper Bank, which through partner organizations provides more than 150,000 a month to more than 3,000 families. But Armstrong's diaper situation improved only after everything else got worse.
The living arrangement with her boyfriend's mother lasted just two months after the baby was born, before the intergenerational crowding became too stressful for everyone. Now Armstrong and her family live in a family homeless shelter run by the D.C. city government in a former hospital building. She receives a donated pack of diapers and wipes every week. But the hospital building is notoriously unsafe and literally falling apart. Armstrong and several other moms said they can hear raccoons crawling around in the ceiling at night.
"You can hear them stepping," Armstrong said on a bench outside the shelter, her baby boy eating pieces of fruit in his stroller. "It's so disgusting."
D.C. General Hospital was originally founded two hundred years ago as the city's poorhouse ― a now-obsolete institution thanks largely to Social Security's monthly benefits, available to nearly everybody once they reach a certain age. Today, the poverty rate for senior citizens is less than half that for children under 18, which is nearly 20 percent.
In an alternate universe with a child allowance for all American parents, experts say there would be a lot fewer poor kids. A 2016 Century Foundation report analyzed just how much child poverty could be reduced by different levels of benefits: A $2,500 annual allowance, for instance, would bring the rate down to about 11 percent. The nation's capital might have fewer homeless families, and maybe not have turned a hospital back into a poorhouse, if local moms weren't going broke as soon as their kids were born.
Armstrong wants to study nursing, one of America's faster-growing occupations and one that can provide a middle-class income for people with less than a bachelor's degree. But she's pregnant again, with the inevitable economic challenges ahead. She still needs to find reliable childcare and housing.
"I want to go back to school and finish everything, and they can have their funky-ass welfare check and food stamps. It's like, ugh, I gotta depend on the government," she said. "I know me: I'm not the type of person to not work."
Popular in the Community