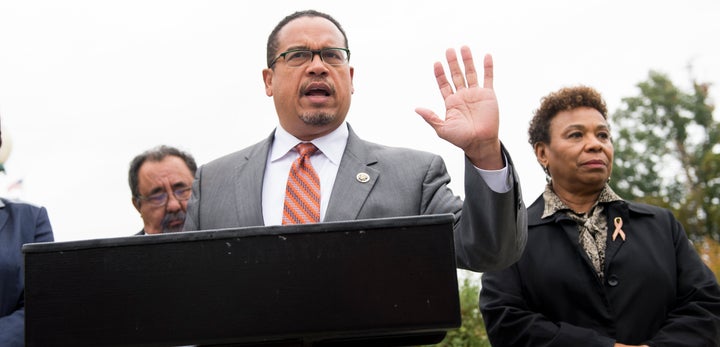 WASHINGTON -- Diapers are a significant financial burden on America's poorest parents, an essential expense not covered by the array of safety net programs that help some with food, medical care and housing.
A group of congressional Democrats wants to see if new forms of direct diaper assistance from the government might be feasible.
"One in three families really struggle to provide basics for their children, especially diapers," Rep. Barbara Lee (D-Calif.), a co-sponsor of legislation to test new programs for diaper assistance, told "So That Happened," the HuffPost Politics podcast.
"This lack of access to diapers causes illnesses among small children," Lee said, "and oftentimes forces families to make difficult decisions between diapers and other household needs."
Poor households used nearly 14 percent of their incomes on diapers in 2014, according to an analysis of federal data by the Center for Economic and Policy Research. That's more than twice the percentage of income that goes toward diapers in wealthier households. In a 2013 survey of low-income women, almost 3 in 10 said they didn't have enough diapers to change their babies. Nearly 8 percent of the women in the study said they'd sometimes had to delay diaper changes or reuse old disposable diapers ― a solution with potentially unhealthy consequences.
Diaper banks help struggling families get the supplies they need ― typically by providing diapers to nonprofits that offer a range of other social services, rather than just handing out boxes of Huggies. The DC Diaper Bank distributes 120,000 diapers per month, according to director Corinne Cannon.
"We think of diapers as a gateway resource," Cannon told The Huffington Post. "Families who will not reach out for food or medical care will reach out for diapers."
The legislation, authored by Rep. Keith Ellison (D-Minn.), calls for the Department of Health and Human Services to invite states to apply for grants that would fund pilot projects testing out different ways of helping poor parents get diapers.
The idea of creating a new form of government assistance is unlikely to thrill Republicans. A spokesman for Rep. Kevin Brady (R-Texas), chairman of the House committee that oversees many welfare programs, did not immediately respond to a request for comment.
This podcast was produced, edited and engineered by Adriana Usero and Peter James Callahan, with assistance from Christine Conetta.
To listen to this podcast later, download our show on iTunes. While you're there, please subscribe, rate and review our show. You can check out other HuffPost podcasts here.