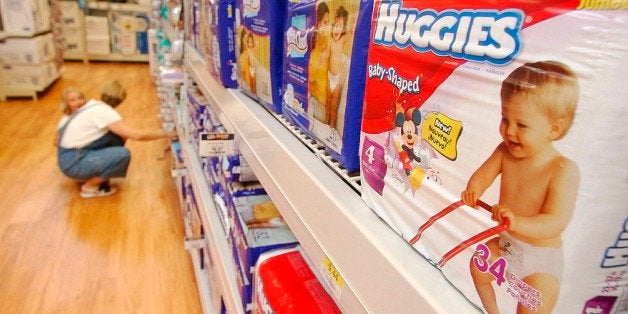 If you had to choose between buying diapers for your newborn child or paying this month's rent, what choice would you make?
Working families in America often make impossible choices between food, clothing, and housing. When families struggle to afford basic necessities, they often sacrifice the things most of us take for granted.
For the millions of low-income parents working to put food on the table and keep their kids warm at night, diapers -- which are essential to infant health -- become a luxury they cannot afford. That's why we have introduced a bill to help the low-income families who need diapers most.
The math is simple. A year's supply of diapers costs roughly $1,000. A mother working full time at minimum wage makes just under $15,000 a year and will spend 6 percent of her annual income on diapers. For a family living in the bottom 20 percent of earners, making around $11,253, the cost of diapers will rise to almost 14 percent of their total annual income. It is expensive being poor.
Federal programs like the Supplemental Nutrition Assistance Program (Food Stamps) and Temporary Assistance for Needy Families (welfare) help cover some of the costs of being a new parent. But funds from food stamps cannot be used to pay for diapers, and welfare checks are not generous enough to cover the cost after a family pays for rent and transportation.
Without diapers for their children, low-income families frequently stretch supplies or do not buy diapers at all. As a result, infants can become seriously ill from not being changed regularly and can develop health complications such as urinary tract infections from sitting in wet diapers. And when parents stay home to care for their sick kids, they cannot go to class, look for employment, or work at the jobs they already have. To make matters worse, daycare centers require parents to provide their own diapers. If a mother cannot afford diapers, she cannot put her child in daycare. And if she cannot find someone to watch her child, she cannot work. Lack of access to diapers perpetuates a cycle of poverty that hurts single mothers the most.
One out of every three American families struggles to pay for diapers. This is a crisis that must end.
On November 18, we introduced our bill to help the families who have trouble affording diapers. The Hygiene Assistance for Families of Infants and Toddlers Act (H.R. 4055) provides a framework for states to assist low-income parents with purchasing diapers, and provides grants for states that create and implement a diaper assistance program. Our bill encourages states to provide diapers to low-income families, or provide a subsidy so they can purchase diapers themselves.
Helping low-income families afford diapers will not end poverty, but when you are a parent struggling to provide for your children, every bit helps. The ability to pay for something as simple as diapers can make all the difference.
A 2013 study found more than half of low-income mothers felt hopeless or experienced depression in the past year, compared to 7 percent of all adults. Low-income parents are far more likely to suffer from serious depression and anxiety because of their financial position. New, low-income mothers list a lack of clean diapers as one of the leading causes of stress in their lives. The children of low-income parents are far more likely to develop mental health issues as well. These health issues frequently follow children into adulthood and keep them from living up to their full potential.
When we talk about raising children and securing their future, even the smallest challenges, like paying for clean diapers, can have lifelong consequences. As parents, we cannot imagine living with that burden.
That is why there is so much more at stake than just financial assistance. Knowing your child is safe, healthy, and comfortable should not be a privilege reserved for parents who can afford it.
Popular in the Community