How exciting it is to be around for this moment in history. I was fortunate enough to serve with the first African American president of the USA, Barack Obama, and the woman most likely to be the first female President of the USA, Hillary Clinton. These trailblazers nominated and appointed me to be the first African American and first woman to be the US Ambassador at Large for International religious freedom.
I have been inspired by Hillary's faith and fortitude since she was the First Lady, stood with her as she became US Senator, and walked and worked with her all the way to Denver in 2008. Now, I am a candidate for the US House of Representatives as she is about to clinch the nomination. If there ever was a time for a fresh voice with a fresh vision, it is NOW.
Women are needed in politics and are definitely needed in Washington. When at "the table," women make a difference. I have found that many underestimate women. We still have to fight twice -- even three times -- as hard for a seat at any table, especially the political ones.
It's 21 days out from my Democratic primary for New York's 13th Congressional District. The seat is currently held by Congressman Charles Rangel who will be retiring after 46 years.
I hope to walk in the footsteps of Shirley Chisolm, the first African American woman to enter Congress, and Barbara Jordan, the legendary lioness of Politics, who both served "unbought and unbossed" in the US House of Representatives. I stand on the shoulders of Bella Abzug, the hat-wearing dynamo from NYC, and Geraldine Ferraro, the first woman to be a Vice Presidential candidate. And, even though she wasn't in politics, I applaud Anita Hill, who survived the stress test of politics.
I see why it is called the "game" of politics. It takes more than courage and charisma. It takes commitment for the entire duration, from announcement to Election Day. It takes a commitment to stay in the race, a commitment not to crumble and fall apart, and a commitment to stay strong, even when you know the decision for endorsements has been decided before you even walk into the room. Running for office is all consuming. It not only becomes your life; it is your life, from sunrise till way past sunset. You must not only strive for "check," your goal is "check mate."
Here is what a typical few days in a week looks like for me:
1 am. Go to bed. 5 am alarm goes off. Subway stops, street canvassing, and door knocks. Before I know it, it's 4 pm, and it's time for afternoon subway stops, two forums, a fundraiser, and a conference call. I still have my personal check in my pocket to deposit into the bank. I took two sips of hot chocolate and haven't sat down for a full meal in days.
My children call. Both need new clothes. They have outgrown theirs. One needs suits for his new summer job; the other needs suits and blazers for his residency. I don't want to rush them off the phone, but if I'm late or absent from the forum as the only woman -- that's dangerous. Shake hands. Kiss babies. Laugh with those who remember a joke you told. Hug someone who is not sure what their day will look like. Meet with the campaign manager. Meet with the team. Have a bite of the cold pizza. Welcome the newest intern.
Before I sleep, I set out comfortable shoes, reminding myself to be ready. Always be ready.
Meet volunteers and interns at Headquarters for a Day of action to walk, work, and win with Sujay. Two little league baseball games. Greet the parents. Eat an Icee with the kids. Laugh with the older men on the park benches. Reminisce with the women who used to go to my church. Sit on the swings in the park where I used to play. Stop at the bazaars and speak with the women selling their wares on the 80-degree day.
Four visits to houses of faith starting at 7 am and lasting until 2 pm.
Feet hurt. Legs are throbbing, but I've got a great team of young and old who want to help me win. Grab a quick cup of coffee. Hop on the subway. Debrief and prepare for the next day's work. Write a Huffington Post piece. Have brunch with family. Empty pockets and give money for their ride back to school. Pray for the family of Muhammad Ali and the military, whose vehicle turned over in flooding waters in Texas. Pray for myself, my family, my friends, the people of this District, and my campaign.

Monday:
Subway stops, endorsement meetings. Call time. Yes, dialing for dollars. Every candidate hates it, but has to do it. In Washington, I will work on campaign finance reform.
Cook chili at midnight for my youngest son. Answer ten texts. Thank the African Women's Alliance of America for their endorsement. Write personal thank you notes to donors who gave over $500. And the beat goes on!
Each day is as full as the previous. Filled with potential, promise, and power. It's exhausting. It's also exhilarating. I am charismatic. I am courageous. I am the woman for the hour. I can make a difference for this community.
I am the fresh voice in the midst of tired, machine led politics. Folks have been vocal about wanting something and someone new. Now we much work together to translate that into votes, volunteers, and victory.

I see myself walking into the Capitol building. I visualize a dynamic District 13, with intergenerational committees and subcommittees to tackle the problems, not one another. I see a grassroots movement that can knock down barriers and create opportunity. I'm not trying to build walls, but rather build bridges that connect, unite, and cover chasms.
It's a new day, and folks have a voice and a choice. I'm Suzan Johnson Cook, and I approve of this message.
The Rev Dr. Ambassador Suzan (Sujay) Johnson Cook, author of recently released SOUL SISTERS: Devotions for and From African American, Latina and Asian women, is an activist, Diplomat, and a columnist for Huffington Post, a frequent contributor to CNN and other networks, the Founder and CEO of the Pro Voice Movement for women, and a candidate for New York's l3th Congressional District. She can be reached at Suzan@sjc2016.com.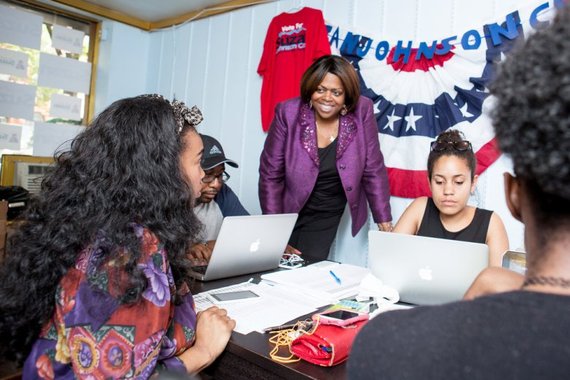 REAL LIFE. REAL NEWS. REAL VOICES.
Help us tell more of the stories that matter from voices that too often remain unheard.