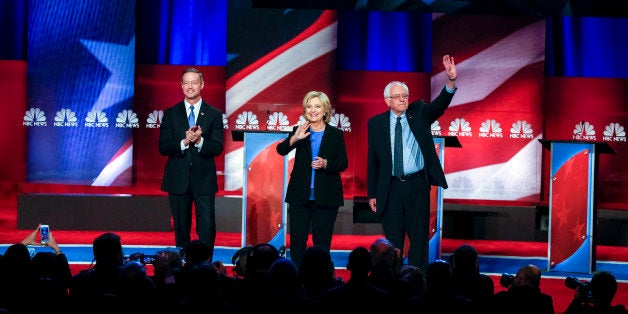 Tears came to my eyes the day Bernie Sanders apologized to Hillary Clinton. The love-in happened at the beginning of the third Democratic debate. A TV anchor asked Sanders if he would make amends. In his famously loud voice, Sanders ranted before saying that he was sorry. Clinton nodded most of the while and graciously accepted.
You probably don't remember what the apology was all about. And that is the point. Amidst a tornado of Republican rage, the Democrats stick to substance. Granted, the GOP candidates are striving for salience in a packed race. But the Democratic contest is also tight.
Personally, I prefer the party of hope to the party of anger. The problem is that I like all three candidates. So I am writing this diary of me, an undecided Democrat. Today's entry delivers a nutshell description of each candidate. If you happen to live in Iowa, New Hampshire, South Carolina or Nevada, this may be useful. Over the next few weeks, I'll be listening to your voices, too.
The Visionary. Senator Bernie Sanders is the grumpy old man from Vermont who is stealing our hearts. Many are familiar with his agenda. He wants to raise the minimum wage to $15 an hour. He wants to break up banks that are too big to fail. And he wants to make public colleges and universities tuition free. The goal? To reverse inequality and revitalize the middle class.
For those who don't "Feel the Bern," former Labor Secretary Robert Reich's 2013 film, Inequality for all, may be your wake-up call. According to Reich, the typical male in 1978 made $48,302 per year adjusted for inflation, while the top 1% made $393,682. Fast forward to 2010 and the figures are $33,751 to $1,101,089.
The problem is that the majority of gross domestic product is derived from consumption and it is the middle class that buys the most. The solution is not growth that is trickle down, explains Reich, but growth that is middle class out.
You may believe in the need for change, but think it is impossible to achieve. If so, know that Sanders can't be successful without you. That's why he is asking you to join the revolution. Your vote is the first step.
The Practitioner. Hillary Clinton appeals to our heads because she has by far the most experience. She gained exposure to government as the first lady of Arkansas and later of the United States. Then, she participated in governing as a New York Senator for eight years and as a Secretary of State for four. The very depth of her knowledge and experience makes her act presidential.
Clinton is dedicated to the everyday American. She wants to raise the minimum wage to $12 an hour. She wants to build upon financial sector reforms implemented after the Great Recession. And she wants to make universities affordable to all.
You may think that Clinton's proposals don't go far enough. But it is exactly her penchant for incremental change that makes her the most electable. A vote for Clinton would allow you to sit back, relax and benefit from the ride.
The Implementer. The strength of Martin O'Malley is that he has already implemented many of his goals. He did this as mayor of Baltimore from 1999-2007 and as governor of Maryland from 2007-2015. Now, he hopes to dedicate himself to helping the entire nation.
As governor, O'Malley states that he built consensus for a minimum wage of $10.10, as president he would like to increase it to $15. As governor, O'Malley states that he was able to freeze college tuition for four years. As president, he wishes to achieve a debt-free education for all. Impressively, the list goes on. Plus, he wants to break up the big banks.
You may think a vote for O'Malley is wasted. But if you believe that executive experience is the best preparation for a president, this man may be for you. Whatever your decision, you can look forward to seeing him even more on the national stage.
In this presidential election, we Democrats are lucky enough to have three good candidates. It makes the choice tough. Ideally, I wish to combine all three into a Super President who can save the world. To help narrow my selection, I will use this diary to explore critical election issues. In the meantime, I hope to hear from you.
Popular in the Community