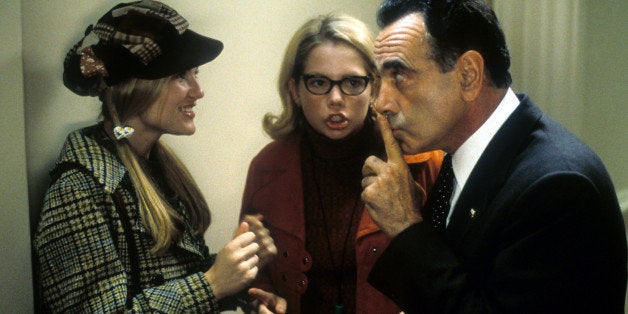 A little revisionist history does the soul good. Sometimes, as with "Wicked," it fills in holes in an illustrious story. Other times, it's a coping mechanism for dark episodes, as if amending reality inverts our reverence and confirms that with time it's cathartic to think silly things about serious events. The 1999 film "Dick" fulfills the latter.
A rare high-school movie that revolves around national politics, "Dick" arrived on the heels of the mid- to late-'90s teen-film renaissance, from the same guy who gave us "The Craft." Planting two airheaded teenage girls (Kirsten Dunst and Michelle Williams) in the thick of the 1972 Watergate scandal, "Dick" rewrote the incidents that preceded President Richard Nixon's resignation. It opened in the 12th spot at the box office, despite a rollout on more than 1,500 screens. Total grosses reached a paltry $6.3 million, no matter the critical praise: "devilishly clever," "shrewdly inventive," and a "sly little comic treasure."
Today, it's often considered a modern classic of the cult-comedy variety. "Dick" transformed an especially foggy moment in political lore into a series of silly happenstances. It's like Hollywood stared at your history textbooks and challenged the Nixon passages to be anything more than a "Weekend Update" punchline waiting to happen.
The fact that "Dick" even exists is, in and of itself, an accomplishment. From its title to its off-kilter demographics (how many teenage moviegoers of the '90s had a modicum of investment in Watergate?), everything challenged Hollywood's norms. And with legitimate reason: Director Andrew Fleming, who co-wrote the script with longtime friend Sheryl Longin, told HuffPost Entertainment that he pitched the movie "at least a dozen times." He had almost given up on it ever coming to fruition when Phoenix Pictures chairman Mike Medavoy, who also bought Fleming's 1994 movie "Threesome," decided to give it a shot.
In conjunction with the movie's 15th anniversary and the 40th of Nixon's resignation, we caught up with Fleming to chat about his piece of revisionist history. During our conversation, we collected quite the set of tidbits about how "Dick" came together.
1. It wasn't originally supposed to be about Watergate. The film's genesis stemmed from Fleming and Longin lamenting the 1970s' "pathetic" collective experiences, from Watergate and the energy crisis to the decade's fashion and "ridiculous" music. The duo brainstormed a film, originally called "Beast of Burden," about a single mother raising a bushel of kids amid the 1970s' implosion. Along the way, they kept returning to one of the daughters and her equally airy best friend. "We just loved these two teenage girls who were always stumbling off somewhere and getting into trouble," Fleming said. "We just kept reinventing the story in the '70s, and one day we asked, 'What if they were Deep Throat?' And we just looked at each other and said, 'That's it, that's it.'" From there, "Beast of Burden" became "Dick," the two girls became Dunst and Williams, and the family dynamics shifted to the story's periphery.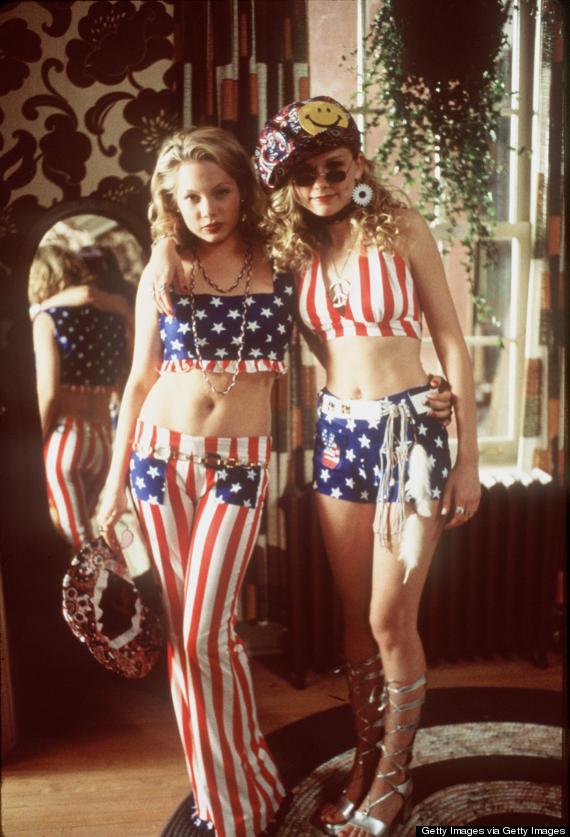 2. One of Nixon's advisers took a crack at the script. Despite building most of the plot off of such frivolous moments as Betsy (Dunst) and Arlene (Williams) unknowingly feeding Nixon pot brownies, Fleming and Longin spent the six months after their pitch reading "every book on Watergate that we could find." Medavoy, who was active in both of Bill Clinton's presidential campaigns, scored the writers access to the West Wing and the Oval Office while preparing for the movie. During their interactions with the sitting president's personnel, they were also introduced to John Dean, the White House counsel pegged by the FBI as the "master manipulator of the [Watergate] cover-up." Fleming sent Dean the script.
"I heard back from him a little while later and he though it was very funny, but he had a lot of ideas about how he could contribute to the project," Fleming explained. "I was a little overwhelmed at the suggestion, and then suddenly he was suggesting he do a draft of the screenplay, which I was not interested in him doing. But I was too embarrassed or shy or intimidated to say anything, and then suddenly he was asking for a floppy disk of the script so he could access the software. I kind of hedged and then suddenly he said he was just transcribing it himself and he was doing a draft. And I was telling Mike Medavoy about this, and Mike lost his shit. He said Dean couldn't do a draft of this script. So I had to call John Dean and I said, 'Look, I really appreciate it, but we just wanted to talk.' But he sent it to me anyway, which I never looked at. I felt like I couldn't. Somewhere lurking on my hard drive is the John Dean draft of the script."
3. Fleming did listen to the Secret Service, though. The director felt he couldn't let himself be influenced by Dean's script. To this day, he has not read it. He did, however, accept the input of a consultant from the Secret Service in order to ensure the presidential access Arlene and Betsy are given is believable. They then filmed scenes on the White House lawn, under rigid security clearances, and the rest on a preexisting set in Toronto. "There was no guarantee that we'd be able to do it until the last minute," Fleming said of the White House shoot. "They gave us clearance about an hour beforehand."
4. Kirsten Dunst didn't even read for the part. Dunst, who was 17 at the time of the film's release, was cast first. "I thought she was remarkable in 'Interview with the Vampire,' and she was just charming and it was a no-brainer," he said. "We had to have her." Despite its disappointing box office, "Dick" was among the crop of movies that ushered in The Great Kirsten Dunst Career Surge of 1998-2000. (The others being "Small Soldiers," "The Virgin Suicides," "Drop Dead Gorgeous" and "Bring It On.")
Fleming and casting director Pam Dixon, who'd worked on "The Craft," spent a long time searching for an Arlene. The director didn't tell us who else was eyed for the role, but Williams entered the picture immediately after the January 1998 premiere of "Dawson's Creek." Not having known each other previously, she and Dunst gave a "perfect" reading together. "It was done," Fleming said.
5. Will Ferrell's involvement enticed a stable of "Saturday Night Live" vets to join him. Playing a bumbling version of Washington Post reporter Bob Woodward, Ferrell was the first supporting player to sign on for the very "SNL"-ish project. "It was like a party and everybody wanted to be invited," Fleming said of the late-night comedians converging. Ferrell's casting led to "SNL" writer Bruce McCulloch playing a rivaling Carl Bernstein, Jim Breuer as the movie's version of John Dean, Harry Shearer as operative G. Gordon Liddy and Ana Gasteyer as Nixon's secretary. For the president, the movie secured Dan Hedaya, who'd played Nick Tortelli on "Cheers" and Cher's dad in "Clueless."
6. Ryan Reynolds' casting came at the 11th hour. A young Reynolds portrays the roommate of chief of staff H.R. Haldeman's son. "We needed a guy and couldn't find anybody we really liked," Fleming said. "It was very last minute. I don't even know if he read for it, but [Dixon] said, 'This guy is really good. Trust me.' It was very clear he had charisma at a young age."
7. The conservative Captain and Tennille did not want their music used. Fleming recalls tears of joy upon learning music supervisor John Debney cleared the rights to Elton John's "Crocodile Rock" for the movie's curation of '70s hits. The rest, which features Blue Swede's "Hooked on a Feeling" and Patti LaBelle's "Lady Marmalade," came together nicely, with two exceptions: First, Captain and Tennille, who didn't appreciate the movie's irreverence, denied the rights to "Love Will Keep Us Together." Secondly, Fleming was convinced Led Zeppelin's "Over the Hills and Far Away" should score the closing moments in which Nixon flies off as Betsy and Arlene hold up a sign with the words "You suck, Dick!" Fleming and the producers were struggling to acquire the rights to the song and, while editing, didn't feel like it was as impactful as imagined. They instead laid in Carly Simon's "You're So Vain." "I remember distinctly that first time, we just lined it up and said we'll just see what it looks like," Fleming recalled. "And we played it and I got, like, goose bumps because it kept hitting perfectly. It made it funnier, too."
8. The helicopter at the end is the same model Nixon used when he resigned in 1974. Planning the film's final moments was one of Fleming's more difficult tasks. He begged "formidable" producer Gale Anne Hurd ("The Terminator," "Aliens") to let them use a Sikorsky like the one Nixon was in during his infamous farewell. Hurd said the helicopter greatly exceeded the film's budget -- which Fleming says was somewhere in the teens -- but eventually she relented.
9. The costumes are never-before-worn clothes from the '70s. Costume designer Deborah Everton visited a warehouse in Denver where unused clothes from the '70s are available. "She found some hundred cubic yards of dead-stock clothing, and I know that was the bulk of what went on to be in the movie," Fleming said. "Those girls were in polyester. They were sweating."
BONUS: Despite glorious reviews, the movie didn't find an audience. Part of the reason "Dick" grew a cult audience, beyond its delightful cast and memorable music, is the place it finds among the wave of teen-oriented films emerging at the time. In a way that they aren't as much today, every genre was part of the trend: comedy ("Clueless," "Can't Hardly Wait," "10 Things I Hate About You"), drama ("Cruel Intentions," Varsity Blues") and horror ("Scream," "I Know What You Did Last Summer," "The Faculty"). The problem, though, as was the case earlier that year with "Election," was the niche market. Too mature to find a teen audience and too puerile-seeming to attract adults, the movie flittered between the two targets. It was, to Fleming, "All the President's Men" meets a Hayley Mills or Suzanne Pleshette "hippie kids' movie," and apparently there wasn't much of audience for that right before the new millennium hit.
"The executives at Sony at one point said, 'This is the best-reviewed movie we've had in a very long time,'" Fleming said. "It was, I think, universally positive reviews, so that felt great. As I say, I was just surprised anybody wanted to make the movie, and I knew it was a difficult film to market because Circle A: People who care about Watergate, Circle B: Silly teenage girls. There's no overlap between the circles. But I know that was what they call a psychographic and that they would find the movie eventually. I just loved the movie so much that I couldn't be disappointed."
Before You Go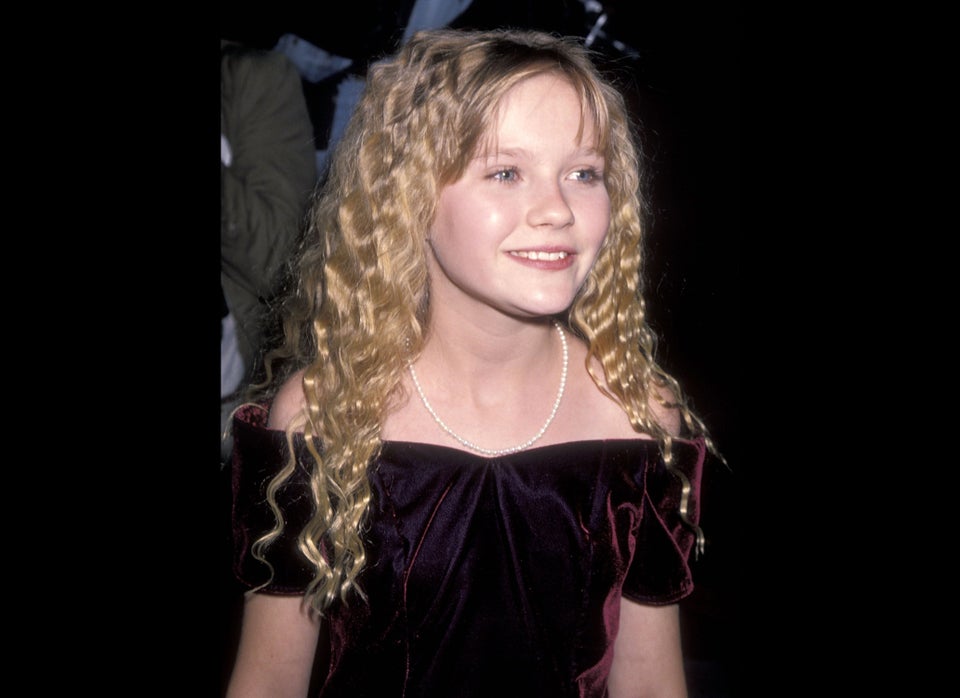 Kirsten Dunst's Style Evolution
Popular in the Community