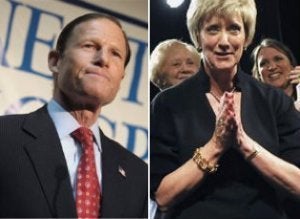 Connecticut Democrat Richard Blumenthal is taking aim at his Republican Senate rival, Linda McMahon, over her former role as CEO of World Wrestling Entertainment.
Mindy Myers, a spokesman for the state Attorney General, tells the Wall Street Journal of McMahon's work at WWE, "That experience involves marketing violence, sex and abusive treatment of women--aimed especially at children--while turning her back on steroid abuse."
The attack from Blumenthal's camp is only the latest in a series of recent shots fired from both sides of the aisle at McMahon's ties to the graphic and explicit world of pro-wrestling.
Shortly after McMahon stepped down from her leadership role at WWE last fall to launch her Senate bid, the Democratic Party of Connecticut didn't waste any time in pouncing on the Republican hopeful's job before entering the political arena. Talking Points Memo reports:
The Connecticut Democratic Party sent reporters links to WWE videos they say objectify women. Among the videos are wrestlers engaged in a simulated rape, a public sex scene and one depicting a wrestler having sex with a corpse. Warning, the video clips are very much not safe for work.
Nevertheless, McMahon continues to put on an undaunted face amid criticism zeroing-in on her post at WWE.
"It's more important to look at where you are today and how you reacted to those issues as they became apparent to you, and the changes that you made and how you adapted and made things better," she told the Wall Street Journal in an interview Friday. "Because, isn't that what you really want to do in business, in government, and in your daily life?"
The latest poll numbers to come out on the Connecticut Senate race show Blumenthal leading McMahon by a wide double-digit margin.
Calling all HuffPost superfans!
Sign up for membership to become a founding member and help shape HuffPost's next chapter