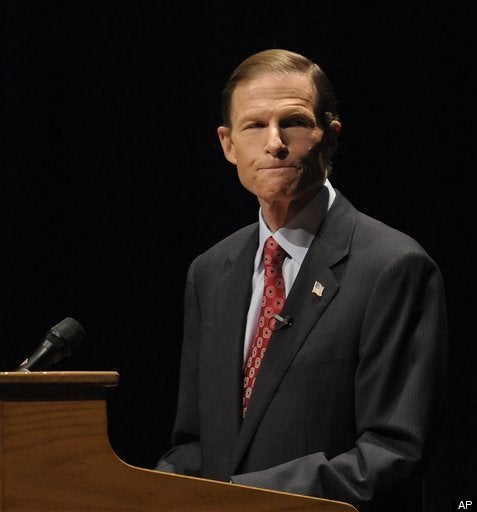 WEST HARTFORD, Conn. (AP) -- Democratic Senate candidate Richard Blumenthal on Tuesday conceded he had "misspoken" in claiming repeatedly that he served in Vietnam, dismissing the furor as a matter of "a few misplaced words."
At a news conference backed by veterans, the popular Connecticut attorney general and front-runner to replace the retiring Sen. Christopher Dodd said he meant to say he served "during Vietnam" instead of "in Vietnam." He said the statements were "totally unintentional" errors that occurred only a few times out of hundreds of public appearances.
The brewing campaign crisis erupted after The New York Times reported Monday that Blumenthal had distorted his military service. The story included quotes and a video of Blumenthal saying at a 2008 event that he had "served in Vietnam." It also cited several instances of media reports - apparently uncorrected by Blumenthal - that described him as a Vietnam veteran.
Blumenthal underwent six months in Marines boot camp at Parris Island, S.C., and served six years in the Marine Reserve, beginning in 1970, none of it overseas. Before that, Blumenthal got five deferments to avoid going to war between 1965 and 1970.
The furor has raised Republican hopes of taking Dodd's seat and chipping away at Democrats' Senate majority.
"On a few occasions, I have misspoken about my service and I regret that I take full responsibility," Blumenthal said. "But I will not allow anyone to take a few misplaced words and impugn my record of service to our country."
The Times story noted that Blumenthal spoke repeatedly of suffering the mistreatment veterans received after returning from Vietnam. At a veterans event in Shelton, he said, "When we returned from Vietnam, I remember the taunts, the verbal and even physical abuse we encountered," according to a 2008 Connecticut Post story.
The misstatements persisted for years even though Blumenthal is known to pore over press clips and call reporters to clarify or correct points.
On Tuesday, he also defended his military record and his commitment to veterans.
Popular in the Community