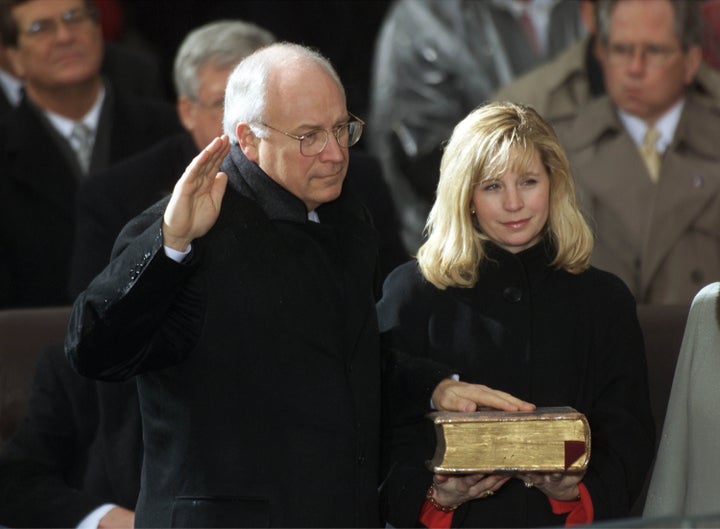 All families have their own 9/11 stories. For former vice president Dick Cheney and his oldest daughter Liz, the uncertainty they experienced on the day of the tragedy nearly ten years ago is no less vivid today.
The Cheneys open up in the The Sunday Times about what they recall feeling on September 11, 2001 and the years since the day's catastrophic events that captured the attention of the country and the world.
"I focused on the job, she focused on the family," the former vice president says of his wife, Lynne. "I remember her saying: 'The kids are safe.' It was very intense."
Cheney predicted that the memoir would "leave heads exploding all over Washington." His words came to fruition, with prominent figures including Colin Powell and Condoleezza Rice taking issue with the former vice president's words.
For Liz Cheney, her father's dealings with these issues were far from divisive. In a time when some Washington families crumble in the limelight, Liz saw the opposite happen when it comes to the unity of the Cheney clan.
"People strive so hard for some professional goal, they sacrifice things, but I don't feel that happened to us," she says in the The Sunday Times. "Politics has driven a lot of families apart. But it made the four of us incredibly close, because we were engaged in a group effort."
Years after Dick Cheney's tenure as vice president, his time serving in the White House remains a part of his legacy. Since leaving Washington, he's battled his way through a host of health issues, including undergoing heart surgery in July 2010. At age 70, he is now allowing his career take a back seat to something else important to him: his family.
"I have no regrets," he says. "Well I regret lending Liz my car. It was a nice car too, a Mazda RX7, a nifty little two-seater … She rear-ended someone."
Calling all HuffPost superfans!
Sign up for membership to become a founding member and help shape HuffPost's next chapter