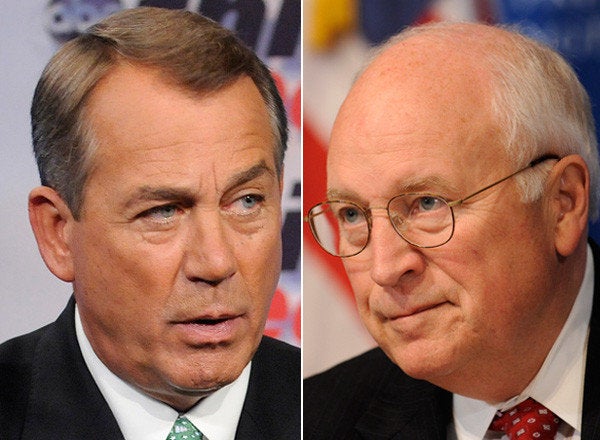 WASHINGTON -- Former Vice President Dick Cheney and a group of Bush administration and campaign alumni are hosting a fundraiser for House Speaker John Boehner (R-Ohio) on March 26.
In addition to Cheney, there are 54 individuals listed as chairmen, co-chairmen or hosts of the event, according to the invitation obtained by The Huffington Post. They include Bush counselor Dan Bartlett, National Economic Council director Al Hubbard, chief of staff Josh Bolten, Education Secretary Margaret Spellings and senior adviser Karl Rove.
The event is benefiting the "Boehner for Speaker" effort, which is a joint fundraising committee composed of his reelection campaign, his political action committee, the National Republican Congressional Committee and the Ohio Republican Party.
Tickets for the event cost $200 apiece. Being a host costs $1,500, a co-chairman $5,000 and a chairman $15,000.
While much of the personality of the House Republican caucus has been dominated by freshmen members who identify with the Tea Party, this fundraiser underscores Boehner's ties and support from the GOP establishment.
While Boehner and Cheney undoubtedly agree on many, if not most, policy issues, one major area of disagreement is on same-sex marriage. Cheney has been outspoken about his support for marriage equality and was reportedly involved in a lobby effort on the issue in Maryland. Several other individuals on the invitation list -- including former Republican National Committee chair Ken Mehlman, former deputy press secretary Tony Fratto and Log Cabin Republicans executive director R. Clarke Cooper -- also back marriage equality. None of them returned a request for comment.
His decision to have the House intervene and defend the law came after Attorney General Eric Holder announced last February that the administration would no longer argue in support of the law following its conclusion that DOMA is unconstitutional.
In March, a five-person House Bipartisan Legal Advisory Group (BLAG) voted along party lines (3-2) to direct the House General Counsel to initiate a legal defense of DOMA.
On Wednesday, U.S. District Judge Jeffrey White ruled DOMA unconstitutional, ordering the federal government to provide health benefits to the wife of a female federal court employee.
Boehner did not return a request for comment.
Ariel Edwards-Levy contributed reporting.
Popular in the Community