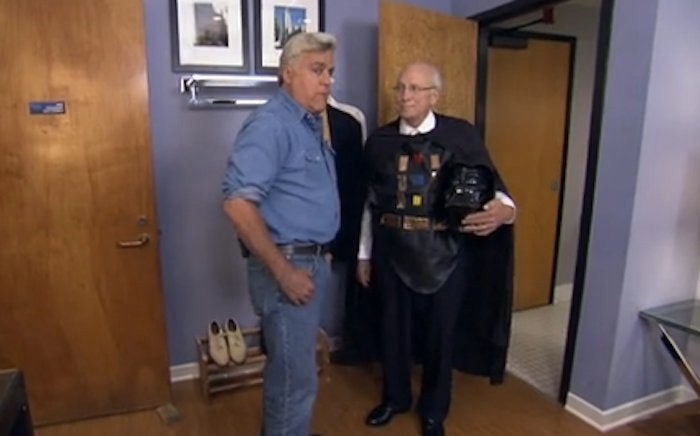 Dick Cheney, best known as the mastermind behind the recent wave of head explosions, stopped by "The Tonight Show with Jay Leno" to promote his new memoirs. While there, he seemed to reference an oft-made comparison -- that the former Vice President is more than a little reminiscent of Darth Vader.
Despite much media backlash against Cheney's book, many have speculated that the book is Cheney's attempt at appearing more human. And ironically, this appearance on Leno's show -- appearing as one of the most famous villains of all time -- is letting us know that Cheney is aware of the jokes, and is willing to make fun of himself, too.
Cheney has long stated that he is not bothered by the long-running Vader comparisons, recently telling Laura Ingraham that he is "honored" to be compared to the "Star Wars" villain and even dressed up as him for Halloween one year.
This appearance marks Cheney's first appearance on a late night talk show. A study released by The Center for Media and Public Affairs in November 2010 noted that Jay Leno tends to make more jokes at the expense of Democrats and liberals than any other talk show host, making Cheney's choice to appear on the show an apparently safe one.
Check out this clip where one of the most evil men in the universe makes an appearance on "The Tonight Show."
WATCH: Later in the episode, Carrot Top does some comedy with Dick and Jay.
Related
Popular in the Community