WASHINGTON -- The United States needs to rev up the war in Iraq, former Vice President Dick Cheney told Republicans Tuesday on Capitol Hill -- and most lawmakers seemed to agree with the man perhaps best known as a lead architect of America's ill-fated 2003 intervention there.
Cheney met with the House GOP a day before President Barack Obama is set to address the nation on the threat posed by the Islamic State, the militant group also known as ISIS. Republican lawmakers trickling out of the meeting said Cheney warned that American security is jeopardized around the world and it's time to act.
Obama has been saying for the past year that "we're going to bring all the troops home, and that we're going to basically be out of Iraq and Afghanistan," said Rep. Peter King (R-N.Y.). "Now the president's basically saying, one way or the other, we're going back into Iraq. Dick Cheney was here to support that."
Asked if he saw any irony in Cheney coming to talk to Republicans about next steps in Iraq, King said firmly, "No, because most of us think we did the right thing in Iraq."
Although a growing number of Republicans have expressed doubts in recent years over the United States' aggressive foreign policy actions, and some have criticized Obama for launching military strikes against the Islamic State in Iraq over the past couple of months, they were apparently silent in the meeting with Cheney.
"Really [there was] no controversy over the comments that were made," said Rep. Dave Reichert (R-Wash.). "No one challenged the vice president. I think that his analysis and the information he shared was accepted as pretty accurate."
Cheney's remarks might have sounded familiar to most people who have listened to bellicose GOP rhetoric for decades.
"What he talked about was we've, Republicans, have had a position on peace through strength. You look at all the Republican presidents we've had back to [Dwight] Eisenhower. You know they all understand, if you're not strong, then you invite aggression. When you invite aggression, you end up with people getting killed," said Rep. Buck McKeon (R-Calif.), the chairman of the House Armed Services Committee who recently returned from the Middle East.
"It's important to be strong, and that's what he talked about," he added.
Although no one challenged Cheney, some Republicans have signaled greater reluctance to respond militarily to every new threat.
Rep. Tom Massie (R-Ky.) said last month that Obama should have sought congressional approval before the latest round of airstrikes. And since Iraq poses no imminent threat to U.S. national security, he said he would vote against authorizing the use of military force in the country.
He was mum coming out of Tuesday's meeting with Cheney, however. "I don't want to comment," said Massie as he walked quickly from reporters. "His advice was mainly to spend more money on the military."
Rep. Justin Amash (R-Mich.), who is among the most vocal opponents of a new war, said that his recent primary election win was evidence many regular Republicans actually do not agree with the Cheney worldview.
Asked by The Washington Post's Robert Costa whether Republicans should stop listening to Cheney, Amash was blunt.
"Yeah ... Because Republicans don't agree with him," Amash said in an account on Brietbart. "They don't agree with him on foreign policy."
Still, others thought the former vice president offered a strong tonic for the GOP.
"It was a great message, something we needed to hear, and hopefully it sticks with a lot of my colleagues who've kind of had this creep towards isolationalism in the Congress lately," said Rep. Adam Kinzinger (R-Ill.), an Iraq veteran. "Hopefully this is an awakening that we have to be very strong and very serious."
Reichert added that Cheney -- who in 2003 erroneously linked Iraq to the 9/11 attacks despite the lack of evidence -- did so again in his pitch Tuesday.
"He mentioned the 9/11 attack was accomplished by people who came to this country with airplane tickets and box cutters and killed over 3,000 people," Reichert said. "What he said is that as ISIS and other terrorist groups -- the Muslim Brotherhood, the Taliban, al Qaeda, etc. -- gain strength and no action is taken or perceived weaknesses are seen, there's a greater chance America could be attacked again, and this time it won't be box cutters and airplane tickets."
A number of the lawmakers said neither they nor the public want to look back at the mistakes of the past.
"This is a complex issue. I don't want to relitigate the past -- why we went in in the first place, the president's decision in 2011 to withdraw every last troop," said Rep. Charlie Dent (R-Pa.). "At this point, I think we have to look forward not backward."
Before You Go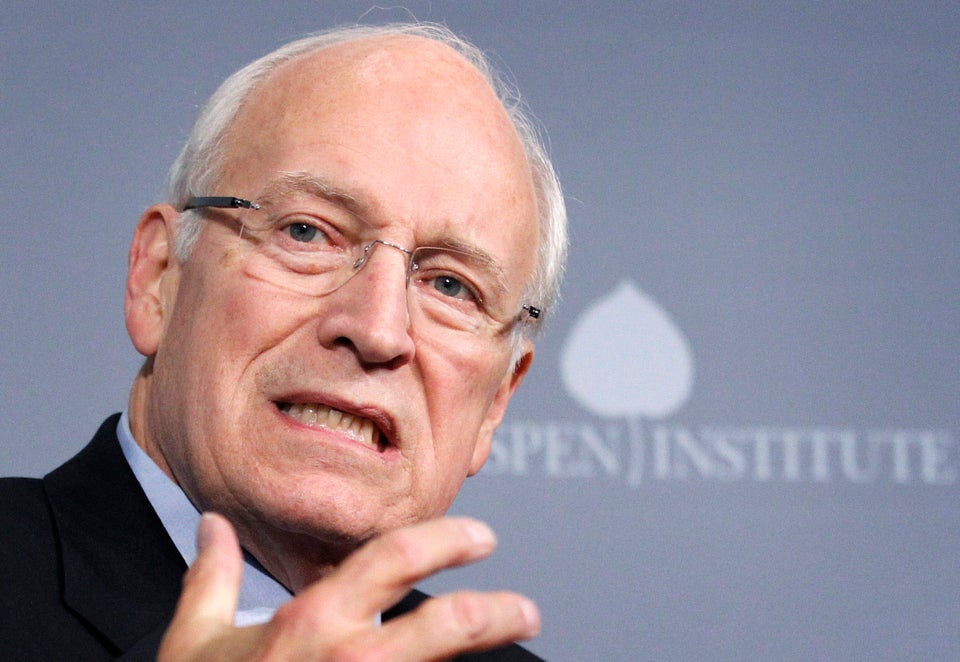 Dick Cheney
Popular in the Community