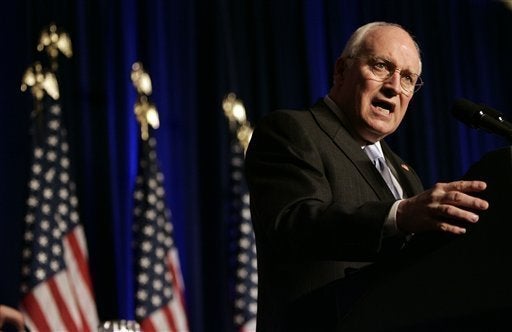 Former Vice President Dick Cheney made an unannounced appearance at the Conservative Political Action Conference on Thursday, met by a thunderous applause of a surprised and adoring crowd.
Taking the stage with his daughter Liz -- a scheduled speaker at the event -- his appearance spurred immediate shouts from the crowd, urging him to consider a presidential bid. "Cheney 2012!" yelled one man. He flashed a huge smile.
"A welcome like that is almost enough to make me want to run for office again," Cheney replied playfully.
If the remark felt a bit like deju vu, it's because the former vice president used the exact same line the last time he appeared at a CPAC convention.
In February 2008, Cheney appeared before the conservative conference to offer an aggressive defense of the Bush administration.
"A welcome like that is almost enough to make me want to run for office again," he said as crowd members began chanting "four more years."
Speaking this go-around, Cheney's speech was short. He predicted 2010 would be a great year for conservatives and made a joke about being his daughter's arm candy.
"I think Barack Obama is a one term president," he told a roaring crowd. "It's a great time to be a conservative."
Liz Cheney also came out swinging in her conference address.
"There's no polite way to put this, but that kind of incompetence gets people killed," Cheney said, accusing the Obama administration of missing warnings from the intelligence community that Yemeni terrorists were plotting an attack.
"There is no doubt that the daily intelligence briefings that the president receives contained much more information on the threat from Yemen," she said, without a hint of irony at the failures of the Bush-Cheney years, bemoaning "incompetence, misjudgment and presidential neglect."
Popular in the Community