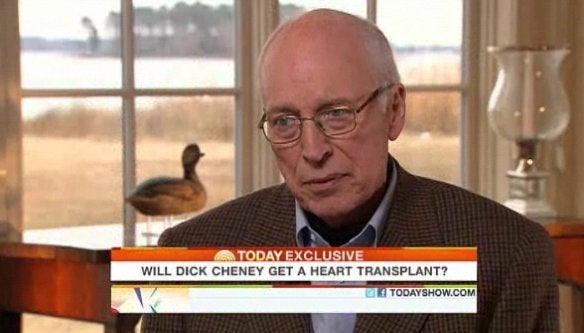 Scroll to the bottom for video.
In his first interview since undergoing major heart surgery last July, former Vice President Dick Cheney addresses a wide range of topics, including the Arizona shooting and the resulting political fallout, his latest views on Barack Obama's presidency, his offer to George W. Bush to step down as vice president, and his upcoming health decisions.
Read the full release from NBC News along with key quotes below.
NBC NEWS EXCLUSIVE -- FORMER VICE PRESIDENT DICK CHENEY SITS DOWN WITH JAMIE GANGEL IN HIS FIRST INTERVIEW SINCE HIS HEART SURGERY LAST JULY
The Interview Will Air On "Today" Tuesday, January 18 and an Excerpt Will Air Tonight On "NBC Nightly News With Brian Williams"
NEW YORK - January 17, 2011 -- In his first interview since his heart surgery last July, former Vice President Dick Cheney sits down exclusively with "Today" National Correspondent Jamie Gangel. The interview will air on "Today" tomorrow, Tuesday, January 18, and an excerpt will air tonight on "NBC Nightly News with Brian Williams."
In the wide-ranging interview from his home on the eastern shore of Maryland, Cheney opens up to Gangel on multiple topics. On his health, Cheney says he hasn't made a decision yet on a heart transplant. On President Obama, Cheney says he still thinks he is a one-term president, but he is pleased to see him adopting some of the Bush/Cheney policies on the war on terror. On the tragedy in Tucson, Cheney says we should be careful about drawing a connection to political rhetoric. He also reveals he offered to step aside as vice president multiple times. Cheney also discusses his upcoming book, which is set to come out in September.
Excerpts from the interview below; mandatory credit to NBC News with airdates.
Jim Bell is the executive producer of "Today" (Mon.-Fri., 7 a.m.-11 a.m. ET)
Let's start in the obvious place. For those who have not seen you recently, you look a little different. You lost some weight. This past summer your doctors told you that after five heart attacks you had to make a decision. And you had major surgery. And you had a heart pump put in. Can you tell me a little bit about what they did?
Sure. Well, there's a system called the LVAD, Left Ventricular Assist Device. And it in effect takes blood from the ventricle chamber of your heart and moves it into your aorta. And it significantly increases the amount of blood flow you've got going, which is vital when you get to end stage heart failure.
It significantly improves the function in the kidneys and your liver because they get an adequate supply of blood. And I'd reached the point after 30 years and five heart attacks where I really needed to do something. And so that's what we did. It's a pump that runs at about 9,000 RPMs. It's battery powered from the outside. But it's a wondrous device. It's really a miracle of modern technology. And now I'm here today because we have that kind of technology. And because the doctors were able to adapt it to my situation.
More and more people are using these instead of heart transplants, but usually they use them for a year or two. Are you thinking about a heart transplant?
I haven't made a decision yet. The technology was originally developed to provide a transition. To take somebody who's reached the point where they needed a transplant but a transplant wouldn't immediately be available, so they put this in as a temporary measure.
What's happened over time is the technology's gotten better and better and we've gotten more and more experience with people living with this technology. So I'll have to make a decision at some point whether or not I want to go for a transplant. But we haven't addressed that yet.
CHENEY ON PRESIDENT OBAMA:
You said that you thought that President Obama was going to be a one term President. Do you still?
Well, because I think he embarked upon a course of action when he became President that did not have as much support as he thought it did. That once he got into the business, for example, of the healthcare reform. I think he's enacted a program that a great many people are very worried about. And that there's a lot of support out there for the effort to repeal that healthcare package.
I think his overall approach to expanding the size of government, expanding the deficit, and giving more and more authority and power to the government over the private sector is a lack of-- sort of a feel for the role of the private sector in-- in creating jobs, in creating wealth and getting our economy back on track. Those are all weaknesses, as I look at Barack Obama. And I think he'll be a one term President.
He's recently rebounded in the polls a little bit. Do you think he's gotten more in tune with some of these things?
Well, I think perhaps he learned a lesson or two in the off term elections, the off year elections. The Democrats suffered major defeats. The Republican victory in the House was one of the most momentous changes, if you go back and look at our history, that we've ever had in terms of the number of seats captured.
He obviously has been through the fires of becoming President and having to make decisions and live with the consequences. And it's different than being a candidate. When he was candidate he was all for closing Gitmo. He was very critical of what we'd done on the counterterrorism area to protect America from further attack and so forth.
I think he's learned that he's not going to be able to close Guantanamo. That it's-- if you didn't have it you'd have to create one like that. You've got to have some place to put terrorists who are combatants who are bound and determined to try to kill Americans.
I think he's-- in terms of a lot of the terrorism policies-- the early talk, for example, about prosecuting people in the CIA who've been carrying out our policies-- all of that's fallen by the wayside. I think he's learned that what we did was far more appropriate than he ever gave us credit for while he was a candidate. So I think he's learned from experience. And part of that experience was the Democrats having a terrible showing last election.
You said you believe President Obama has made America less safe. That he's actually raised the risk of attack. Do you still feel that way?
Well, when I made that comment, I was concerned that the counterterrorism policies that we'd put in place after 9/11 that had kept the nation safe for over seven years were being sort of rapidly discarded. Or he was going to attempt to discard them. Things like the enhanced interrogation techniques or the terror surveillance program.
They'd been vital from our perspective in terms of learning basic fundamental intelligence about al Qaeda, about how they operated, who they were, where we could find them. And we were able to put in place a successful policy that did prevent any further major attacks against the United States over all those years. And he campaigned against all of that.
As I say, I think he's found it necessary to be more sympathetic to the kinds of things we did. They've gotten active, for example, with the drone program, using Predator and the Reaper to launch strikes against identified terrorist targets in the various places in the world.
That's all well and good. That's a plus that he's learned in that regard. But I still worry that until you've been there -- clearly a day I'll never forget-- 9/11-- I mean most Americans will always remember where they were on that day. But to sit in the Presidential bunker under the White House as al Qaeda launches hijacked aircraft and hits New York, hits Washington and kills 3,000 Americans, that's something I'll never forget.
And-- it requires you to-- certainly stimulated in me and I think the President I worked for an absolute commitment that that's never going to happen again on our watch. And that we'll do whatever we have to do in order to prevent it. And I hope President Obama is to that point now where he has that same basic attitude. But we might never find out until there's actually another attack.
CHENEY ON THE TRAGEDY IN TUCSON AND POLITICAL RHETORIC:
We don't know what motivated this young man, but immediately there was an uproar about contentious political rhetoric being responsible. Whether it's Sarah Palin using words like, "Don't retreat, reload," or President Obama in 2008 said, "If they bring a knife to the fight, we bring a gun," are those kinds of metaphors dangerous? Do you think the political rhetoric has gotten out of control?
Well, I think we have to be a little bit careful here-- about a rush to judgment. Trying to explain the event when we don't really know everything we need to know in order to be able to make sort of a final judgment. There's a lot more I'd like to know about the man who was the perpetrator of this awful crime.
And I think we need to be a little careful about assuming that somehow the rest of society or the political class bears the responsibility for what happened here when it was the act of a deranged, crazed individual that committed a crime.
I think our politics can get pretty rough at times. Having been vice president for eight years, maybe I'm more (CHUCKLES) sensitive to it than others, but the fact of the matter is, a good, tough political fights is one of the great strengths of our democracy. And so I think we have to be cautious I guess about jumping to conclusions here about the extent to which the sort of the political environment contributed to or caused this event. I think the event was caused by a deranged individual. And-- that's where we ought to look in terms of trying to assess guilt.
In the meantime certainly there's nothing wrong with, and I wouldn't be critical about people who are saying, "Look, we need to be careful about our rhetoric. We need to treat one another with respect during the course of our political debates," and so forth. I think that's always good, sound advice.
But I don't think we should anticipate that we can somehow take a system that was designed for political combat, if you will, between the parties, between ideas, between principles and set that aside. I wouldn't want to do that. That's the heart and soul of our political system. And that's basically a good thing.
Do you think we should watch our language? Do you think we should avoid things like targets on websites?
Well, perhaps. But again, as I say, I'm reluctant to judge our politicians based upon the act of what appears to be a lone, crazed gunman. Who perpetrated the crime.
CHENEY ON OFFERING TO STEP ASIDE AS VICE PRESIDENT:
Let me talk to you about President Bush's book. In his memoir he said about you, "Ten years later I've never regretted my decision to run with Dick Cheney," but he also writes that you offered and he considered dropping you from the ticket. And he says, quote, "He'd become a lightning rod for criticism. He was seen as dark and heartless, the Darth Vader of the administration." First of all, why did you offer to step aside? And I gather it was not the only time you offered?
Well, I actually went in about three different times because I didn't think he took me seriously the first time. That it was all in that period right before the '04 campaign. And the reason I did it was I thought he needed to have the ability to do whatever was necessary-- to make sure he won.
I always remembered what happened in '92 when his father ran. And there was a lot of speculation at the time that if he had gotten a new Vice President-- not to say anything negative about Dan Quayle. He's a friend of mine. But if he'd reached out and gotten a new Vice President he might have won reelection.
And I didn't wanna stand in the way if in fact that kind of decision would enhance the President's prospects of winning reelection in 2004 when he was up against John Kerry. And I thought he ought to have the freedom to change anybody he wanted, including me.
Calling all HuffPost superfans!
Sign up for membership to become a founding member and help shape HuffPost's next chapter