 A day before the 11th anniversary of the September 11 terrorist attacks, former Vice President Dick Cheney jabbed President Barack Obama over a new report that he opted not to attend a number of presidential daily briefings, a decision that Cheney claims is indicative of his aloofness on national security.
"If President Obama were participating in his intelligence briefings on a regular basis then perhaps he would understand why people are so offended at his efforts to take sole credit for the killing of Osama bin Laden," a Cheney spokeswoman told The Daily Caller in an email.
"Those who deserve the credit are the men and women in our military and intelligence communities who worked for many years to track him down," she continued. "They are the ones who deserve the thanks of a grateful nation."
Cheney's accusation comes in the wake of a report by Washington Post opinion writer Marc Thiessen, a speechwriter in the George W. Bush administration, that finds Obama has sat in on fewer than half of the daily intelligence briefings since entering the White House:
The Government Accountability Institute, a new conservative investigative research organization, examined President Obama's schedule from the day he took office until mid-June 2012, to see how often he attended his Presidential Daily Brief (PDB) -- the meeting at which he is briefed on the most critical intelligence threats to the country. During his first 1,225 days in office, Obama attended his PDB just 536 times -- or 43.8 percent of the time. During 2011 and the first half of 2012, his attendance became even less frequent -- falling to just over 38 percent. By contrast, Obama's predecessor, George W. Bush almost never missed his daily intelligence meeting.
Thiessen followed up with members of Obama's administration, who didn't dispute the findings, but attempted to downplay their significance. National Security Council spokesman Tommy Vietor told Thiessen that the president reads the brief every day, and engages his advisers thoughtfully and intently when he does attend. Regardless of Obama's habits, Thiessen goes on to say that Bush officials had told him the former president was keenly focused on his daily intelligence meetings and other strategy sessions regarding national security.
While Thiessen argues that Obama's intelligence brief attendance record suggests the president, unlike Bush, isn't fully committed to his duties on broader foreign policy concerns, an op-ed by Kurt Eichenwald published in the New York Times this week alleged that a number of documents from the period leading up the 9/11 show there was "significantly more negligence than has been disclosed" by the Bush administration.
"In the aftermath of 9/11, Bush officials attempted to deflect criticism that they had ignored C.I.A. warnings by saying they had not been told when and where the attack would occur," Eichenwald writes. "That is true, as far as it goes, but it misses the point. Throughout that summer, there were events that might have exposed the plans, had the government been on high alert."
White House press secretary Jay Carney addressed the report on Tuesday, calling it "hilarious" and insisting that the president's decision not to attend briefings has no bearing on his broader attentiveness toward national security.
"The president of the United States gets the presidential daily briefing every day. There is a document that he reads every day when he is not — well, he always reads it every day because he's a voracious consumer of all of his briefing materials. And when he is physically here, most days he has a meeting in his office, the Oval one, with participants in his national security team."

Asked if there was a distinction between the written briefing and sitting in on the daily meetings, Carney defended the president's record on national security.

"I believe if you compare our foreign policy record with the one that preceded this one, we're comfortable with that comparison," Carney said. "And this president is very much steeped in the details of national security issues and the information that as president he received."
Before You Go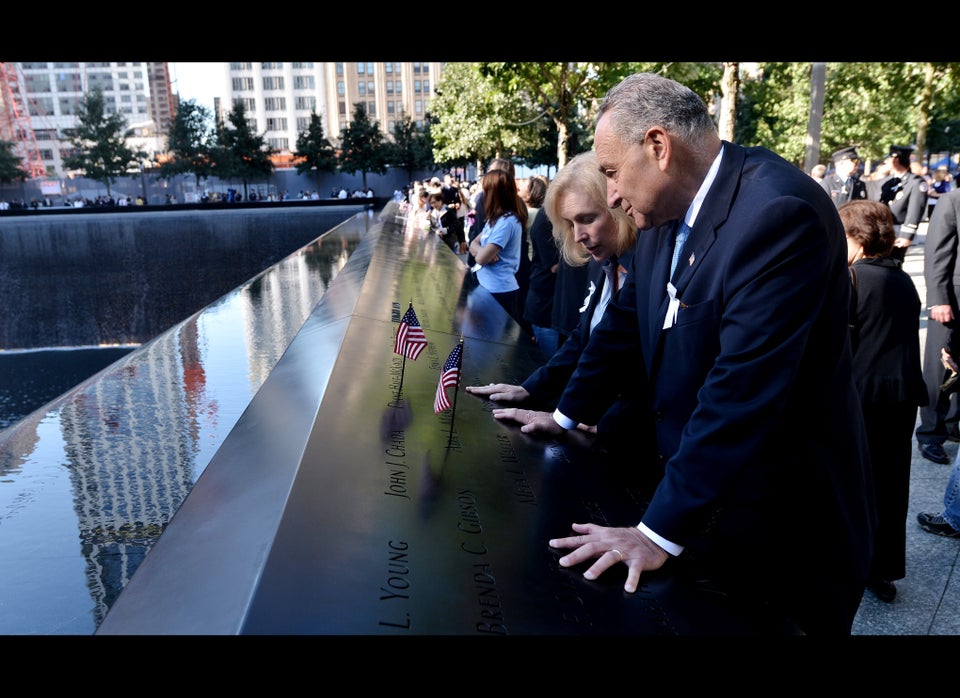 11th Anniversary Of September 11th Attack
Popular in the Community