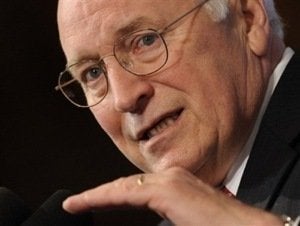 Former Vice President Dick Cheney expressed support on Sunday for the repeal of the military's "Don't Ask, Don't Tell" policy, saying that the climate has changed "significantly" since his tenure as Secretary of Defense.
Appearing on ABC's "This Week," Cheney said that on matters of military personnel he took his cues from the brass. Now that they felt the time was right to revise the policy that prevented gays from serving openly, he too was comfortable with a change.
"Twenty years ago, the military were strong advocates of 'Don't Ask, Don't Tell,' when I was Secretary of Defense," Cheney said. "I think things have changed significantly since then. I see that Mike Mullen, the chairman of the Joint Chiefs of Staff, has indicated his belief that we ought to support a change in the policy. So I think -- my guess is the policy will be changed.
"I think the society has moved on," he added. "I think it's partly a generational question. I say, I'm reluctant to second-guess the military in this regard, because they're the ones that have got to make the judgment about how these policies affect the military capability of our -- of our units. And that first requirement that you have to look at all the time is whether or not they're still capable of achieving their mission, and does the policy change, i.e., putting gays in the force, affect their ability to perform their mission? When the chiefs come forward and say, 'We think we can do it,' then it strikes me that it's -- it's time to reconsider the policy. And I think Admiral Mullen said that."
In coming out in support of a repeal of DADT, Cheney puts himself at odds with many in his own party, including Sen. John McCain (R-Ariz.) who once said he would follow the military's lead on the matter only to reverse course several weeks ago.
But it is not all that rare for the former vice president to strike a relatively progressive posture on gay rights issues. Cheney has spoken out in favor of gay marriage, provided that it is sanctioned by the state and not federal government.
Cheney spent much of his sit-down with ABC on Sunday taking broad swipes at President Obama, attacking the current White House occupant for, above all, abandoning a homeland security doctrine that he helped put in place. But there was one other issue, in addition to a DADT repeal, on which Cheney found agreement with the current president: a troop surge in Afghanistan.
"I'm a complete supporter of what they're doing in Afghanistan," Cheney said. "I think the president made the right decision to send troops into Afghanistan. I thought it took him a while to get there.
"Having Stan McChrystal now in charge in Afghanistan I think is an excellent choice," he added. "General McChrystal's one of the most able officers I know. I'm glad they're doing what they're doing in Afghanistan. I'm not a critic of what they're doing, in terms of how they're dealing with that situation."

Popular in the Community