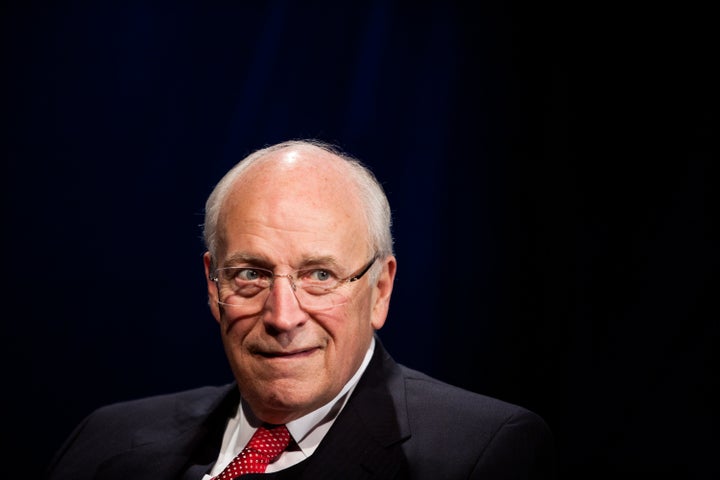 Former Vice President Dick Cheney's spirit is apparently as immortal as his earthly vessel.
At Thursday evening's GOP candidate forum in Cleveland, Cheney's foreign policy vision was very much alive as various presidential hopefuls vowed to re-invade Iraq, send troops to Syria, spy on mosques here in America and get tough with Iran by scrapping President Barack Obama's diplomatic approach.
Sen. Lindsey Graham (R-S.C.) explicitly promised -- twice -- to invade Iraq again. "If you're running for president of the United States and you don't understand that we need more American ground forces in Iraq and that America has to be part of a regional ground force that will go into Syria and destroy ISIL in Syria, then you're not ready to be commander in chief," Graham said, referring the Islamic State militant group, which is also known as ISIL or ISIS. "And you're not serious about destroying ISIL."
Even former New York Gov. George Pataki, generally viewed as one of the most moderate candidates among the GOP pack, appeared to commit to sending more U.S. troops to the Middle East, saying that it was "necessary" to put American lives at risk to "destroy ISIS."
Louisiana Gov. Bobby Jindal said he would focus on "killing murderous, evil terrorists" and "take the political handcuffs off the military." He accused Obama of lacking the "moral honesty and clarity to say that Islam has a problem, and that problem is radical Islam."
Several candidates suggested they'd scrap the nuclear deal recently reached between the U.S., Iran and five world powers. Former Texas Gov. Rick Perry pledged that if he were elected president, "the first thing that I will do is tear up that agreement with Iran."
Carly Fiorina, the former Hewlett-Packard CEO whom many in the media dubbed the winner of the debate, said the Islamic Republic was "at the heart of most evil in the Middle East." She pledged to call the supreme leader on her first day in office to tell him the U.S. would block Iran's access to the world financial system unless his country opened "every nuclear and every military facility to full, open, anytime/anywhere, for real, inspections" (after calling Israeli Prime Minister Benjamin Netanyahu and reassuring him of the U.S.'s commitment to Israeli security, of course).
Former Virginia Gov. Jim Gilmore called for "a Middle East NATO so that we can combine our allies there to stand up to Iranian expansion" and "stop this ISIL thing before it becomes an actual state."
Fox News debate moderator Martha MacCallum asked the candidates "how far" they'd go to "root out" ISIS at home in the U.S., and whether they'd "put mosques, for example, potentially, under surveillance." Never mind that mosques are already under surveillance -- candidates were still eager to promise to crack down.
"Martha, religious liberty doesn't include encouraging a fellow American to engage in violent jihad and kill an American here," Pataki responded. "That is not protected free speech. That is not protected religious belief. That is like shouting 'fire' in a crowded theater, and it is illegal."
"We have to shut down -- whether or not they are in prisons preaching -- or in mosques preaching," Pataki added.
"If I have to monitor a mosque, I'll monitor a mosque," Graham said.
The only candidate who came anywhere near acknowledging the complexity of the situation in the Middle East -- much less the capacity for U.S. military action to escalate violent tensions in the region -- was Fiorina.
"Yes, our allies are not perfect," she said in response to a question about U.S. allies funneling money to terrorist groups.
Still, Fiorina began her response with a phrase that could have summed up many of the candidates' Cheneyesque takes on foreign policy: "Sometimes it's a complicated situation, but some things are black and white."
CORRECTION: This article has been corrected to more accurately reflect Fiorina's comments on Iran's nuclear program.
Popular in the Community