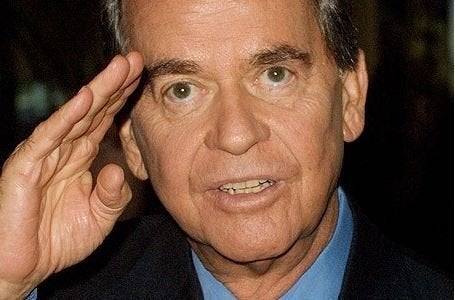 I was fortunate enough to know Dick Clark and receive the benefit of him sharing a number of his experiences as a business owner. Like so many others, I first became aware of Dick as the host of American Bandstand and a Saturday night show sponsored by a chewing gum company. As a teenager living in a public housing project, I had no concept of the business principles and protocols that brought Dick into our apartment or that paved his way to more than 50 very successful years. He was simply a likeable guy introducing the music and performers of the day that I wanted to see. But by the late '70s when I was planning to move to Los Angeles, he had become a business role model for me.
Dick started in radio and so did I. He began hosting TV programs and I'd gotten to do some of that as well. During a visit to LA, I saw a sign on an office saying Dick Clark Productions on the Sunset Strip. That switched on a light bulb for me. After that I wanted to have a business that produced what is now referred to simply as content. My eyes were opened to two new role models. Dick and Merv Griffin were leaders in leveraging their on-air presence into access to the offices where TV programming was being purchased. Where do you think Ryan Seacrest learned his empire building skills?
In the early 1980s, I finally met Dick and found him just as easy to relate to as the personality I'd grown up with on television. By that time I was an executive at the NBC network and Dick Clark Productions was one of the companies that regularly called on us to pitch program ideas, I made sure that we met and it wasn't long before I peppered him with questions like any student would when given some attention by a master. Lesson number one was: "Nelson, there are very few bad program ideas; there are just ideas waiting for the right time." For example, do you remember TV's Bloopers & Practical Jokes from its birth in 1982? Dick Clark Productions had a hand in that one.
Dick's interest in owning media content really began when he was just the host of American Bandstand broadcast from WFIL-TV in Philadelphia. I wouldn't be surprised if Clark got some entrepreneur lessons from the owner of that station, the late Walter Annenberg who went beyond being a media mogul to become one of America's best known philanthropists. Bandstand was a sensationally fast developing hit TV program which transformed Dick into a famous personality who controlled major access to the eyes and ears of the teenage population! That kind of leverage enabled him to develop ownership interests in record companies, distributors and even the songs themselves. Dick said "my tentacles went in every direction." The lesson here is leveraging what you have into ownership positions in other products and services. A modern master of that art is Donald Trump.
Some years after I first met Dick, he told me a story about how excited he was taking a train trip from Philadelphia to New York with a serious amount of cash stuffed in his pockets. Though I don't remember which business (it may have been a movie) it was in, he had been offered the chance to invest in something and it thrilled him. Even at age 70, Dick displayed that youthful enthusiasm for business ideas. We were together in Florence, Italy, back in 2001 for a mutual friend's birthday celebration. Because he wasn't as recognizable in Italy as here, we had a nice business conversation while standing near the Duomo as hundreds of people walked by! Dick and his wife owned some property in the Caribbean, and he talked about starting a shrimp farming business. After I teased him with a reminder that shrimp don't sing or dance, came a simple confession. He said, "Nelson, you know I've always got to be doing something." By that time, Dick was very wealthy, famous and accomplished, but he still loved working and ideas more than lavish spending or an exorbitant lifestyle. Unbridled enthusiasm is a success magnet. While many people of his age were eyeing a rocking chair, Dick was fishing for opportunities.
Dick Clark was a personality and entrepreneur for the ages. He knew how to make people feel at ease. By helping others shine, some of the light fell on him and helped power his fortune. Though he was a firm and sometimes blunt boss, he had some loyal thirty-year employees. He probably sent more thoughtful congratulatory notes and gifts to various people than a head of state. I'm amazed and impressed by how long and well he did it. I'm still delighted that I not only got to meet one of my business idols, but that he shared some great lessons with me. With apologies to James Brown who was nicknamed "the hardest working man in show business," I now nominate Dick Clark for that role.
Calling all HuffPost superfans!
Sign up for membership to become a founding member and help shape HuffPost's next chapter