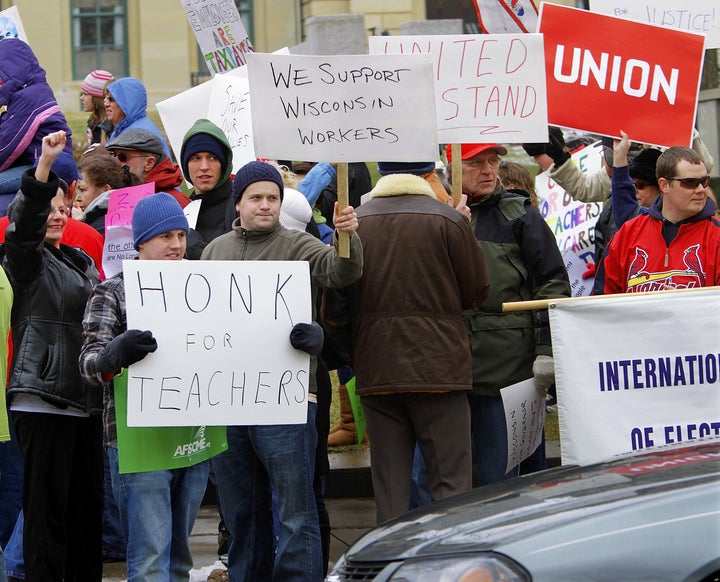 On Saturday, Chicagoans joined the chorus of protesters across the country to support union members in Wisconsin and other states who are fighting to keep their bargaining rights.
More than 1,000 people reportedly turned out at the afternoon Thompson Center rally, chanting "Save the American Dream."
"If they bust the unions up (in Wisconsin), it's a matter of time before they bust the unions up here," laid-off Illinois electrician Rich Bonzani told the Chicago Tribune. "It's an assault on the middle class."
Sen. Dick Durbin was one of several speakers to address the Chicago crowd, and slammed Wisconsin Governor Scott Walker's plan to strip about 170,000 of Wisconsin's public employees of their collective bargaining rights. Walker has defended the move as a way to fill a budget gap.
"Governor Walker's agenda in Wisconsin goes way beyond the budget. He's trying to destroy a basic American right," Durbin said at the rally, according to ABC Chicago. (Scroll down for video)
Durbin also told the crowd that senators fleeing Wisconsin in an effort to stop the legislation would always be welcome in Illinois.
One of those senators, Wisconsin Democrat Lena Taylor, visited Rev. Jesse Jackson's Rainbow PUSH Coalition on Saturday--and told a crowd of supporters that she would not be returning to Wisconsin to allow a vote on Walker's bill.
"We believe in protecting the rights of people," Taylor said. "His agenda is wrong for Wisconsin and we're standing with the people."
WATCH WGN's coverage of the rally here: