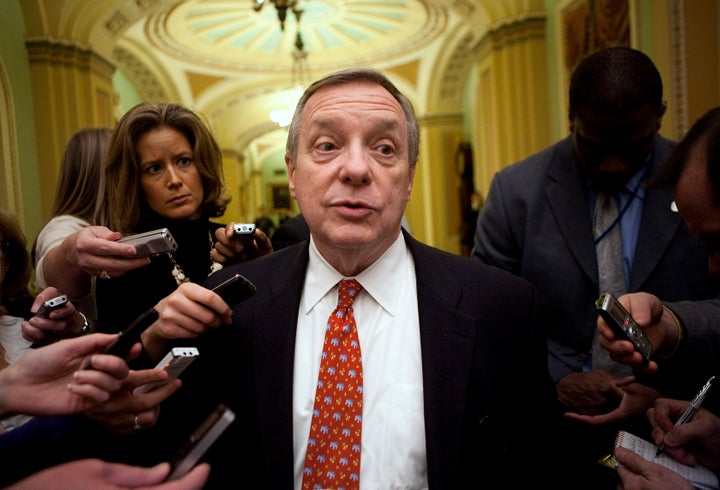 WASHINGTON -- If the president saves his Iran deal from the critics trying to kill it in the United States Senate, it will be in large credit to one lawmaker.
Sen. Dick Durbin (D-Ill.) emerged this past week as the chief organizer, White House liaison and public cheerleader for the controversial agreement. He has organized briefings, taken his case to the airwaves and meticulously encouraged the fence-sitting senators. The administration considers him its most valuable ally in the upper chamber on the deal, while colleagues describe his work as tireless and deft.
"Dick's demeanor and reputation within the caucus puts him in a perfect position to lead the vote-counting effort," said Sen. Chris Murphy (D-Conn.), also a supporter of the deal. "He's not twisting arms, but he's listening to members and making sure they have the information necessary to make the right decision. Yes, he's passionate about this issue, but he knows that this is a unique whip operation that requires a consistent but gentle touch."
Durbin took on this role partially out of necessity. He is the only member of the Senate Democratic leadership team who publicly backs the Iran deal, which exchanges sanction relief for curbs on Iran's nuclear program. This honor places him at odds, for now, with his longtime collaborators and with his former roommate, Sen. Chuck Schumer (D-N.Y). But it also has given him the somewhat fortuitous distinction of being a leading progressive foreign policy voice at the precise moment the leadership team preps for a transition, with the impending retirement of Minority Leader Harry Reid (D-Nev.) and a likely showdown between him and Sen. Patty Murray (D-Wash.) for the whip post.
Diplomatically, Durbin downplayed any riffs. While he acknowledged that he has repeatedly encouraged both Reid and Schumer to support the Iran deal, he said he empathized with their ambivalence.
"I respect Chuck and I know he is going through a soul-searching process here. He wants to do the right thing," he said. "It is critically important politically as a Jewish-American politician, and it is critically important to him personally. And he is taking the time to do it right. But I believe his decision is not going to sway six, eight or 10 votes. People are just deciding this on an individual basis. I really believe they are."
Though he's alone among Democratic Senate leadership in publicly supporting the Iran deal, Durbin isn't on particularly difficult political terrain. For starters, it could very well be that the Senate isn't needed to keep the deal alive. Should legislation pass Congress rejecting the deal, the president will veto it. At that point, two-thirds of each chamber will have to override the veto, and it is widely expected that the votes won't be there in the House.
Philosophically, moreover, Durbin has been in this spot before. Thirteen years ago, he was one of 23 Senators to vote against the authorization of the war in Iraq.
In an interview, Durbin said the 2002 authorization vote was not an easy call, even for a Democrat from reliably Democratic Illinois. He was in the midst of a re-election campaign back then, and political pressures, not to mention emotions, were engulfing. The current debate on Iran may not directly echo that moment, if only because the vote set to take place in September will not be to explicitly start a war (though advocates of the deal insist that would be a byproduct of killing the diplomatic agreement). But Durbin sees it as containing the same level of historical import.
"There aren't many votes that you remember for a congressional lifetime and beyond. And one that will be with me forever is the vote on the war in Iraq," he said. "I view this vote in the same context. This is a historic decision. This isn't just another political decision. This is one the senators are going to remember for a long time."
In pitching the Iran deal to his colleagues, Durbin has raised the specter of another moment similar to the Iraq authorization. But he's wary the analogy "doesn't transfer" to some members, who either weren't in the chamber in 2002 or are already overwhelmed with pressure from groups lobbying for or against the Iran deal. And so, aides say, he's tried a softer touch too: talking to Senators on a one-on-one basis, encouraging members to announce their intentions before heading on August recess, and organizing routine briefings with administration officials and nuclear experts.
The latest briefing came on Tuesday, when Durbin brought ambassadors and foreign officials from countries that are party to the deal, along with former U.S. Ambassador to Israel Daniel Kurtzer, to meet with 30 of his colleagues. The session, which took place in the capital and lasted about an hour, proved highly consequential, according to multiple Senate aides, with several attendees subsequently announcing their intention to support the deal.
That may seem like a circuitous criticism of Durbin himself. Foreign officials, after all, were able to do what he, the president, and the secretary of state could not: convince skeptics that the international sanctions regime against Iran could not be put back together if the deal was voted down.
But Durbin wasn't personally offended. Sometimes, he said, lawmakers need "third-party validation" to finally get to yes. "And that's what happened yesterday … I said at the end of this meeting, I can't help but think for a moment, as a student of history, what we have as an alliance on the other side of this table: China, Russia, the United Kingdom, Germany and France. When the German [Deputy Chief of Mission] said at one point, 'You all know the history of Germany and the Jewish people. But you must know now we are more dedicated to the survival of the Jewish people than any country in Europe,' that kind of statement is touching and powerful. And it brings this into historic perspective."
Want more updates from Sam Stein? Sign up for his newsletter, Spam Stein, here.
Calling all HuffPost superfans!
Sign up for membership to become a founding member and help shape HuffPost's next chapter