Sen. Dick Durbin (D-Ill.), chairman of the Senate Judiciary Committee, said Tuesday that he's still holding out hope that Republicans can find "common ground" for advancing President Joe Biden's judicial nominees ― without axing the committee's so-called blue slip rule, which allows a single senator to sink a judicial nominee from their home state.
It's not an official Senate rule. It's a committee tradition, a senatorial courtesy. Durbin could do away with it today if he wanted to. How does it work? Senators literally turn in a blue piece of paper to the committee to signal their support for advancing a nominee from their state. If both of a nominee's senators turn in their blue slips, the nominee gets a hearing. If only one turns in a blue slip, or neither, the nominee doesn't get a hearing.
Durbin would have good reason to stop with this tradition. Republicans ignored it for appeals court nominees in 2017 when they were in the majority, and Donald Trump was picking judges. Now, Republicans are routinely blocking Biden's district court picks by simply not turning in blue slips to the committee.
Democrats returned more than 130 blue slips during the Trump administration, confirming 84 district judges in states with at least one or two Democratic senators. More than two years into the Biden administration, Republicans have returned just 13 blue slips. That was as of last month.
"Well, it's still up in the air," Durbin told HuffPost on Tuesday when asked how he's feeling about continuing to honor the committee's blue slip rule.
Asked if he's frustrated by Republicans not turning in blue slips and denying Democrats the ability to move Biden's judicial picks, Durbin said with irritation, "Of course I'm frustrated!"
But frustrated to the point of seriously considering nixing the blue slip rule?
"We're not at that point yet," Durbin said, disappearing into a Senate elevator.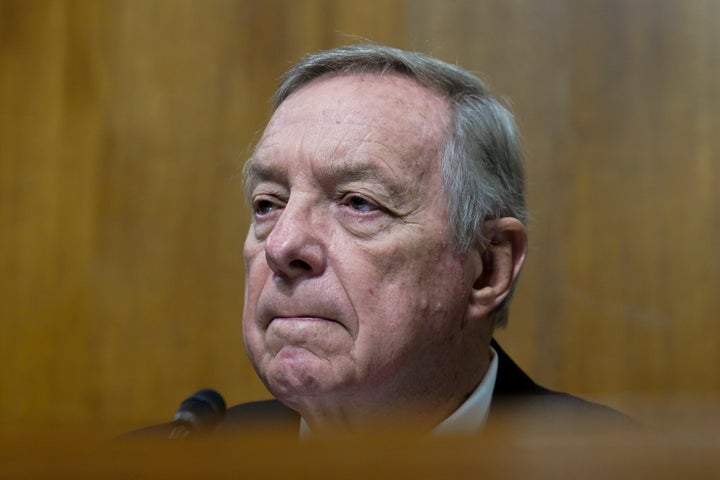 The Illinois Democrat had just presided over a Judiciary Committee hearing a few hours earlier, during which the panel heard from three of Biden's judicial nominees. All had received blue slips from their home-state senators, including one Louisiana nominee, represented by Republican Sens. John Kennedy and Bill Cassidy.
Durbin took a moment to highlight this detail.
"The blue slip process has a long history, but there have been instances of success and failure in that process," he said at the start of the hearing. "We have an illustration of success today."
He added that he hoped his colleagues could "try to find common ground."
Democrats on the Judiciary Committee sometimes get weird and uncomfortable when asked what they think about getting rid of blue slips.
"That is in the hands of Chairman Durbin," Sen. Sheldon Whitehouse (D-R.I.) recently told HuffPost before walking away quickly. "I will leave it right there."
"When it gets to the point that Republicans are just holding everything up on the district court nominees," Sen. Mazie Hirono (D-Hawaii) said of her breaking point on axing the tradition. "I don't think we're there yet. For the moment, we're OK."
The Louisiana nominee in Tuesday's hearing with blue slips turned in by both of his GOP senators, district court nominee Darrel James Papillion, is a bit of an outlier. Never mind that Republicans aren't returning many blue slips ― it's unclear how many court seats may be currently blocked, as senators can threaten not to turn in blue slips before the White House publicly announces any nominee ― but they may feel increasingly emboldened not to turn them in.
Democrats spent much of the last two years confirming Biden's court picks from states led by at least one Democratic senator if not two. Blue slips weren't a huge concern. Now, most of the seats left to fill are in states led by one or two Republican senators. This is a much different and more challenging path ahead for the Biden White House, and Republicans know it.
Currently, there are about 100 court vacancies and only 38 announced nominees by the White House. That leaves room for plenty of speculation about why there aren't more announced nominees in the queue.
And with Durbin set to keep honoring the blue slip rule for district court nominees, that gives Republicans many opportunities to deny Biden the ability to fill seats in their states.
"We're not at that point yet."
Just this month, Sen. Cindy Hyde-Smith (R-Miss.) announced that she wouldn't turn in her blue slip for Scott Colom, Biden's nominee for a Mississippi district court seat. The state's other Republican senator, Roger Wicker, turned in his blue slip. But without Hyde-Smith's turned in, Colom's nomination is toast.
Unless, of course, Durbin tosses the blue slip rule.
Progressive judicial advocacy groups are practically shouting at Durbin from the mountaintops to ditch blue slips. Republicans had no problem disregarding the rule for Trump's court picks. For years, Democrats fumed helplessly from the sidelines as GOP senators ignored their opposition to nominees being tapped from their home states and confirmed against their wishes.
"If we're truly going to protect our courts, it's time to end the blue slip and make sure all qualified nominees receive a speedy hearing and confirmation," said Kimberly Humphrey, legal director for federal courts at Alliance for Justice. "There's still too much progress to make to allow the misuse of the blue slip tradition, which primarily serves Senate Republicans' goal of obstructing nominees committed to equal justice for all."
"It's time for the Senate Judiciary Committee to put a foot down," said Svante Myrick, president of People For the American Way. "We urge the Committee to schedule hearings for Scott Colom, who has received a blue slip from Mississippi's senior senator, Sen. Wicker, and make it clear that from now on, the threat to withhold a blue slip after efforts to work with the home state senators will no longer derail the entire process of judicial nominations."
Chris Kang of Demand Justice said it's particularly laughable to honor the blue slip rule for Hyde-Smith, given that she wouldn't even certify the 2020 presidential election results.
"At this point, Chair Durbin has a choice," Kang said. "Reform the outdated blue slip tradition and give Scott Colom a fair hearing and vote, or endorse the worst kind of extreme Republican obstructionism."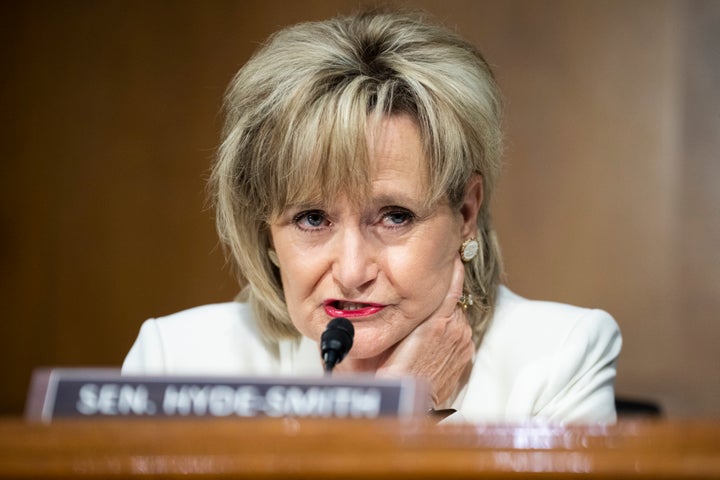 Biden had been on a tear with confirming judges until this year, outpacing his predecessors with confirmations and bringing badly needed diversity to the federal bench. And after Senate Democrats picked up an extra seat in November's election, Senate Majority Leader Chuck Schumer (D-N.Y.) was hungry to push through even more judges.
But the past several weeks have been grim for judicial confirmations. Beyond the blue slip fight, Sen. Dianne Feinstein (D-Calif.) has been out since early March with health problems. Sen. John Fetterman (D-Pa.) had been out with health matters, too. With their slim 51-49 majority diminished, Democrats' focus on processing judicial confirmations came to a screeching halt.
Worse, Feinstein is a member of the Judiciary Committee, and her absence there has prevented any nominees from advancing. It's not clear when or if the ailing 89-year-old senator will return, and Republicans made clear this week that they won't support Democratic efforts to temporarily replace her on the committee. That leaves the committee's partisan breakdown indefinitely tied 10-10, meaning Republicans can effectively block every nominee if they want to.
For now, Durbin's plan appears to be to keep searching for bipartisanship on judicial nominees, preserving blue slips and hoping that Feinstein comes back. Soon.
"We have several issues still pending before the committee that I will not go into at this time," he said in Tuesday's hearing, "but I hope that I can urge colleagues on both sides of the aisle to try to find common ground."
Popular in the Community