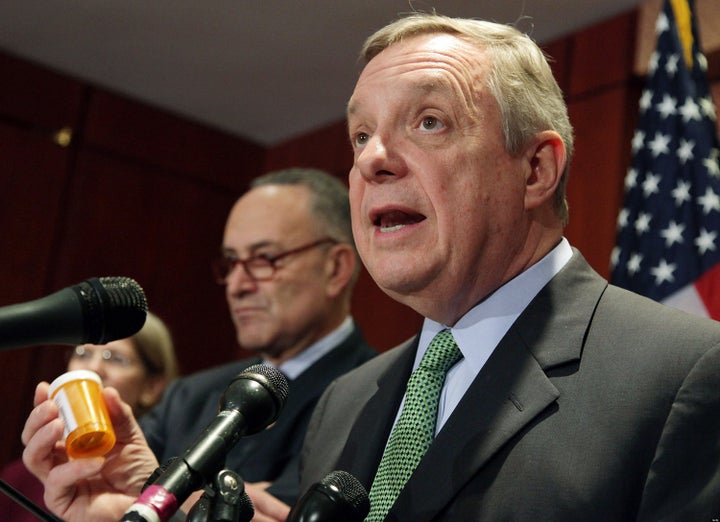 WASHINGTON -- Republicans are sabotaging economic recovery efforts because it will help them win in 2012, Senate Democratic leaders charged Wednesday.
"Unfortunately our Republican colleagues in the House and Senate are driven by putting one man out of work -- President Obama," Senate Majority Whip Dick Durbin (D-Ill.) declared at a Capitol Hill press conference called the day after Senate Republicans blocked an economic development bill that they have backed in the past.
Durbin pointed to remarks made by Senate Minority Leader Mitch McConnell (R-Ky.), in which he said the top goal of Republicans should be to make Obama a one-term President.
"You can see in the way that the Republicans are acting on the floor of the Senate and the House, that is their goal -- their only goal," Durbin argued.
"They want to play political games at the expense of getting this economy back on its feet," he said. "They believe a weak economy is their best chance of winning the next election."
Sen. Chuck Schumer (D-N.Y.), the number three Democrat in the Senate, seconded Durbin, noting that the GOP is opposing infrastructure investment that's favored by the U.S. Chamber of Commerce -- a major GOP ally. He also noted that Republican leaders recently derided a White House proposal to offer a new temporary payroll tax break as a "gimmick" when they'd supported such measures before.
"Now, all of a sudden, they're coming out against it," Schumer said. "Do Republicans really oppose a tax cut for businesses that created jobs? This is sort of beyond the pale."
"If they oppose even something so suited to their tastes ideologically, it shows that they're just opposing anything that helps create jobs," Schumer added. "It almost makes you wonder if they aren't trying to slow down the economic recovery for political gain."
Representatives for McConnell and House Speaker John Boehner (R-Ohio) did not immediately comment on the accusation.
Durbin and Schumer fired the broadside as Vice President Biden continues to meet with a bipartisan group of legislators trying to craft a deal to cut the deficit and raise the federal government's debt limit, which will be reached in August.
Democrats have insisted that investments and other methods aimed at creating jobs have to be part of that deal, pointing to weak recent employment reports as evidence that it's too soon to simply resort to cuts alone as an economic strategy.
Popular in the Community