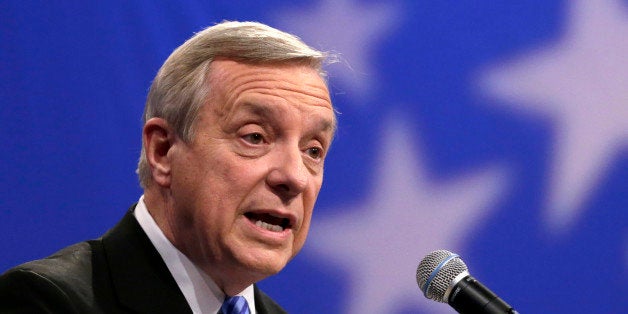 "The crisis we see in the Cook County Jail is a crisis that's shared by jails all across the country," Smith said. "The exclusion of county jails from the NHSC program is just nonsensical: It ignores the reality of the role county jails are in the country. We are in most ways -- we act as a state prison system."
"Even if someone is incarcerated, they are still entitled to necessary medical care," Durbin said in a statement. "Improving local jails' ability to recruit skilled, committed health care professionals and expand their inmates' access to behavioral health services and other health care will help reduce recidivism and improve public safety. State and federal prisons are already included in this program for these very reasons. It is only logical to include county and municipal correctional facilities as well."
Smith noted county jails like hers have no discretion when it comes to inmate intake.
"We have to take people regardless of how sick they are -- regardless of if they're psychotic, regardless of if they have cancer," Smith said. "About 75 percent of people who come into our custody go back to the community. If we're serious about stopping the cycling of recidivism, we need to take advantage of the time they have with us."
In a release about the bill, Durbin said expanding the NHSC would help county and municipal jails "better attract highly qualified behavioral, and medical, health professionals."
"[Sen. Durbin] feels very strongly about this issue to make a positive change and has pushed a number of criminal justice reforms over the years," Ben Marter, a spokesman for Durbin, told The Huffington Post on Thursday. "It's a very high priority for him."
Marter noted Durbin's previous prison-reform bills, like the Smarter Sentencing Act of 2015, have drawn strong bipartisan support from fellow Democrats like Vermont Sen. Patrick Leahy and New Jersey Sen. Cory Booker, as well as from some lawmakers who typically have opposing ideologies, such as Sen. Mike Lee (R-Utah), Sen. Rand Paul (R-Ky.) and Sen. Ted Cruz (R-Texas).
"There's an unlikely collection of senators pushing for criminal justice reform," Marter said.
REAL LIFE. REAL NEWS. REAL VOICES.
Help us tell more of the stories that matter from voices that too often remain unheard.
BEFORE YOU GO
PHOTO GALLERY
MENTAL ILLNESS STEREOTYPES