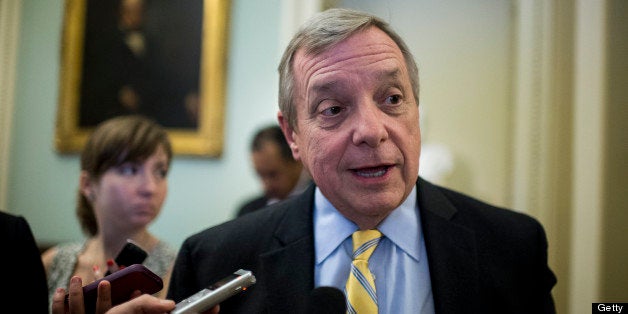 Illinois Sen. Dick Durbin, the No. 2 Democrat in the Senate, announced Friday that he will chair a hearing on "stand your ground" laws in the wake of the George Zimmerman verdict.
The hearing will be held before the Senate Judiciary Subcommittee on the Constitution, Civil Rights and Human Rights, which Durbin chairs, when the Congress is back in session in September. There are approximately 30 states with stand-your-ground laws in place. According to a release from Durbin's office, the hearing "will examine the gun lobby's and the American Legislative Exchange Council's influence in creating and promoting these laws; the way in which the laws have changed the legal definition of self-defense; the extent to which the laws have encouraged unnecessary shooting confrontations; and the civil rights implications when racial profiling and 'stand your ground' laws mix, along with other issues."
The announcement comes amid a national outcry and protests over Zimmerman's acquittal in the 2012 shooting death of unarmed teenager Trayvon Martin. Protesters in Florida have been camping out in the state capitol building urging Gov. Rick Scott (R) to repeal the state's stand-your-ground law and to take greater steps to combat racial profiling. Scott met with leaders of the protest Thursday but rejected their demands, urging constituents to take the issue up with local legislators.
Attorney General Eric H. Holder condemned stand-your-ground laws in a speech before the NAACP on Tuesday, referring to Martin's death as a "tragic, unnecessary shooting." The Justice Department has reopened an investigation into the case to see if criminal civil-rights charges should be brought against Zimmerman, though many have conceded such an outcome is unlikely.
After initially calling for "calm reflection" following the verdict, President Barack Obama delivered a comprehensive statement on race at the White House Friday, saying, "Trayvon Martin could have been me 35 years ago." He also suggested that stand-your-ground laws should be given a close look.
"I just ask people to consider if Trayvon Martin was of age and armed, could he have stood his ground on that sidewalk?" Obama said. "And do we actually think that he would have been justified in shooting Mr. Zimmerman, who had followed him in a car, because he felt threatened? And if the answer to that question is at least ambiguous, it seems to me that we might want to examine those kinds of laws."
Calling all HuffPost superfans!
Sign up for membership to become a founding member and help shape HuffPost's next chapter
BEFORE YOU GO
PHOTO GALLERY
Trayvon Martin Timeline