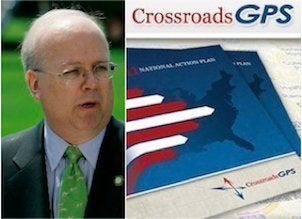 Much to the chagrin of Democrats around the country, Karl Rove is rising from the political graveyard. The nonprofit he advises, Crossroads GPS, has poured tens of millions of dollars into advertisements in contested Senate races around the country, and a new report Thursday suggests it will spend another $50 million on House races in the next three weeks.
The staggering amount of cash dropped by Rove's group is enough to make Illinois Senator Dick Durbin wonder if there isn't something fishy going on.
Indeed, Durbin has asked the Internal Revenue Service to investigate Crossroads GPS to see if it should continue to receive tax-exempt status as a nonprofit.
"I write to urge the Internal Revenue Service to examine the purpose and primary activities of several 501 (c)(4) organizations that appear to be in violation of the law," reads Durbin's letter to IRS Commissioner Douglas Shulman, as reprinted by CQ's "The Eye" blog.
By law, nonprofit organizations cannot have political aims as their primary purpose. But, as Durbin pointed out later in the letter, Crossroads GPS "has spent nearly $20 million on television advertising specific to Senate campaigns this year."
Durbin has a vested interest in slowing the groundswell of cash coming from organizations like Crossroads. While the majority whip is not himself up for re-election, the junior senator from Illinois will be elected this November, and Crossroads has that race squarely in its sights.
Rove's organization has spent a whopping $3.3 million in the race between Illinois Democrat Alexi Giannoulias and Republican Mark Kirk, which by all accounts is neck-and-neck. Crossroads has been making major ad buys for spots like this one:
Durbin isn't the first to call for such an investigation into the group. Campaign finance watchdogs made just such a call last week, and Sen. Max Baucus has been seeking closer scrutiny for all politically-connected nonprofits.
Support HuffPost
The Stakes Have Never Been Higher
Related
Popular in the Community