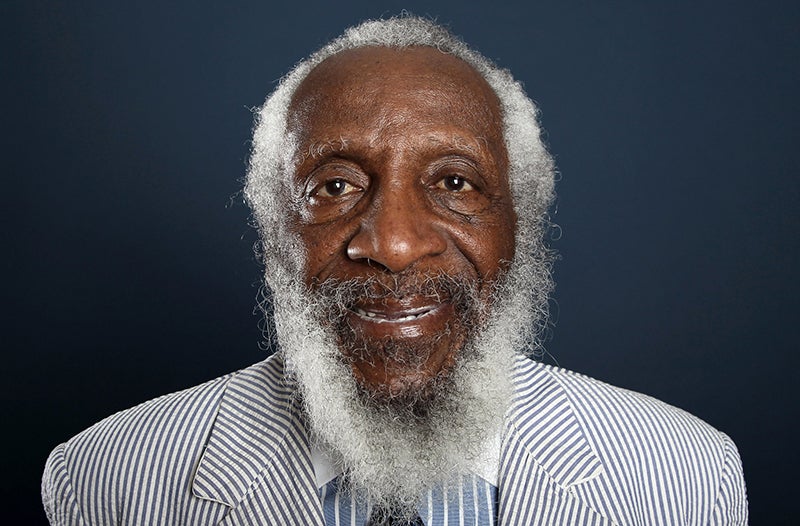 Dick Gregory was a funny dude. Sometimes his humor made you laugh, sometimes it made you cry, sometimes it just made you think.
Gregory was a masterful humorist and comic. He knew how to deliver a power punch line, hit you and make you look hard at life and society. He was a dynamic storyteller. His insights were keen, colorful, and superbly witty.
He was a humorist, a satirist, and most of all a humanitarian. He could tell a tale. Almost everybody loved him. He was a joy to work with and a wonderful friend.
He was more satirist than he was ha ha ha ha funny. His show was simple, just him, a spotlight, a microphone and a stool. He sat and he talked. He conversed with his audience. Sometimes he carried magazines and newspapers on stage to talk about current events and his political theories.
He shared his insights on life and racism was always at the top of his conversation as he poked fun at America's brashness and racial ignorance. He was always appealing funny. He was a crossover.
With his gray beard, his grandfather look and his cap, he still packed a room. I last saw him at the Harold Washington Theater on King Drive. He commented that America went from Obama to Trump, so that we could see where we really are.
He lived in Chicago and Hugh Hefner of Playboy called him in an emergency mode to fill in for Professor Irwin Corey, one cold wintry night at the Playboy Club on Walton Street.
He did and he was on his way to stardom as he told jokes to white southern conventioneers about being Black in America. He told them he knew the South because he had spent 20 years there one night. He received a standing ovation. Hefner booked him for the next three weeks.
I have heard Dick tell this story several times and the irony of the story is he had to borrow carfare and ride the bus for the gig and then he walked in the icy snow to get there. That to say, Dick's career message was always be prepared, because you never know when that big break is coming – even if you don't have busfare, be prepared to walk.
He played big clubs, big rooms for big money. He was a breakthrough Black comedian. In the beginning he wore a suit on stage, smoked a cigarette and held a drink.
In the early days of his career, he was compared to Mort Sahl and Lenny Bruce as a social critic, but he went far beyond them. He made America laugh at itself. He always fought the racial battle and he was a pioneer.
When he appeared, for example, on the Jack Parr television show, he insisted that he perform and then sit on the couch and chat with Parr. This was a different guest appearance for a Black artist because usually, the Black entertainer just performed and skipped the small talk.
Gregory changed the rules on late night TV and in the clubs for Black entertainers. He demanded respect. He took his humor into white clubs, graduating from the chittlin' circuit. He raised the price tag.
Gregory's humor came from childhood, where he learned "laugh with me" rather than at me, and where he understood that it was better if he was in complete control if he authored and told the joke.
Gregory joined the Civil Rights movement in 1962 in a Mississippi demonstration. As he became an activist, his club dates lessened and his life became more filled with seriousness. He began to travel the country speaking in a new way about social ills that were more serious than funny. He was quite a researcher. He disagreed with the Warren Report on the assisnation of President John F. Kennedy. He was critical and went around the nation discussing his conspiracy theory on why Kennedy was murdered.
He began to skip club dates as he reinvented himself. He became a lecturer appearing on college campuses, civil right banquets, and in the media and in churches. His comedy turned serious with a touch of significance as he made points and took stands on various social issues.
He dabbed in politics; he ran for mayor of Chicago with a new party, "Freedom and Peace" in 1967. Then he ran for President of the United States and received more than a million write-in votes.
Early on, Dick was overweight, drank hard liquor, and smoked. But he became so health conscious that he eventually refused to play in clubs where they served liquor. He met the late Dr. Alvenia Fulton, a world-renowned nutritionist and she began to work with him, reorienting him on nutrition.
Fulton changed his life. He learned about fasting and became her student and learned all he could about healthy living and, most of all, how to heal your body. Gregory was diagnosed with cancer, but refused chemotherapy and successfully treated himself with vitamins and herbs.
He became quite an expert and developed the powdered food replacement drink, Bahamian Diet, along with a Swiss company, for weight lost. It was quite successful, but the effort went astray when he argued with his business partner.
Gregory became committed to humanitarian causes and his involvement sometimes went overboard to the sacrifice of his family and income. He married the love of his life, Lillian and together they had 10 children, whom he loved dearly and talked about constantly on and off stage. He also had 16 grand children and five great-grandchildren. He was a family man.
Dick Gregory was probably the most intelligent comedian of his day. His interviews were always fascinating because no matter the media source, Dick was always in charge of the conversation, making you laugh and think.
He was an exceptionally kind man. I learned something from him in every conversation. He always welcomed feedback and he always gave it.
America will be a lonely place without Dick's humorist assessments. I am glad that I knew him. He taught us a lot. He taught us to laugh about it. His humor and his seriousness will be remembered.
He was a renaissance man and he will be missed as we appreciate his life and his humor for years to come.
Calling all HuffPost superfans!
Sign up for membership to become a founding member and help shape HuffPost's next chapter
This post was published on the now-closed HuffPost Contributor platform. Contributors control their own work and posted freely to our site. If you need to flag this entry as abusive,
send us an email
.