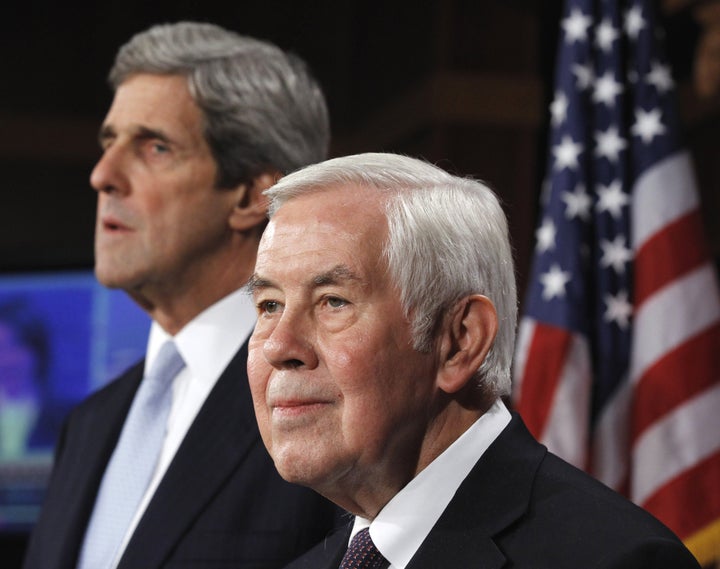 A Tea Party primary challenge is all but certain for veteran Indiana GOP Senator Dick Lugar, but that doesn't seem to have made him more interested in cozying up to the Tea Party crowd.
In a recent interview with U.S. News & World Report, Lugar knocked the Tea Party, which is in the midst of a process to select an ideal conservative competitor, for the supposed imprecision of the movement's complaints.
"I think there are a great number of Americans, not just in Indiana, who are genuinely angry about how things have turned out for them. Sometimes they are unemployed or they have family members who have been unemployed or they are in situations in which they feel a heavy governmental restriction of their activities. In essence, they are unhappy about life in America and they want to express themselves." Lugar told U.S. News, before batting the Tea Party's rhetoric. "'We want this or that stopped' or 'there is spending, big government' -- these are all, we would say, sort of large cliché titles, but they are not able to articulate all the specifics."
As HuffPost reported earlier this month, Lugar, a 34-year Senate warhorse, has drawn conservative ire with his relatively moderate voting record in the past few years.
A longtime nuclear non-proliferation advocate, Lugar took more heat from the right over his support for the ratification of the New START nuclear arms treaty, which was characterized by the Tea Party as a crippling concession to Russia. He also notoriously opposed the recent Republican attempt to place a moratorium on earmarks, and had fielded heavy criticism in the past for his votes in favor of the Troubled Asset Relief Program and for the confirmations of Obama Supreme Court nominees Sonia Sotomayor and Elena Kagan.
Indiana state Sen. Mike Delph and state Treasurer Richard Mourdock are two potential recipients of a Tea Party endorsement, though additional candidates may emerge in the next few weeks.
Calling all HuffPost superfans!
Sign up for membership to become a founding member and help shape HuffPost's next chapter