It's that time of year again: one of the biggest queer holiday fantasies in Brooklyn is returning to help you ring in the holidays season -- whatever that personally means to you.
The holidays can be an isolating and triggering experience for a lot of queer people. For this reason, it's important to celebrate and recognize the value of our chosen families with which we navigate the world during our day to day lives.
Historically, one reason queer communities have been so monumentally significant for those living on the fringe is because they represent an alternative kinship system for individuals who may not have positive relationships with their blood family. That's why the concept of queer family is at the heart of The Culture Whore's annual "Dick The Balls" holiday party, taking place on Friday, Dec. 12.
The Culture Whore is an art collective and party curation team made up of Mark Dommu and Paul Leopold. For this year's "Dick The Balls" the pair have teamed up with DJ duo The Carry Nation in order to curate the ultimate queer party fantasy.
The line-up is looking pretty cute, including badass rap duo Dark Sister and iconic Brooklyn drag performer Macy Rodman, among others.
The Huffington Post chatted with The Culture Whore and The Carry Nation this week about what we can expect from this year's "Dick The Balls" and what queer family means to them.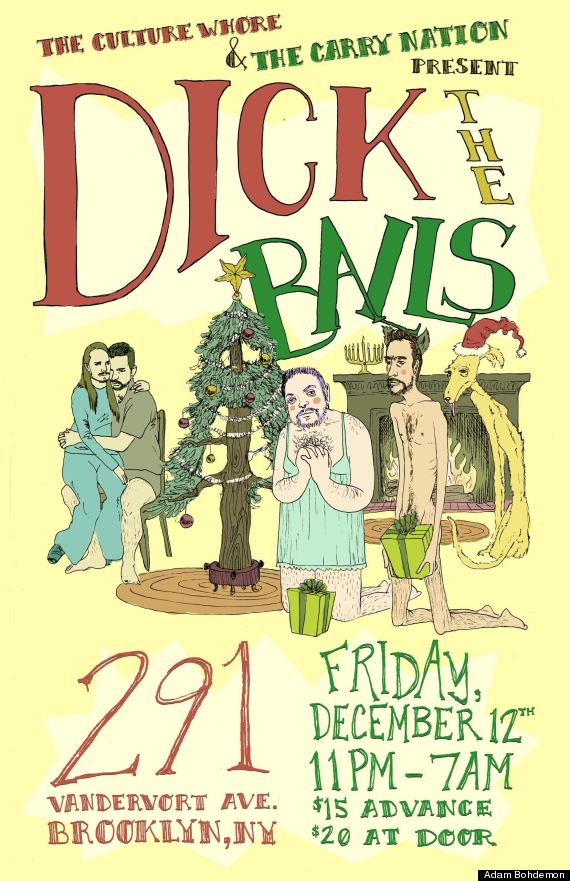 The Huffington Post: What is The Culture Whore's vision for Dick The Balls? How is it different from last year?
The Culture Whore: This year, Dick the Balls is all about going home for the holidays... but instead of going home to the suburbs to choke down your mom's Christmas ham or listen to your grandma kvetch while she makes latkes, we want all of our friends and lovers to come home to their queer family for the holidays. That's why the space is so perfect: it kind of looks like an attic, so it's like you're partying upstairs while you wait for Santa to come fill your stockings with condoms and candy.
We always go over the top with this one. Last year's "Dick the Balls" featured some really cool projection designs that filled the room with light. This year we've brought in Nitemind to give dancers a fully integrated lighting system. The holidays are always a preview of what's in store for next year and you can expect this party to be on a whole new level of quality and cohesiveness.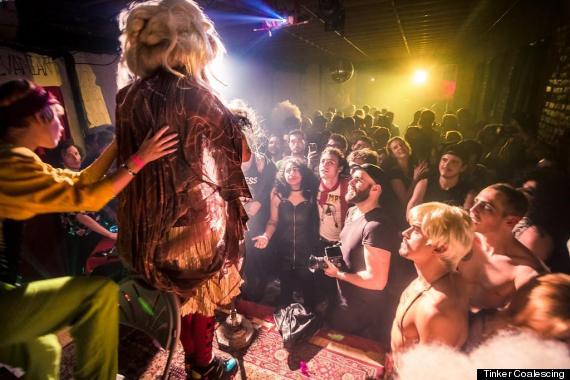 The holidays are an isolating time for a lot of queer people. How do you aim to combat this by curating events like "Dick The Balls?"
TCW: A lot of queer people we know are very triggered by the holidays. We're lucky that we have (mostly) great relationships with our families, but the holidays can still be very stressful and we usually don't go home -- we spend time together with our chosen families. We want "Dick the Balls" to be that space where our queer community can experience the pure joy the holidays are supposed to bring, surrounded by like-minded people who love them and who want to celebrate the same way they do.
What does queer family mean to you as an alternative kinship method? Why is it important?
TCW: We were recently looking through photos from the first Dick the Balls three years ago and realized that there were all these people there that we didn't even know at the time, who over the intervening time have become part of our queer family. These are the people we see every week or sometimes every night -- the people who engage with what we're making, who support us both figuratively and literally. They're our lovers, or they just love us. They understand and share the vision we have for the world.
That's what a chosen family is: people who you may not have known as birth, but who understand you intrinsically, love you unconditionally and challenge you to be a better, stronger, bolder person.
PHOTO GALLERY
The Culture Whore
Why did you decide to team up with DJ duo The Carry Nation for the first time?
TCW: DJ Nita played at "Dick The Balls" last year and he was amazing. We were already going to ask him back and then we got to thinking how much fun it would be to expand our collaboration to include Will Automagic and the inspiring community around The Carry Nation. We've had transcendent experiences at every Carry Nation rage -- there's a way that Nita and Will arrange the beats like shamans that draws the crowd together in a collective experience like no other. The music of the night will span the genres of deep house, acid pop, disco, hip hop and ballroom. Culture Whore resident DJs JX Cannon and David Sokolowski bring unique musical explorations to their sets, igniting dancers into a fury.
What is The Carry Nation? What is the focus for your collaborative efforts as DJs?
The Carry Nation: The Carry Nation is a musical collaboration between Nita Aviance and Will Automagic. What began as a production team evolved over the past few years to include DJing and throwing parties. When playing, our main focus is on creating a fresh experience for the dancer. We've both spent a lot of time on the dancefloor and in the booth so you can trust, we'll take you where you need to go.
2014 has been a major year for The Culture Whore -- what do you see on the horizon for 2015?
TCW: We're super grateful for all the attention we've been getting lately and hope that more and more people keep showing up to our events. We'll kick off 2015 with "SIDESHOW," our bi-monthly performance showcase where we will celebrate the one year anniversary of our newsletter THE WEEK. More big seasonal parties are in the works as we continue to craft our skills and curate the most interesting artists around. Goals for the year ahead include more exciting collaborations, an increased focus on interactive aesthetic technology and site-specific adventures.
"Dick The Balls" will take place Friday, Dec. 12 in Brooklyn. Head here for tickets or here for more information.
REAL LIFE. REAL NEWS. REAL VOICES.
Help us tell more of the stories that matter from voices that too often remain unheard.