 Dick Van Dyke is having the time of his life. At 87, his new lease on life began last year when he married the "new" love of his life, make-up artist Arlene Silver, who is 46 years his junior. If you added up all his titles -- actor, producer, singer, dancer, comedian and writer -- you'd be hard pressed to single out one that he hasn't done with the greatest of ease. His most notable works are his television series "The Dick Van Dyke Show," created by Carl Reiner (1961-1966), and "Diagnosis Murder" (1993-2001), and his films "Bye Bye Birdie," "Mary Poppins" and "Chitty Chitty Bang Bang." Van Dyke is scheduled to receive The Life Achievement Award this year at the annual Screen Actors Guild Awards.
The Illinois native sat down with The Huffington Post to discuss everything from the worst moments in his personal life and career to why his May/December marriage is the best thing that could have happened to him after he lost his partner of 33 years. He also talked about what's high on his bucket list and the reason he insists on keeping fit in his eighth decade (his answer is too cute!).
Your career has spanned over six decades. Most actors would be thrilled to have five to 10 good years in their careers. What's the secret to your longevity in this business?
You know something. I don't know. I think it's because I could just never make up my mind what I wanted to be. (Laughs) I wanted to be Stan Laurel, then I wanted to be Fred Astaire and then Captain Kangaroo. I actually started out as a radio announcer when I was 17 and never left the business so that's literally 70 years.
Did you know what you wanted to do for a living when you were 10 years old?

No, I didn't have the slightest idea, but when I got the job as a radio announcer at 17, and I loved it, I thought that's what I was going to be. So the next 70 years were just full of surprises.
At 87, do you have a bucket list? Is there something you'd still like to do?
There's so many talented actors in my age group around, that I'd like to get on the stage. I'd like to do one more [Broadway] play. Did you happen to see Christopher Plummer do his "Barrymore"?
No, I didn't unfortunately.

Oh, my God! It's a lesson to the world in acting. It's just brilliant! He's got to be the best actor alive. There's nobody like him anymore. I'd like to step on the [stage] with Christopher Plummer or Judi Dench or Helen Mirren, or any of those great people.
I loved you in "Bye Bye Birdie" and "Mary Poppins"...
I was lucky to get the kinds of parts I wanted. I always said I didn't want to do anything my kids can't see.
Do you get nostalgic when you think of your body of work on stage, film and television?
Oh, yeah. I think the greatest five years of my life was "The Dick Van Dyke Show" with [creator] Carl Reiner. He's my favorite human being. It was the most creative atmosphere I was ever in, and I think I had the most fun.
It's a classic sitcom. You never know in the entertainment business whether something is going to make it or not. The first year into "The Dick Van Dyke Show," did you know you had something special?
Yes, we knew. Something just felt right. We just knew it. Then we got cancelled after the first year, and all of us were just heartbroken.
We were on against Perry Como who was very popular back then. Nobody saw us and we got cancelled. We went into summer re-runs and the audience kind of found us so we finally, at the last minute, got renewed. And then it was five years of just pure fun.
I read that the role you played -- Rob Petrie -- was almost given to Johnny Carson, but executive producer Sheldon Leonard wanted you. Is that true?

Actually they had a list of possible people, me and Johnny and several others but I think they just used that as a PR [gimmick]. I don't think that Johnny was ever seriously considered, any more than I was ever considered to do the "Tonight Show." Of course Carl [Reiner] did it first. He did a pilot as Rob Petrie and the network didn't like him. It was one of the biggest breaks of my entire life. (Laughs)
Getting a break is a blessing, isn't it?
I wrote a little autobiography about how luck has to do with everything. It's called "My Lucky Life In and Out of Show Business." A publisher came to me and said write a book so I did. I wanted to call it "Everybody Else Has Got a Book."
I always thought you were so handsome ... and you still are. Did you ever think of becoming a leading man like Cary Grant?

(Big laugh) There are times when I would like to have been Cary Grant. I think with Mary Tyler Moore I was the only leading man. She was wonderful, but she had never done comedy. We were all a little worried about that but she picked it up so fast. We did a lot of improv, and just watching her grow into one of the best female comedienne's around, tickled me to death.
When you did "Diagnosis Murder," what was it like working with your son, Barry?
I carried nepotism to its ultimate extreme I think. I had my grandkids on and my daughter. We tried to keep it light. Working with my son was like falling off a log. I had so much fun doing it.
You were married 36 years to your first wife and lived with your second partner -- Michelle Triola -- for 33 years until her death. I read that you don't like to be alone. True?
My last lady, Michelle, died of cancer about three years ago. I was alone for a year and just about lost it. I cannot live alone. I have to have somebody to share [life] with.
You were married in 2012 to Arlene Silver. How does it feel to be a newlywed?

I married somebody half my age and everybody thought I was crazy, but she is just an absolute angel. She sings and dances so there's a lot of that going around the house. She's a great cook, and the age difference hasn't been a problem at all. Emotionally I'm about 13. She's very, very wise for her age so I'm just having the time of my life.
I saw the most interesting quote from someone on a dating site: "I want to meet someone that I can't wait to see again." I love that. Is that how you felt about Arlene when you first met her?

Yes! Exactly! I spotted her at a SAG Awards some years ago, and she stopped me dead... her beauty and charm. I hired her as a make-up lady. That's what she did. She made me up for a long time, and after my lady died, during the year that I was alone, she would come over after work and either bring me food or cook for me, do my dishes and look after me, so I fell in love pretty hard.
When did she first take your breath away?
The first time I saw her. I was standing in the green room at the SAG Awards talking to some very famous actress, very pretty. This girl walked by, I said, "Excuse me," and for the first time in my life I went up and introduced myself to a strange woman. I had never done that in my life. We became great friends, and we're still great friends.
When you fell in love, did you both know it at the same time?

No, the age difference kind of stopped her. I had to convince her that it was meaningless. I am so happy.
Sometimes blended marriages can be hard. Were your [adult] children happy for you when you married Arlene?

My kids fell in love with her almost immediately. She is so good with the whole family. I have four kids, seven grandkids and four great grandkids. The thing I'm most proud of is my family, the way they've turned out.
Life throws everyone a curve ball every now and then. What was the hardest obstacle you ever had to get over?
The worst day of my life happened just after my wife and I got married in 1948. We rented a duplex on the beach in Malibu. We couldn't afford it. It was too much money. I came home one night and she was pregnant and had miscarried. I had to rush her to the hospital which I had no money to pay for. I got back to the house, and all of our clothing and belongings were out on the highway. We had been evicted for non-payment of rent. That was the worst day in my life. We almost turned around and went home to Danville, [Illinois]. I had to borrow some money, and we checked into a little old hotel that had a hot plate in it, and I had to fry hamburgers on that little burner. We both felt like it was the end of the world, but we bounced back and kept at it.
What was your worst day in your career?

My partner and I did a little pantomime act. We were both in our early 20s. There was a famous nightclub out here called Slapsy Maxie's. We got on as the opening act and just failed miserably, and they gave us $30 apiece and fired us. (Laughs) That happened a lot.
Now, 70 years later, you're a living legend. How does that feel?
That's what people keep saying. (Laughs) I think maybe just to have lasted this long contributes to it.
I'm in a quartet now ... three guys who are about 40 and me, and we just started singing for fun. We started doing benefits and fundraisers. We ended up at the Ford's Theatre in Washington, D.C. singing for President [Obama] a couple of years ago. It was a thrill of a lifetime.
At 87, what's your secret to keeping fit?
I've always exercised, and of course I've always danced. I tell people my motives [for exercising] have changed. In my 30s, I exercised to look good; in my 50s, I exercised to stay fit; in my 70s, I exercised to stay ambulatory; and in my 80s, I exercise to avoid assisted living."
I guess you've done just about everything in your career that you've wanted to do. What's missing?

I've won several Emmys, a Tony and a Grammy so maybe somebody will let me have an Oscar, and then I'll have a full set. (Laughs)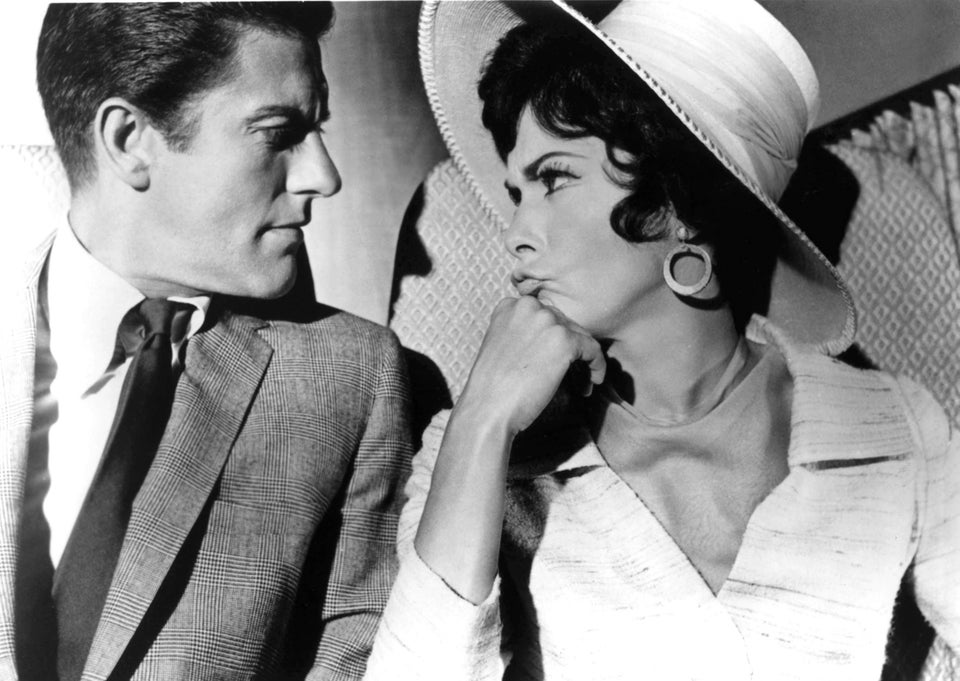 Dick Van Dyke Roles
Related
Popular in the Community