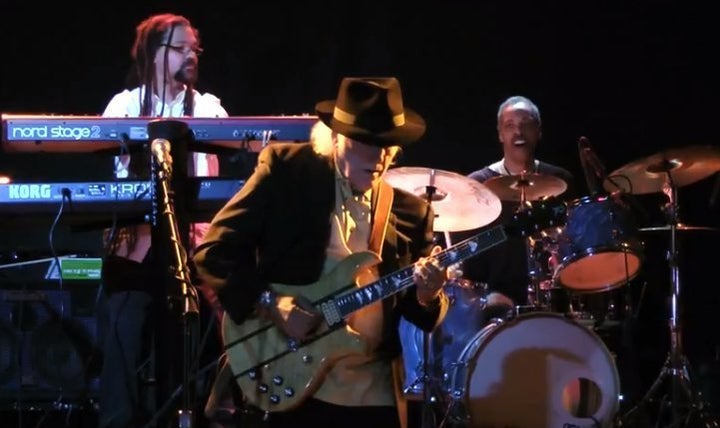 To the world's amazement, rock legend Dick Wagner is back onstage after overcoming a slew of debilitating medical problems, including a heart attack, a stroke and a condition known as NPH, which has been referred to as a treatable form of dementia.
Wagner, now 70, has had an illustrious, decades-long musical career. He's played lead guitar for bands like KISS and Alice Cooper, and he has collaborated closely with Etta James, Lou Reed, Tina Turner and Air Supply, among other renowned industry names.
But in 2007, Wagner's future in music was thrown into question when he suffered both a stroke and a heart attack. When he finally awoke from a two-week coma, he found that his left arm was paralyzed.
Though Wagner feared he would never pick up a guitar again, he refused to quit. He invested years into re-learning his favored instrument. The rock star admitted that the journey was difficult, but after undergoing physical therapy, he eventually regained about 90 percent of his left arm's ability, CBS local affiliate KPHO in Phoenix, Ariz., reported in 2012.
He got so much better that he returned to the studio and contributed to Alice Cooper's 2011 album "Welcome 2 My Nightmare" as both a songwriter and guitarist. In November 2011, he even performed at a live show in Michigan.
"[Re-learning guitar] was so terrible at first," he told Gibson.com at the time. "It was a lot of work, a lot of stress, but I came through it with sheer determination and some brilliant doctors."
But Wagner's medical nightmare was far from over. Even as he struggled to rehabilitate his left arm, new symptoms began to plague him. According to a Jan. 16 ABC News report, Wagner began suffering from "mental fuzziness and an odd gait." In early 2011, he underwent surgery for a blood clot.
That same year, Wagner was diagnosed with NPH (normal pressure hydrocephalus); in other words, there was a build-up of fluid inside Wagner's skull that was causing his brain to swell, resulting in impaired brain function and motor skills.
This diagnosis and the subsequent treatment he underwent for the condition transformed Wagner's life.
According to ABC News, doctors at Barrow Neurological Institute in Phoenix, Ariz., have "surgically placed a shunt in [Wagner's] head to redirect the fluid through a tube under the skin to his abdominal cavity." A small amount of fluid is drained daily.
"I am like a new man almost overnight," Wagner told ABC. "For five years, I couldn't even pick up a guitar -- I didn't have the strength or the coordination."
Wagner is now back on tour.
As the Hydrocephalus Association notes, NPH -- known to some as the "curable form of dementia" -- is often mistaken for Alzheimer's or Parkinson's disease. Hundreds of thousands of Americans are believed to have the condition, though many individuals with NPH often may not realize what they suffer from.
Dr. Joseph Zabramski, the neurosurgeon who treated Wagner, told ABC News that an estimated five percent of all dementia patients actually have NPH, which, as the famed guitarist has shown, is usually "correctable."
"None of us wants to admit there is anything wrong when we have a little trouble walking and balancing," Zabramski said. "We just think we are getting older. It's not until it progresses and threatens our independence that we seek evaluation."
The Hydrocephalus Association says it hopes that stories like Wagner's will increase awareness about the condition so that more people will be treated for it and more research into NPH will be conducted.
Doctors warn, however, that only a small percentage of patients who have symptoms of NPH actually have the condition. People who think they may have it are advised to seek evaluation from a doctor who is knowledgeable about NPH.
Watch Dick Wagner performing in 2012 at his 70th birthday bash concert in Michigan: