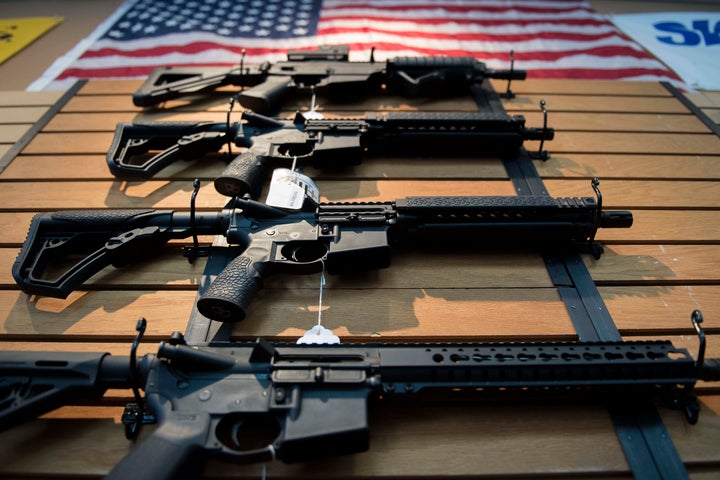 Dick's Sporting Goods won't be returning their unsold assault-style rifles to manufacturers. Instead, the company says it's chosen to destroy all of them.
Dick's announced in February ― following the school shooting in Parkland, Florida ― that it would stop selling assault-style rifles and high-capacity ammunition magazines in all of its Field & Stream stores, where these items had been sold by the large sports retailer.
The company also announced that it would no longer sell guns to people under the age of 21 at any of its stores.
A company spokeswoman told The Pittsburgh Post-Gazette last week that the retailer was "in the process" of destroying the unsold inventory of rifles, which include AR-15s and other military-style semi-automatic weapons, at its four distribution centers nationwide.
"We are destroying the firearms in accordance with federal guidelines and regulations," the representative said, adding that weapon parts would be sent to a salvage company to be recycled.
Dick's did not immediately respond to HuffPost's request for clarification on how many guns it was destroying or how the company was going to dispose of them.
The National Rifle Association, in a Tuesday Twitter post, lambasted the company's decision to destroy the weapons. "What a waste," the gun group wrote.
The NRA and other gun-rights advocates have assailed Dick's for taking a political stance that could end up hurting its business, with some calling for a boycott of the retailer. But the company's stock price has remained relatively unchanged since February.
Under federal regulations, a gun must be "cut, severed or mangled in such manner as to render the firearm completely inoperative and such that it cannot be restored to an operative condition" to be considered destroyed. The destruction of a firearm must also be recorded with the Bureau of Alcohol, Tobacco, Firearms and Explosives.
Although there is no officially outlined process for disabling an assault-style rifle, the ATF recommends making a series of cuts to a gun's receiver, the piece that houses a firearm's internal components.
It's unclear if Dick's had the option of returning its assault-style rifles to gun manufacturers, which typically offer dealers partial refunds for unsold firearms.
"Gun companies aren't obligated to accept merchandise back from a retailer or a wholesaler, but they normally do accept it and reimburse minus a restocking fee of 10 percent to 20 percent, which is what the retailer/wholesaler loses from what he originally paid," said Mike Weisser, a Massachusetts-based gun dealer who has previously blogged for HuffPost as "Mike the Gun Guy."
Dick's choice to destroy the assault-style rifles rather than return the firearms to a manufacturer that could redistribute them seems consistent with the company's efforts to take a principled stance in the wake of the Parkland shooting, in which 17 people were killed at a high school.
"Thoughts and prayers are not enough," Dick's CEO Edward Stack said in February as he announced the company's decision to end the gun sales. "We support and respect the Second Amendment, and we recognize and appreciate that the vast majority of gun owners in this country are responsible, law-abiding citizens. But we have to help solve the problem that's in front of us. Gun violence is an epidemic that's taking the lives of too many people, including the brightest hope for the future of America ― our kids."
Dick's has pulled assault-style firearms from its shelves before. In the aftermath of the 2012 shooting at an elementary school in Newtown, Connecticut, that killed 26 people, the company stopped selling the rifles at its main stores. It resumed selling them, but only at its 35 Field & Stream stores, in 2013.
Related
Popular in the Community