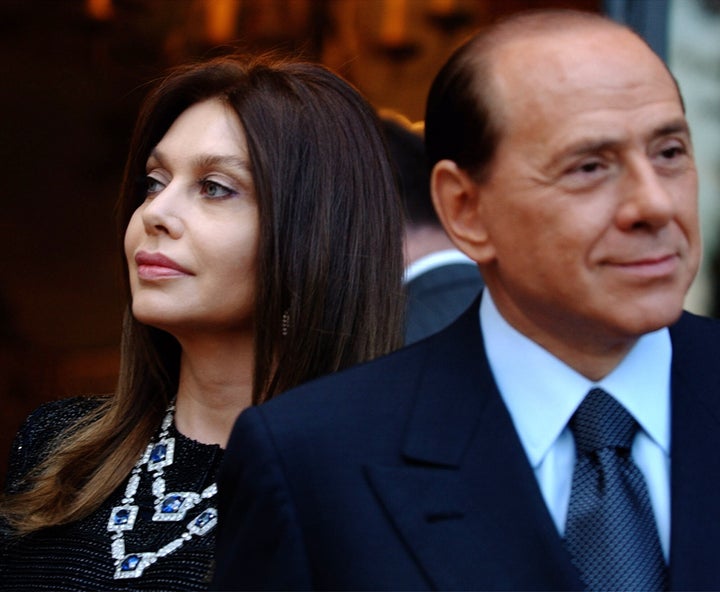 On September 1st the Italian award-winning air acrobatics team, Frecce Tricolore, will spread their wings in Tripoli, Libya, during the commemoration of the 40th anniversary of Ghaddafi's coup. This is a small gesture of appreciation from Italian Prime Minister, Silvio Berlusconi, to his new friend, the Libyan dictator. The two men have a lot in common, including their lust for young and beautiful women and their ability to remain in power against all odds.
Berlusconi's popularity springs from a skillful manipulation of the Italian media. He owns Mondadori, the biggest publishing company in Italy and the Mediaset broadcasting network. As Prime Minister he also exercises a tremendous influence over RAI, the state-owned broadcaster. That amounts to about 80% of the Italian media. According to reporters Sans Frontieres, "in Europe, similar conglomerates control considerable shares of the media, for example Bertelsmann and Kirch in Germany and Rupert Murdoch's empire in the United Kingdom. But the combination of media and political power is unique in a democratic country."
For Italians reality is not what actually happens but what they watch on the TV channels or read in the newspapers owned by the Prime Minister. Thus, Berlusconi has the ability to alter reality, a power that usually only dictators possess. For example, Italians have no idea that the survivors of the earthquake in Abruzzo are still living in pitiful conditions. They believe that Berlusconi -- who in July hosted the G8 meeting in Aquila, the capital of the region -- has already rebuilt the towns. "All they see is the Prime Minister in Abruzzo surrounded by smiling people. Nobody reports that the government is cutting corners everywhere because they have no money and they mismanage the funds coming from abroad," confesses Ms. Segre, a volunteer for the Green Cross who has spent the month of August in Aquila. "Last week nobody reported that a riot had erupted inside the rugby field at Aquila, where many families still live in tents. When they realized that 18 chemical toilets were been removed, the people's anger exploded." The toilets cost 80 Euros per day each, too much to sustain for a government that is broke. A government official even admitted that they could not afford to provide one toilet for each five people and that with the money saved they could do something else. The question is, what would they do with this money that is more important than hygiene?
Berlusconi also successfully manipulates the state broadcaster, RAI. During the latest sex scandal, when a callgirl produced pictures and even a recording of her hot nights with the Prime Minister, RAI Uno, the most popular news show, ignored the news for several days. Only after vitriolic editorials from La Repubblica and l'Unita', ample broadcasting from SKY News and a decrease of several million viewers did the government-appointed news editor of RAI Uno take the unprecedented step of interrupting the news to explain that he does not broadcast "rumors" about the Prime Minister!
Berlusconi's media empire has been manufacturing a reality to fit the needs of its boss for almost three decades. Now RAI has joined the ranks of the broadcasters dedicated to this task. The core is still Mediaset, where Berlusconi owns 40% and the rest is controlled by Fininvest, his family holding company. A rival to Murdoch's empire, Mediaset was created in 1980 with the aim of destroying RAI's monopoly. This task was achieved in the late 1990s, thanks to three main channels: Italia 1, Rete Quattro and Canale 5. By 2007, Mediaset controlled more than 41% of the Italian TV market, about 6% more than RAI, the state TV network. That year the company's turnover was about four billion Euros, with a net profit of about 500 million Euros. A cocktail of half-naked beautiful women, cheap reality shows, old movies and political talk shows, with heavy doses of populism, make up Mediaset's recipe for success.
Many believe that this mix works because it brings everything, from fashion to politics, down to the lowest common denominator, shunning any type of culture or intellectualism. This, in a nutshell, is also the style of Silvio Berlusconi. He loves to present himself as the average Italian: a self-made man who is an incurable romantic, a sort of modern version of Don Giovanni. Age is his sole enemy and plastic surgery is helping him to cope with that. But the results are meager. "Berlusconi looks like Frankenstein: his skin is very tight and orange. When he smiles his entire face seems made of plastic and you can see the rows of transplanted hairs on his head." This is how a top (female) civil servant describes the Prime Minister.
The 73-year-old Latin lover seems unaware of this assessment of his looks and constantly parades his obsession with sex and women. "It is true I am not a saint, but I fuck like a God," he commented to his cabinet in July, after the international media had reported on the wild parties with call girls at his Rome residence, the use of state planes to fly these women to his Sardinia villa and his wife's filing for divorce over an alleged relationship with a minor.
Mediaset helped Berlusconi forge a style that can be defined as "political machismo," the sort of smug attitude that men might assume around a pool table after several beers too many. Boasting about their sex escapades makes them feel powerful. In December 2003, during the final dinner of the Italian European presidency, the agenda was to conclude with the debate about the European constitution. Berlusconi stood up and suggested that instead they talk about women. He then asked the German chancellor Gerhard Schroeder, who had been married four times, to begin the discussion. When Schroeder declined, he turned to the German foreign minister Joshcka Fisher, who had also had four different wives.
No other Western politician would get away with such behavior and so many scandals, because nobody else is as powerful as Berlusconi. Being the richest man in Italy puts him in the position controlling his political coalition just as he runs Mediaset. In 2008, he bailed out Ugo Bossi, the leader of the Lega Nord, from a tricky financial situation, thereby gaining Bossi's full support. Once in power, he passed some key legislation through which he managed to put himself, the President of the Republic and the head of the Senate, above the law. Total immunity protected him from scandal far more serious than merely extramarital sex: corruption. In June 2009, an Italian court found David Mills, ex-husband of a UK cabinet minister, guilty of having been bribed by Berlusconi in a trial against him. Yet Berlusconi remains untouchable so long as he remains Prime Minister.
On the 1st of September, Ghaddafi and Berlusconi will together watch the acrobatic aerial performance of the best Italian pilots, celebrating themselves, two men who have successfully fooled their own people and the international community with the discreet charm of modern dictatorship.
Loretta Napoleoni is the author of Rogue Economics, just released in paperback by Seven Stories Press.
REAL LIFE. REAL NEWS. REAL VOICES.
Help us tell more of the stories that matter from voices that too often remain unheard.